Canelo vs. Triple-G Delivers a Thrilling Fight Ending in a Controversial Draw
Seems like a rematch is guaranteed.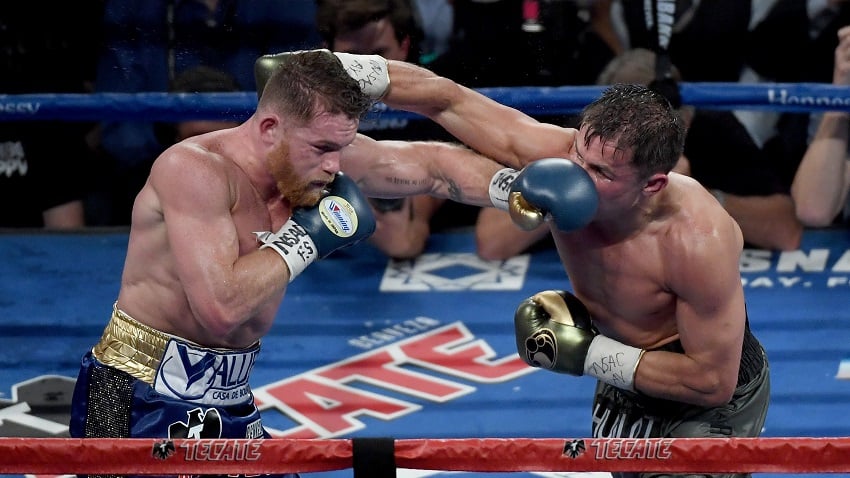 Getty Images
The Saturday night match in Vegas between middleweights Canelo Alvarez and Gennady "GGG" Golovkin was a true classic for fans of the strategic side of boxing. The fighters were exceptionally well-matched and fought with tremendous skill. 
But the fight ended in a draw, and that pleased absolutely no one. 
Scoring just ruined this #CaneloGGG fight. Split decision draw.
118-110 *Canelo (very poor), 115-114 GGG, 114-114 draw. I had it 8-4 to GGG

— Gareth A Davies (@GarethADaviesDT) September 17, 2017
I had money on Canelo and even I'm over here stunned. GGG won that fight. I thought at WORST a split decision, but A DRAW?!!! #CaneloGGG

— Patrik [No C] Walker (@VoiceOfTheStar) September 17, 2017
The outcome of such a frustrating decision is pretty straightforward: Golovkin still holds the WBA, WBC, and International Boxing Federation middleweight belts. 
The anger from fans over the judges' cards came at least in part from the fact it was an extremely well-fought match, but by the end it seemed clear that Triple-G was dominant. He had Alvarez on the ropes on a regular basis, especially between rounds 4 and 11, and didn't seem to flag, punching with plenty of precision. 
When Alvarez did connect, Golovkin sometimes handled it like he was made of steel.
The draw made the usual post-fight good sportsmanship pointless. Golovkin pointed out that he still held his belts and said the fight's result was "not my fault."
"I like the pressure," continued Golovkin, "I want big drama show. I want to give people a big presence. It's not my problem. I'm very happy today."
Alvarez told reporters that there "wasn't any power that didn't surprise" him. 
Of course, both men definitely want a rematch. Golovkin said, "I have a couple of ideas (…) I want a close fight, Mexican style."
For his part, Alvarez said, "Yes, if the people want it, yes."  
If social media is any indication, the people do want it.
When the rematch happens one thing's certain: Judge Adalaide Byrd won't be at ringside. 
Her 118-110 score in favor of Alvarez was a huge talking point after the fight.
Nevada State Athletic Commission Executive Director Bob Bennett said that Byrd is "an outstanding judge" who "had a bad night." 
That's probably a weak explanation for fans. Either way, get ready for Canelo vs. Triple-G, The Sequel, because we're pretty sure as soon as the fighters are ready, it'll be on. Again.