Charlie Sheen Says a New 'Major League' Movie Will Be Made As Soon As Someone Writes a Check
This certainly is a wild thing.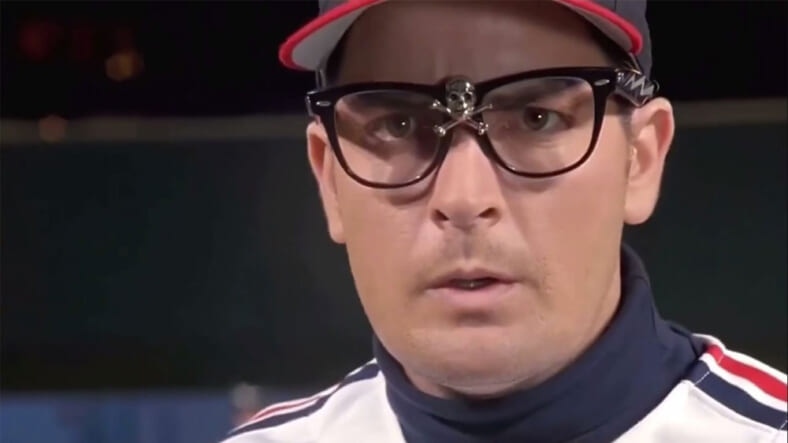 When we last heard from actor-turned-oddity Charlie Sheen, he was trying to leverage his decades old role as Ricky "Wild Thing" Vaughn to get a little exposure during last year's World Series. Though the Cleveland Indians never took him up on his many offers to help the team break its 68-year World Series curse, Sheen appears to have had his love of baseball reinvigorated. And he's channeling that love into trying to make a new Major League movie. 
All he needs is someone to "write a check," he tells TMZ. The entire cast of the original has signed on, he added, with the exception of the late James Gammon, who played manager Lou Brown. Sheen revealed little about the story except to say it's fabulous. 
"It's a really smart story. It's a really great script," he said.
We do know some about what would happen in a new Major League though, thanks to a seven-year old interview with David S. Ward, the writer of the original who's sitting on a script for a sequel. 
"It's 20 years later, and Wild Thing comes out of retirement to work with this 19-year-old player. We've actually got three new characters in the new film. And if the new film is popular, they could carry the franchise on," Ward told Moviehole in 2010. 
Four years later, Ward gave another interview and said that the aforementioned 19-year-old would actually be Wild Thing's son, who grew up without ever knowing his dad. "It's him having to deal with a son who can't stand him," Ward told Big League Stew. "When he sees him and sees the mother of his son again, he realized that she's the one who got away."
Another update came in 2016 when Sheen told The Hollywood Reporter that rights issues were holding up production. "The script that we've all been sitting on is pure gold and absolutely shootable."
The most recent update, which Sheen appears to have provided after getting gas, doesn't seem to push things very far forward. Still, it seems like a decent bet that this movie is going to get made at some point. If there's one thing we've learned in recent years, it's that Hollywood has an unquenchable thirst for capitalizing on nostalgia.