Conor McGregor Apologizes for Interrupting Bellator Fight, Still Thinks Ref Was 'Horrendous'
But was he being sincere?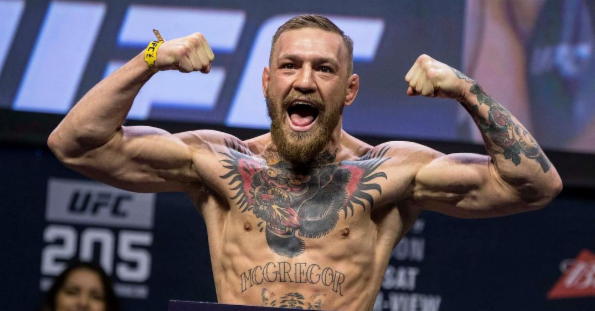 In a rare act of contrition, Conor McGregor on Tuesday apologized for acting "out of line" at Friday's Bellator 187 event in Dublin. 
"I sincerely apologize for my behavior at last weekend's fight event in Dublin," McGregor wrote on Instagram. "While trying to support a loyal teammate and friend, I let my emotions get the best of me and acted out of line. As a multiple weight champion, executive producer, role model and public figure, I must hold myself to a higher standard.
He's come a long way since these days. 
The UFC featherweight champ's apology comes after he made waves over the weekend when he jumped into the cage just as his teammate Charlie Ward knocked out John Redmond. After briefly celebrating with Ward, McGregor got into it with referee Marc Goddard.
He later explained that he was upset because Goddard didn't end the fight sooner. McGregor elaborated on that in his Instagram apology, which included some swipes at Goddard. 
"The referee Marc Godard was making a horrendous decision in trying to pick an unconscious fighter up off the floor and force the fight to continue into the second round. Even against the wishes of the said fighter's coach. The fight was over," McGregor wrote.
"After witnessing my fighter in a fight where the worst happened and the opponent passed away from his injuries on the night, I thought the worst was about to happen again, and I lost it and overreacted. I am sorry to everyone."
McGregor's referencing a fight from April 2016 when Ward beat Joao Carvalho by TKO. Two days later, Carvalho underwent emergency brain surgery and died. In the aftermath, referee Mariusz Domasat was heavily criticized for not stopping the fight in time. 
But Goddard has defended himself and said there was no such mistake made on Friday. If anyone was responsible for endangering the fighters, he wrote in a Facebook post Tuesday, it was McGregor.  
The important point to note here is that the condition and safety of the fighter trumps any and all other decisions. Their ability to be safely allowed to continue in a contest is only ever called by the referee, the person in charge of that contest and the sole arbiter. When I am unfairly delayed or robbed of that opportunity from outside and external sources it brings not only the sport into disrepute but from my primary role and function of being able to make the right decision, the correct decision that is both safe and fair to the athlete concerned.
Goddard added that he doesn't believe McGregor should be punished, but it may be too late for that. The head of the Mohegan Tribe Department of Athletic Regulation, the body overseeing Friday's Bellator fight, said Monday that UFC executives told him McGregor had already been removed from the fight card at UFC 219. The 29-year-old was expected to make his return to the Octagon at the year-end event for a title unification bout against Tony Ferguson. 
Read McGregor's entire apology below.