Conor McGregor Channels Ivan Drago With Threat To Khabib Before UFC Megafight
"If he dies, he dies."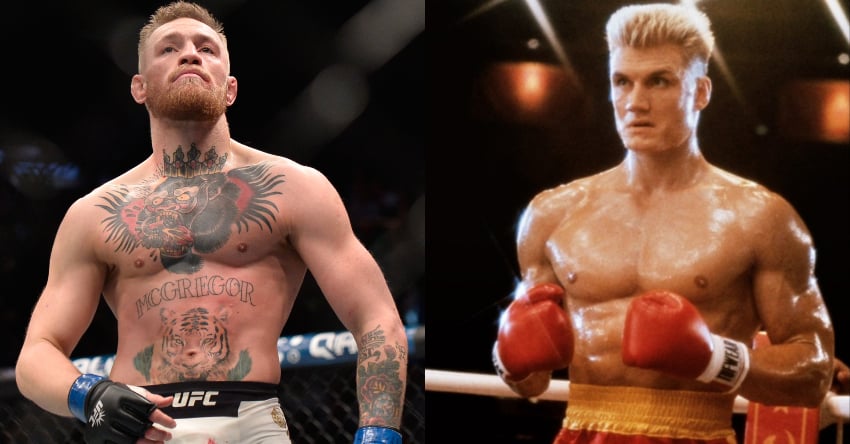 Left: Getty Images
Conor McGregor is perhaps the most masterful combat sports hypeman since his arch- rival Floyd Mayweather left the fight game. And he just might have outdone himself with his latest threat to UFC lightweight champion Khabib Nurmagomedov, who McGregor faces in a long-awaited pay-per-view showdown on October 6.
https://www.instagram.com/p/BnXQelFAzFs
"If he dies, he dies then I'm paid twice," McGregor captioned a training pic posted Wednesday on Instagram.
While it's unclear how McGregor would reap such financial benefits even if he somehow managed to kill the 26-0 Khabib in the cage, one thing's for sure: Mystic Mac is taking a page straight out of Rocky IV villain Ivan Drago's playbook.
Balboa-philes will recall that after pummeling Apollo Creed into oblivion, Drago gives a stone-faced speech in the ring afterwards and punctuates it with, "If he dies, he dies."
Hey, that's Drago for you! It's also a considerably more inspired choice by McGregor than Drago's most famous line: "I will break you."
The Instagram diss is the latest headline-grabbing wrinkle in the run-up to McGregor's return to the UFC in his first fight since Mayweather outboxed him last August. 
He's already pled guilty to disorderly conduct charges and has to take anger management classes after throwing a chair at a bus carrying Khabib and other UFC fighters last April.
Meanwhile, Camp Khabib is vowing that the Russian wrestling phenom will make McGregor eat his words on October 6. 
MMA Fighting reports that Khabib's father is taking swings at McGregor, after the Irish fighter called Abdulmanap Nurmagomedov a "quivering coward" on Instagram.
Abdulmanap Nurmagomedov recently responded to McGregor's comment in an interview with Azamat Bostanov, where he claimed that the Irishman would not be forgiven for what he posted.
"Mentally they can't get (under our skin). In that aspect we are standing firm," said Nurmagomedov, as translated by RT.com. "We are even letting certain things pass. But we are not forgiving anything. The cage and the fight are still ahead (for Khabib and Conor)."
One thing's for sure, plenty of fight fans will be watching on October 6 to see who prevails.