Floyd Mayweather Offers $10K to Caption this Vicious Diss Video of Conor McGregor
Yeah, he's serious.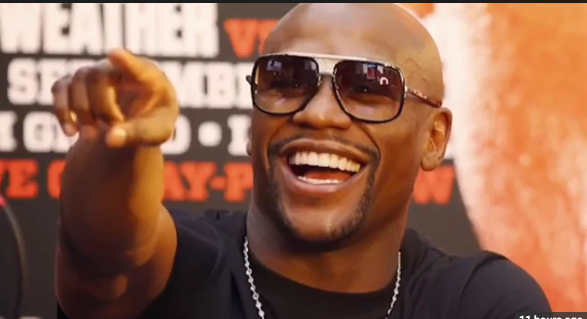 Instagram
Floyd Mayweather just poured gasoline on his fiery war of words with arch-nemesis Conor McGregor by posting a vicious diss video on Instagram. 
The retired former pound-for-pound boxing king's clip shows bloody footage of the UFC superstar he dubs "The Notorious Quitter" tapping out to Nate Diaz. 
Mayweather is even offering $10,000 to the Instagram user who can write the best caption for the diabolically-edited video, which you can watch here: 
https://www.instagram.com/p/BOBmdb3ga-f
The London Sun reports:
Mayweather's video showed Diaz pummelling a helpless McGregor before locking him in a rear naked choke hold at UFC 196 in March.
The song in the background repeats the phrase "tap-out" and McGregor tapping Diaz's arm to signal the end of the fight is played repeatedly.
There is then film featuring Mayweather posing triumphantly before a photo of him laughing and pointing.

A message at the end of the film reads: "49-0 vs Connor The Notorious Quitter."

It's probable Mayweather intentionally spelt McGregor's forename wrong.

The American has previously laughed off claims he could square up to the Irishman in the ring – who is currently on a break from UFC after announcing he is to become a dad.

He is also to appear in Game of Thrones with a scrap between the two remaining just a possibility.
Your move, Conor.