Conor McGregor Issues Statement After Arrest in Miami For Allegedly Smashing Fan's Phone
"Patience in this world is a virtue I continue to work on."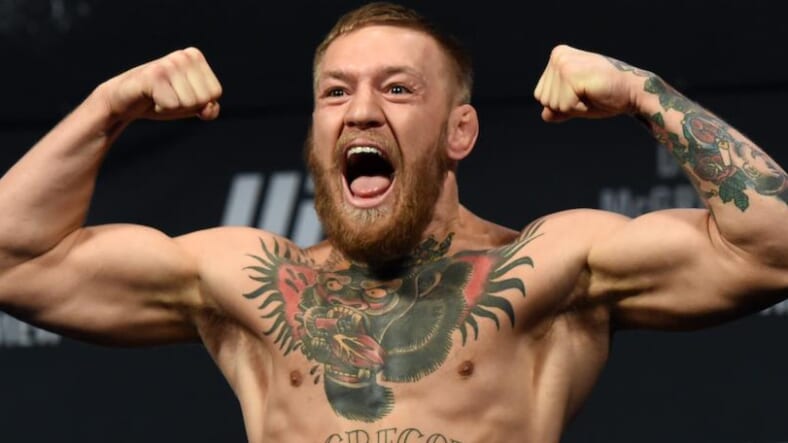 Getty Images
Conor McGregor seems determined to live up to the nickname, "Notorious." His latest run-in with the reality that life outside the Octagon actually demands he keep his hands to himself happened Monday night in Miami Beach. 
That's where he was arrested and slapped with a couple of felony charges—strong-armed robbery and criminal mischief—after allegedly smashing a fan's cell phone. McGregor issued the following statement on Instagram after he got out of jail on a $12,500 bond.
https://www.instagram.com/p/Bu5lQ7rjH28
"Patience in this world is a virtue I continue to work on," read the caption on the former UFC champ's photo, "I love my fans dearly. Thank you all ❤️"
ESPN gives the low-down about the encounter:
The report indicated McGregor was leaving the Fontainebleau Miami Beach shortly after 5 a.m. Monday when a 22-year-old man attempted to take a picture of McGregor.

Police said McGregor slapped the phone out of the man's hand and then stomped on it several times. Investigators said McGregor then grabbed the phone and left the area. Police later found McGregor at his local address.
Sam Rabin is McGregor's lawyer. In a statement after the arrest, Rabin said the MMA star "was involved in a minor altercation involving a cell phone that resulted in a call to law enforcement." 
MBPD has arrested and charged Conor McGregor, DOB: 7/14/88, with Strong Arm Robbery and Criminal Mischief, both felonies. Please see arrest report and booking photo below. No additional information will be provided. pic.twitter.com/9HdkRWPnd8

— Miami Beach Police (@MiamiBeachPD) March 12, 2019
"Mr. McGregor appreciates the response of law enforcement," Rabin continued, "and pledges his full cooperation."
That the Miami Beach PD chose to hit him with felony charges may spell bad news for McGregor when it comes to continuing work on US soil. 
After all, last summer the fighter entered a plea deal in Brooklyn following an infamous Barclays Center melee on April 5. That's when he was recorded chucking a dolly at a bus full of fighters from an opposing camp. His plea stated that he had to keep his head down for a year, do community service and attend anger management classes.
While ESPN reported the Barclays case is considered closed and this new incident won't affect it, the publicity hit alone—compounded by the riot that followed his last match to Khabib Nurmagomedov, resulting in a 6-month suspension from fighting—might just make him utterly toxic to the UFC brand.
It could be that McGregor felt provoked; fans in the social media era can be aggressive about getting pics or video footage whether the celeb in question wants that or not. It could just as easily be that the Notorious One had a bit too much Proper 12 in him and simply wasn't in the mood.
Dana White has yet to issue a statement about the incident, but there's no doubt he will. Whatever the case, Conor McGregor might be on his way out of MMA after this—or he'll become more popular than ever. You never know.