Conor McGregor's Fight Against Floyd Mayweather Could Be His Last, Says UFC Boss Dana White
And Conor reveals EXACTLY what he said to Floyd during their intense staredown.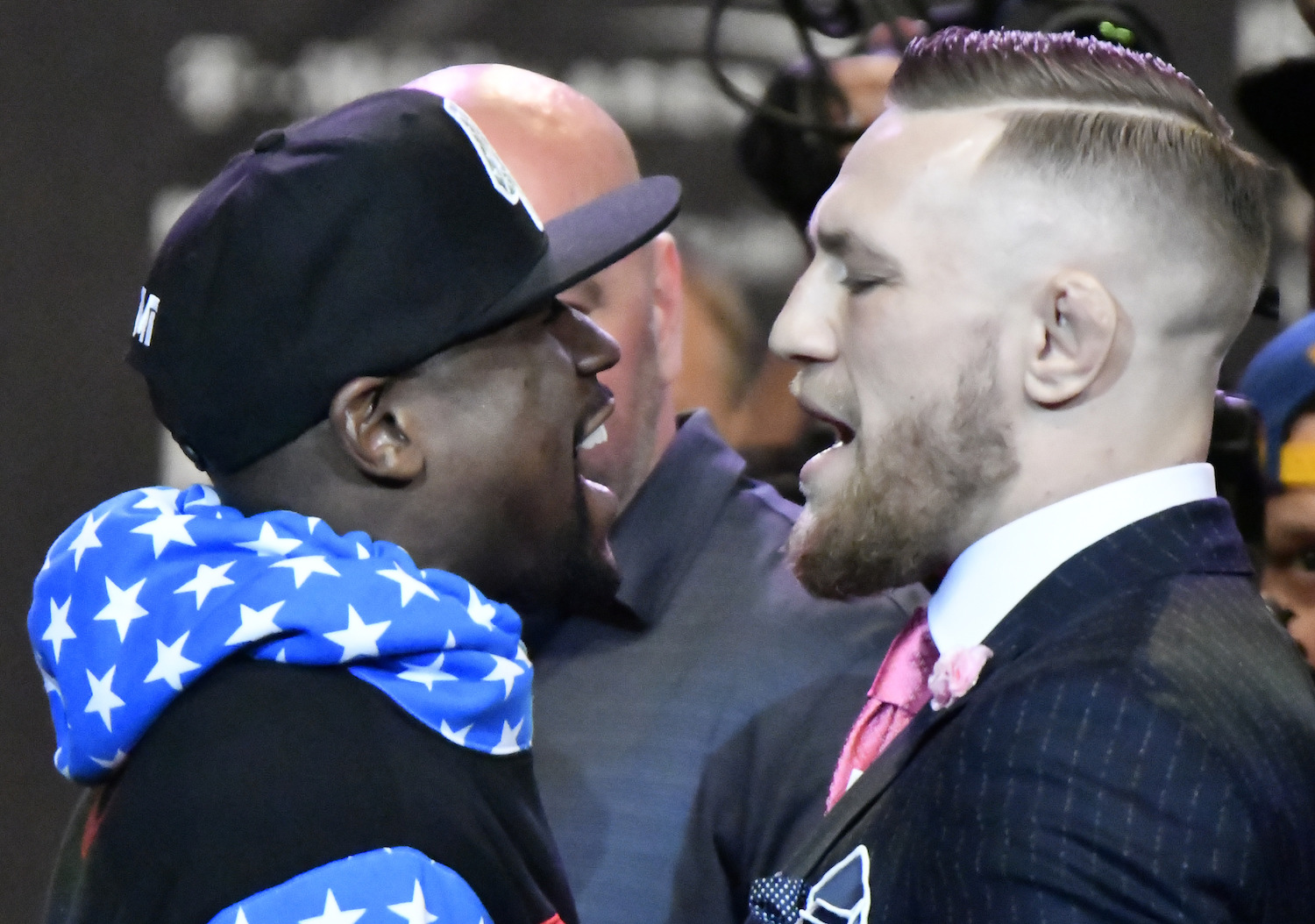 Everyone knows why Conor McGregor is fighting Floyd Mayweather: Dude wants to get paid. And after he takes his loss on August 26 and walks out of the ring with a $75 milloin check, he'll have enough money that he'll never need to get paid again. 
That's why UFC president Dana White thinks McGregor's fight against Mayweather may be his last. Speaking to reporters at yesterday's first stop on the fight's intercontinental promotional tour, White said: 
"I had a bunch of guys who worked for us in the UFC and made a bunch of money and they're gone now. You know? You just don't know, if he's going to come in and make this kind of money, he might never fight again," White said.

"That's part of the deal, you know?" White said. "This kid has done a lot for the sport, a lot for the company and this is the fight that he wanted, so we're going to give it to him. And if this is the end of his career, then it is what it is. "
White makes a good point. After getting paid a dump truck full of cash for fighting Mayweather, it's going to be difficult for McGregor to go back to a more violent sport and get paid less. Of course, if he wants to keep up that lavish lifestyle of his, there may be no other choice.
https://www.instagram.com/p/BWDl5shAmKh
As the second stop on the promotional tour approaches later today, we're still learning details about what happened yesterday. In an interview with MMA Fighting's Ariel Helwani, McGregor revealed what he was saying to Mayweather on the stage as the two men started each other down and talked tons of shit.  
"He was trying to say something about the [10 oz.] gloves and I was like 'You cried about the gloves'. He cried about the ounces of the gloves. Then he tried to say 'MMA next, we'll do'."

"I was like 'You're talking shit about stuff that you won't do'. Other than that it was just back-and-forth. The usual shite."
" tml-embed-width="600″ tml-embed-height="315″ tml-render-layout="inline
The info wasn't just coming out of camp McGregor either. Floyd Mayweather Sr. did some talking that's garnered some attention too. First, he gave an interview with a L.A. TV station and did the one thing you wouldn't expect him to do. He revealed some of his son's flaws. 
"Ain't going to see a knock out because my son got a hand problem," Big Floyd said. "That is a true story. He got a hand problem." 
This isn't really news. Mayweather's brittle hands have been the subject of many stories over the years, but for his father to bring it up, unprompted, was odd, and may have simply been a ploy to make a totally uncompetitive fight more compelling. Of course, he didn't seem completely with it either, so who knows. 
Mayweather Sr. did some more talking later, this time to McGregor himself. During a media scrum, the old man issued a threat to McGregor: Try to chock Floyd and papa is going to knock Conor out.