Conor McGregor Kicks Off 2018 By Trashing Floyd Mayweather AND Khabib Nurmagomedov
Will the UFC superstar finally return to the Octagon in 2018?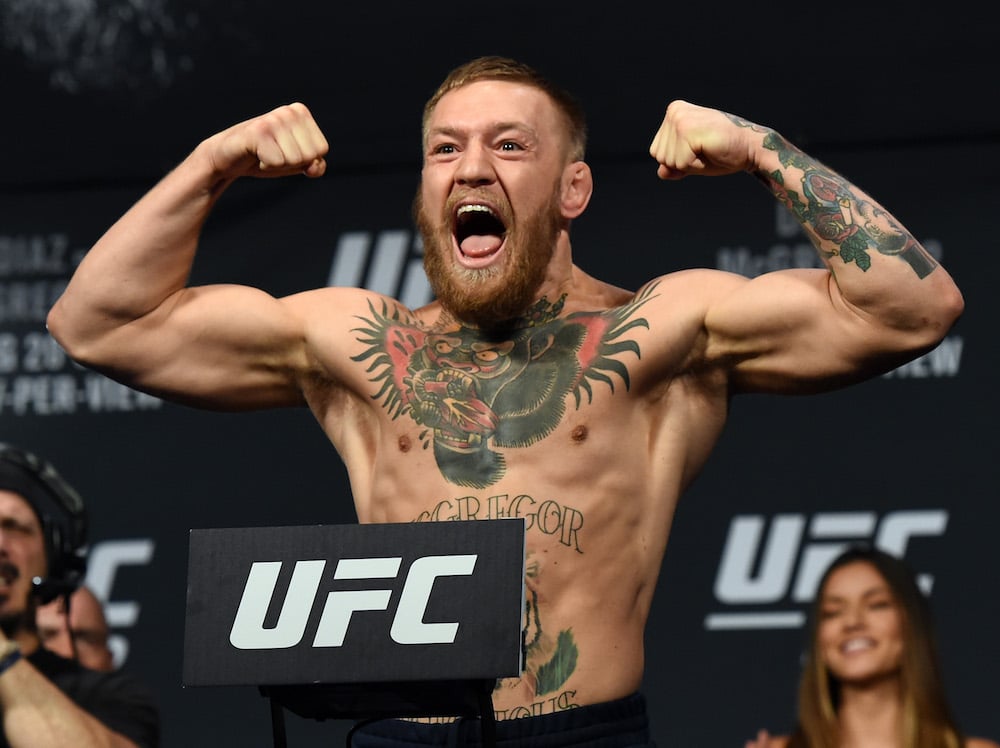 The UFC's biggest storyline in 2018 is the future of Conor McGregor, the biggest star in mixed martial arts and one of the sport world's most compelling personalities. 
Will the outspoken Irishman return to the Octagon? Does he plan to box again? Or will he continue running his mouth until no one cares what he has to say? 
Two days into the new year, we're no closer to answering those questions. What he do know though is that McGregor is setting up one of two possibilities in 2018: A rematch with Floyd Mayweather and a return to the Octagon to face Khabib Nurmagedov.
In the Instagram above, McGregor hints at a possibility that seems impossible: an MMA match with Mayweather. Despite Mayweather's flirtation with the UFC, he'll never get in the Octagon because McGregor's right—the boxing legend might end up in a hearse if they actually fought under MMA rules. 
The more likely scenario for McGregor in 2018 is a cage fight with Khabib Nurmagedov or Tony Ferguson. Right now, McGregor's focused on Nurmagedov after the undefeated Dagestani fighter's win via unanimous decision at UFC 219. Nurmagedov called out McGregor after the fight, saying he'd fight both Conor and Ferguson on the same night if the UFC would allow it. 
McGregor shot back in a handful of tweets Monday.
That Dagestani was dog shit the other night you's are all nuts. Game full of sloppy bums asking to be slept. Pay me my worth and Kings back.

— Conor McGregor (@TheNotoriousMMA) January 1, 2018
Truly truly truly get on your fucking knees and beg me. Otherwise I don't give a bollox.
My whiskey is out this year and thats Diddy bread.

— Conor McGregor (@TheNotoriousMMA) January 1, 2018
Nurmagedov responded by telling McGregor to "shut up" and tweeting this ridiculous picture. 
And McGregor shot back. 
The sparring on social media could be a preview of the promotion of a fight between these two. But whether or not that happens seems to be up to McGregor. During a recent appearance on FOX Sports Undisputed, UFC head Dana White suggested that he was done worrying about McGregor's potential return to the Octagon. 
"If Conor McGregor fights next year, that'll be awesome. If Conor McGregor doesn't fight, the UFC is going to go on. I've been hearing this since 2003. 'What are you going to do when Chuck Liddell's gone? What are you going to do when Georges St-Pierre leaves? You're in big trouble when Anderson Silva's gone!

"The list goes on and on. Ronda Rousey. Last year was the best in the company's history. So we're going to keep finding new talent and putting on the best fights in the world. That's what we're going to continue to do, with or without anybody."
Based on McGregor's attention-seeking behavior the past few days, he doesn't plan on going anywhere in 2018.