Conor McGregor's Official UFC 246 Walkout Shirt Is Getting Absolutely Roasted By Fans
"Wait. Conor McGregor is really walking out in this shirt?"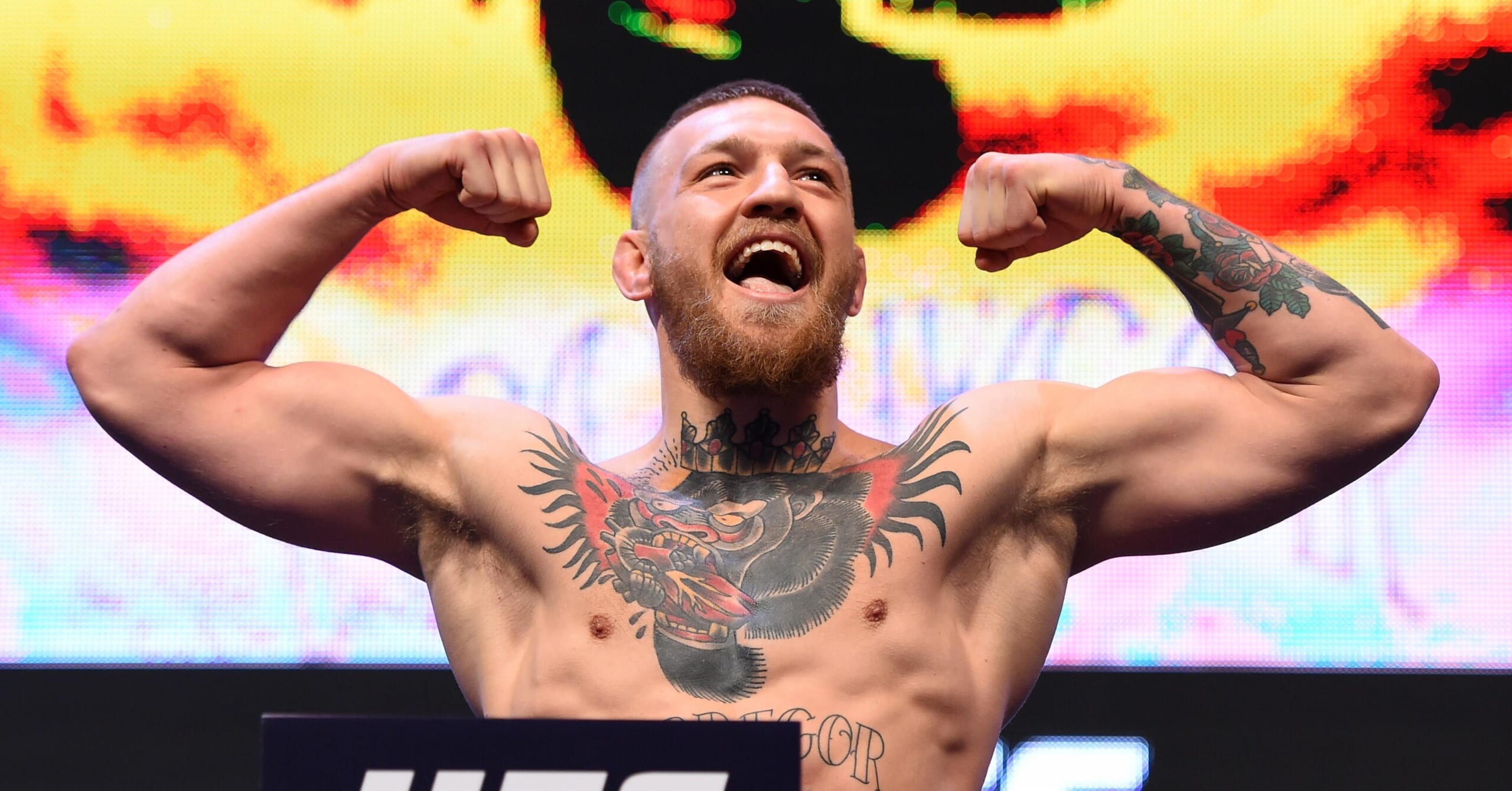 Photo: Getty Images
Conor McGregor is returning to the Octagon in UFC 246, facing Donald "Cowboy" Cerrone. Pretty exciting for fans of the outspoken Irish fighter, but probably also a subject of skepticism from more cynical MMA devotees—it could be a money grab, even though there seems to be general agreement that McGregor has all the money he'll ever need.
His return already seems a little fraught, too, as this week Reebok revealed the special ring walkout shirt he'll supposedly wear when he steps in to face Cerrone and fans promptly started slamming it on social media. 
Wait. Conor McGregor is really walking out in this shirt?

Say what you will about him, but he clearly takes fashion pretty seriously. Legitimately can't fathom him walking out with this Bitmoji lookin ass print on his shirt… https://t.co/ttZzW79VkG

— Tom Taylor (@TomTayMMA) January 6, 2020
"Wait. Conor McGregor is really walking out in this shirt?" was definitely a characteristic example of responses to the tee. That skepticism was immediate, too.
The consensus seemed to be that it's hard to view the ferocious one-time two weight-class champion as a serious competitor when he's apparently put his stamp of approval on such a cartoony representation of his image.
McGregor fights always bring out the fanboys. But only the most delusional of the bunch will wear that trash ass Nickelodeon coloring book Reebok shirt

— Anthony Walker (@AntWalkerMMA) January 6, 2020
If this was signed off on by Conor McGregor I would be shocked… this is absolutely awful. No grown man should be caught dead in this shirt outside of a video game convention. Let alone a man who loves fashion. The worst shirt ever made by @Reebok not even close. #UFC246 #UFC pic.twitter.com/0tfHBSKVfK

— Bopper (@TheDiddyBop) January 6, 2020
https://twitter.com/UFC_Obsessed/status/1214300691864272896
McGregor's recent history with the UFC has been pretty bad, and this is the most petty sort of minor bump, but these things add up, morale-wise.
Still, nothing will matter but who can still pull off a win once Conor McGregor and Donald Cerrone end up face-to-face when UFC 246 on January 18, 2020 at the T-Mobile Arena in Paradise, Nevada.