Cris Cyborg Says She'd Make Floyd Mayweather Tap Out If They Fought in the Octagon
The UFC fighter is taking a page from Ronda Rousey's playbook.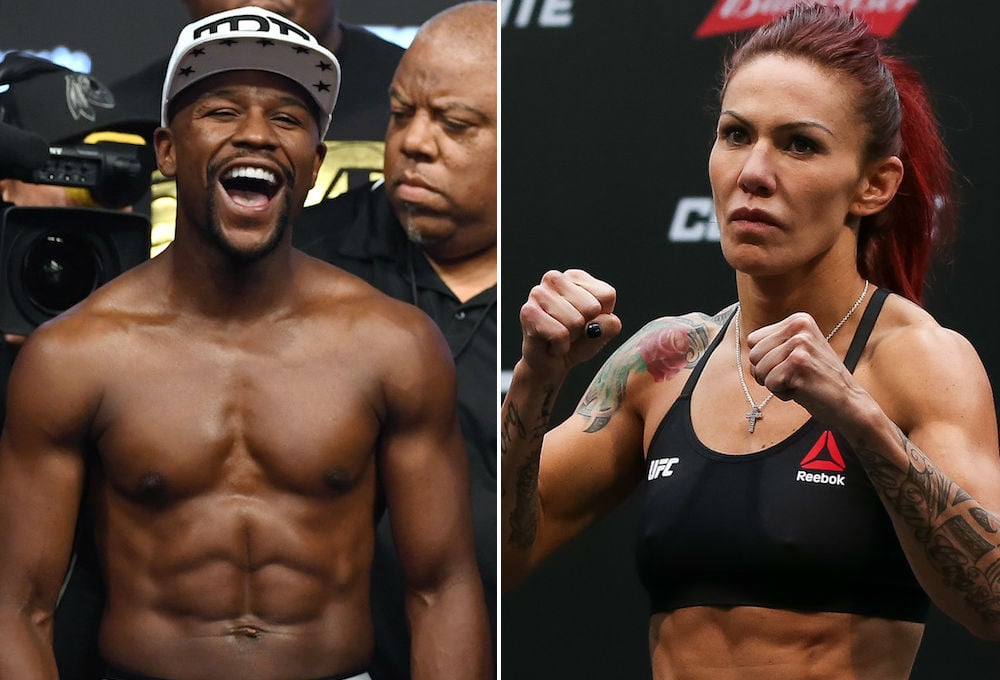 Cris "Cyborg" Justino, perhaps the most famous female fighter in the UFC now that Ronda Rousey has decamped for the WWE, is taking a page from her old rival's playbook and challenging Floyd Mayweather to a fight. 
A few days ahead of her UFC 222 bout against Yana Kunitskaya, Cyborg told TMZ that she would "take him down."
"You know, I'm gonna try my grappling for him," Cyborg said. "The first thing I would try is a double leg. I think fight Mayweather in boxing, it would be crazy. But MMA, I would probably take him down. I'm not going to challenge my boxing with his boxing."
Asked if she would make Mayweather tap out, Cyborg agreed that should would.
"I know [I would]," she said "but I'd need to slip my head a lot and have to be fast before I can catch him."
The idea of Cyborg taking on Mayweather is even more of a fantasy than the 41-year-old boxer getting into the cage against Conor McGregor. 
But it's smart for Cyborg to toy around with the idea. As she no doubt recalls, a public back-and-forth between Mayweather and Rousey helped boost the UFC fighter's profile back in 2015. 
That spat began when Mayweather claimed to not know who Rousey was. Rousey shot back at the ESPYs after beating Mayweather for the Best Fighter award. 
"I can't help but really say I wonder how Floyd feels to be beat by a woman for once," she said, a reference to his history of domestic abuse and it wasn't subtle. "I'd like to see you pretend to not know who I am now."
Mayweather hasn't responded yet to Cyborg, but we all know how much he likes seeing his name in the news, so it's coming. Probably just as soon as he gets back from vacation.