Dana White On Conor McGregor vs. Floyd Mayweather: 'It's Going to Happen'
The UFC boss has finally changed his tune. What do you think will go down?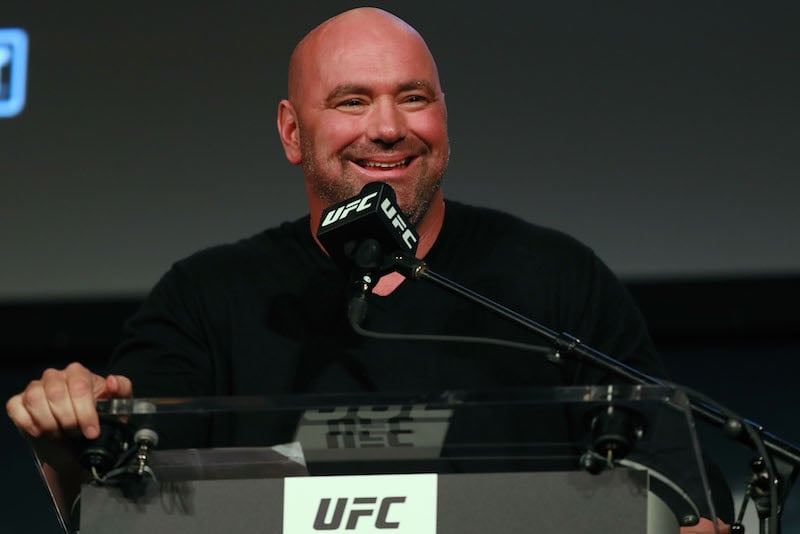 It's been a while since we've gotten any real news concerning the fantasy fight between Conor McGregor and Floyd Mayweather, but UFC head Dana White changed that Wednesday night. 
Appearing on Conan, White said that he thinks the fight, long considered a pipe dream, will actually happen. 
"I do think it's going to happen. I think it's going to be a tough deal, there's obviously a lot of egos involved in this deal and a lot of people so that always makes it tougher," he said. 
"On the flipside, there's so much money involved, I just don't see how it doesn't happen."
This is quite a reversal for White, who's said in the past that the fight will "never happen" and said it's as likely to go down as he is to be named the Patriots backup quarterback. But the bald-headed hater appears to have come around as the dollar signs flash in the eyes of all parties.
https://www.instagram.com/p/BFJJ7DnLzqs
Still, it's not like White's seal of approval has moved this fight much closer to reality. McGregor still hasn't even applied for a boxing license in Nevada. And then there are the issues of when to have the fight, how much each man gets paid and who will promote it. 
There's still a long way to go before this thing is real, but if it ever does get to that point, White believes that the outcome of the fight might not be as obvious as some are making it out to be. 
Or at least he's trying to hype the ridiculously slim chances of McGregor–who has never fought in a pro boxing match–against master pugilist Mayweather, who is, love him or hate him, the greatest boxer of his generation.
"Conor McGregor is huge," White said. "He's 27 years old. He's in the prime of his career. Floyd is 40. Floyd has always had a problem with southpaws. Conor is a southpaw. 
"And Conor hits hard. When he hits people, they go. Floyd's definitely not knocking him out — that's for sure. I'm not saying that Conor would win this boxing match, but it sure makes it interesting."