UFC Boss Dana White Slams Oscar De La Hoya for Letting Chuck Liddell Fight Tito Ortiz
"Chuck Liddell is almost 50 years old and has no business fighting anymore."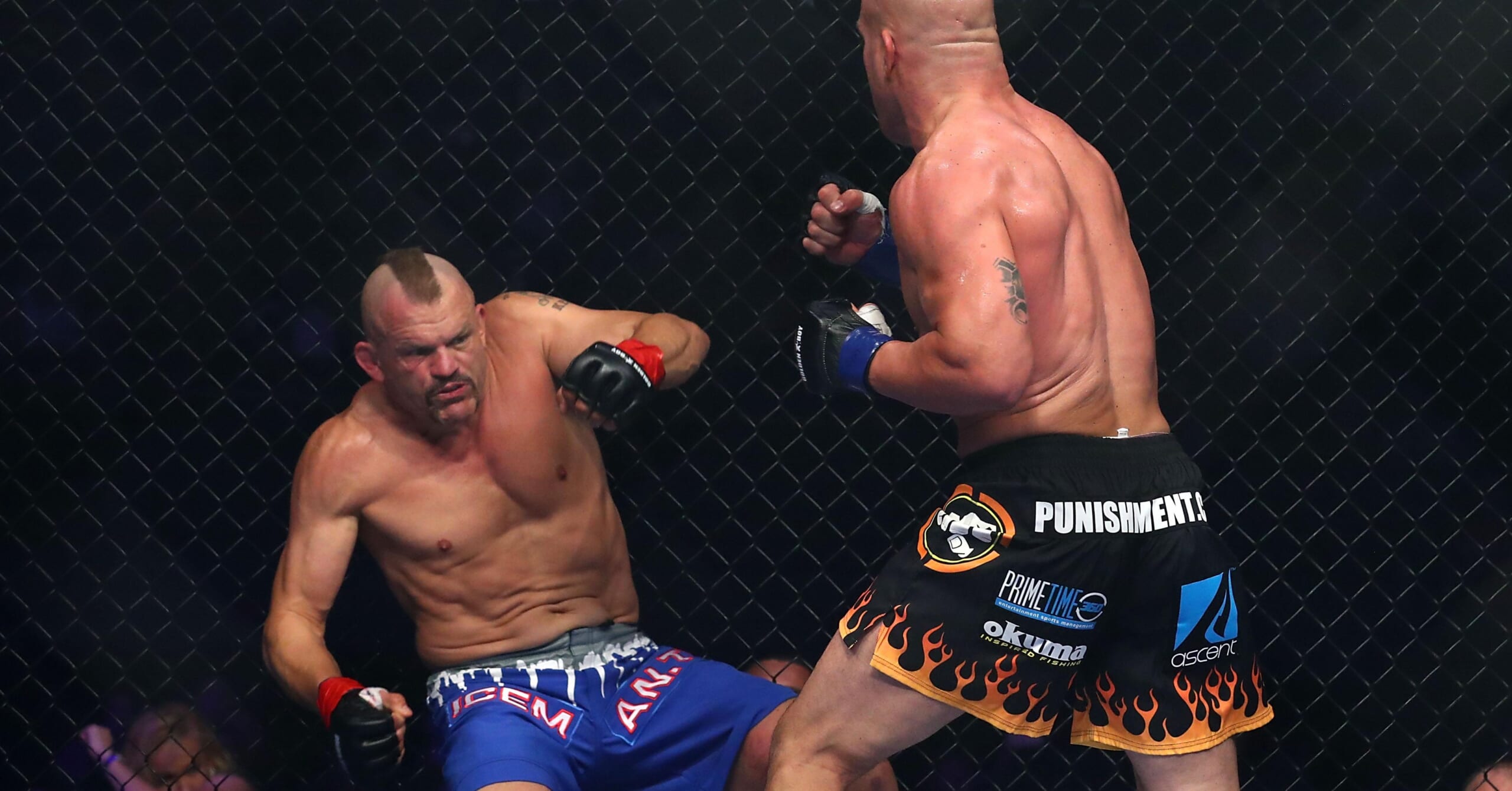 Getty Images
UFC president Dana White was seriously displeased with last Saturday's fight between aging MMA rivals Chuck Liddell and Tito Ortiz, and he's taking it out on Oscar De La Hoya. 
De La Hoya, a retired boxing legend-turned-fight promoter, was behind the Liddell vs. Ortiz III pay-per-view mismatch, which was turned down by both the UFC and Bellator because both fighters were way past their primes.
Ortiz ended the third bout between the former UFC stars via a first-round knockout of the sluggish, 49-year-old Liddell in a sad outcome that most fans believed never needed to take place.
https://twitter.com/DaveMMAdden/status/1066560641719103488
In the lead-up to the first MMA fight hyped by his Golden Boy Promotions, De La Hoya said fighters should never be told when to retire and called the UFC's pay structure "terrible."
"I heard last week, the cokehead, Oscar De La Weirdo, is talking shit that I don't have any place to tell guys when to retire," White told hosts Jim Norton and Matt Serra on the UFC Unfiltered podcast. 
"First of all, it's called friendship, you fucking cokehead. I've been friends with Chuck Liddell for 20 years, and the reality is that Chuck Liddell retired when he should have retired, eight, nine years ago, however long it was, and Chuck Liddell is almost 50 years old and has no business fighting anymore."
"And the fact that the state of California even let that fight happen is disgusting — disgusting," he added. 
White also went in on De La Hoya's payment of fighters. 
"Out of 14 fights on the card, five bouts were amateur fights, which means he didn't pay them jack shit," he said. "And 12 of the professional fighters on the card made less than [$3,000 to show and $3,000 to win]. What the fuck are you talking about, you cokehead junkie?"
As The Washington Post notes, Liddell and Ortiz were paid $250,000 and $200,000, respectively. Both are expected to receive a cut of pay-per-view sales. 
Per the Washington Post: 
The next-highest-paid fighters, per [MMA Fighting], were former UFC middleweight/light heavyweight Tom Lawlor, at a flat $25,000, and former UFC lightweight Gleison Tibau, who earned $20,000 for defeating Efrain Escudero.

Deron Winn, who defeated Lawlor in a decision, made $10,000, including a $5,000 win bonus.
Meanwhile, Ortiz publicly agreed with De La Hoya's analysis of the UFC pay structure. 
"In my humble opinion I don't feel Chuck & I were compensated correctly for all that we gave & sacrificed for the company," he wrote on Instagram Tuesday. 
"When you sold the company for over 4.5 billion dollars how much of that did Chuck and I get ? Nothing. This is not about you, it is not about me… I want it to be about the fighters & giving them the opportunity to share in all the rewards this business has to offer to where they don't have to fight when they are 43 & 48." 
During his rant, White fired one more shot at "cokehead" De La Hoya. 
"I hope somebody talks De La Hoya into fighting again," White said. "I hope the state of California makes the fight, and I hope he gets knocked out just like Chuck Liddell in the first round. Fucking cokehead nutball."