How Lakers Star Danny Green Makes Clutch Moves On and Off The Court
"Try to do the little things—running the floor, get some good looks, take your time—and just lock in and take each shot like it's your last."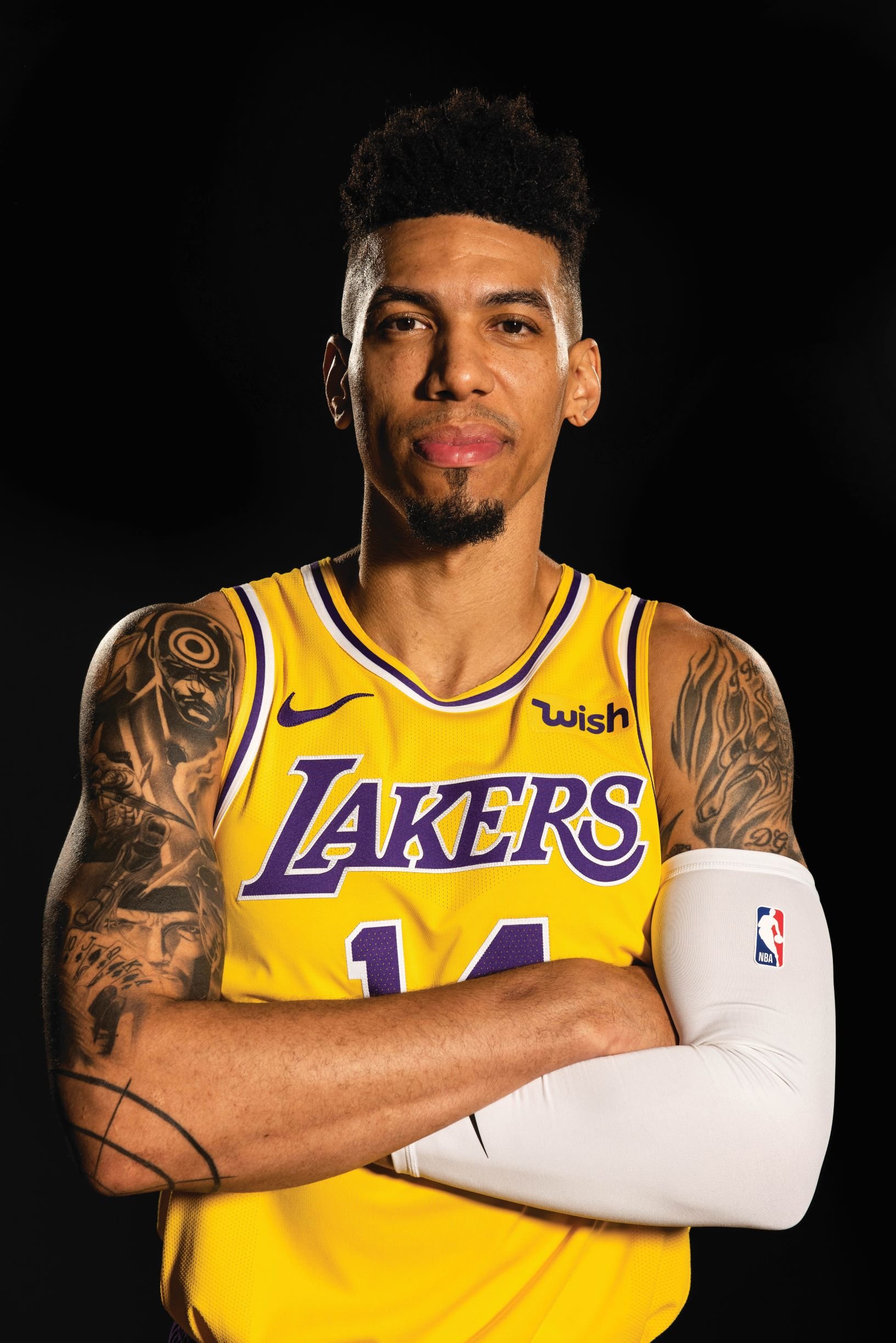 Call it The Shot. Late 2019. A Friday night at the American Airlines Center in Dallas. The 3-1 Los Angeles Lakers, kicking off a grueling three-game road trip, are facing the surprising 3-1 Mavericks. Dallas leads by three with 6.4 seconds left and the entire crowd is on its feet, holding its collective breath. Lakers shooting guard Danny Green in-bounds the ball that is then fed, naturally, to LeBron James. 
As The King drives towards the hoop on the far side of the court, Green rubs off a Dwight Howard screen and makes for the baseline. James leaps. But instead of shooting, he dishes to Green. With 1.1 seconds on the clock, the Lakers guard calmly fires off a high-arching rainbow of a three-pointer. Time expires. The ball swishes through the net and 20,358 fans drop their heads in disbelief. The Lakers go on to win 119- 100 in overtime. 
Clutch? Without question. Nerve-wracking? "Nah," says Green, who's been in the league too long to sweat a shot, no matter how much is on the line. "I just hope the play works out the way it's meant to. I hope I get that open look." Just another day at the office for Danny Green. 
The 32-year-old New York native makes big shots—especially big three-point shots—look easy. Now in his eleventh NBA season, Green had a career .405 percentage from beyond the arc, as of November. In 2013, he broke the record for most three-pointers in the NBA Finals, draining 27 against the Miami Heat. He's won two NBA titles, first with the San Antonio Spurs in 2014 and last year with the Toronto Raptors. 
In addition to having a rep as one of the deadliest long-distance shooters, the 6-foot 6-inch guard is also considered one of the top defenders in the league, and was named to the NBA All-Defensive Second Team in 2017. In July 2019, the Lakers snatched up the sought-after free agent and rewarded him with a two-year, $30 million dollar contract. Green likewise rewarded the Lakers and their fans with a 28-point performance in the season opener. 
"It wasn't like I couldn't miss," explains the always-humble Green. "It was more like a good rhythm. I was comfortable. I wasn't thinking much and when you're able to play without thinking, it makes it much easier." That rhythm led to the highest-scoring debut in Lakers history, besting both Kareem Abdul-Jabbar and LeBron James. 

Even as he has established himself as one of the most valuable role players in the league, the nature of that role—primarily a perimeter shooter—is one of swings. Hot and cold streaks. Sometimes those cold streaks have come at the worst times, like the 2019 Eastern Conference Finals where Green shot a frigid 4-23 from three-point land against the Milwaukee Bucks, missing 14 of his last 15 attempts. A brutal experience—bad runs always are—but he'd learned to avoid getting down on himself. To keep searching for that lost rhythm. 
"Obviously it's frustrating," admits Green. "You just have to work through it. Try to get some easy ones. Maybe from the free throw line." Sometimes it's simply about fundamentals. "Continue to do other things," he says. "Play defense. Stay active. Try to do the little things—running the floor, get some good looks, take your time—and just lock in and take each shot like it's your last." 
Although Green's last NBA three-pointer isn't coming anytime soon, he's well aware that's he's now an elder statesman in the league. "Every year you have to get smarter," explains Green. "As your body gets older, you lose a step with everything, whether it's jumping, speed or explosiveness." His version of smarts means predicting the angles an opponent might be taking and studying players' tendencies on and off the ball; evolving in all aspects. 
"Life after basketball is definitely something I'm looking into," says Green. To that end, the former communications major is already working towards a possible new career: broadcasting. Green matriculated at the National Basketball Players Association's Sportscaster U. tutorial, served as an All-Star weekend color commentator for TNT's Rising Stars Challenge, and in 2018 launched a basketball podcast called Inside the Green Room with Danny Green. At the time it only lasted two months, but new episodes began airing in November 2019. 
While there's far less at stake with a podcast then, say, a last second, game-tying three-pointer against a conference rival, Green approaches all of it with the same mentality. "You have to continue to work and stay ready," he says. "Doing the little things that got me here and not take it for granted."