Delta Airlines Denied the Champion U.S. Curling Team an Upgrade, and People Are Pissed
Gold medals aren't good enough for first class?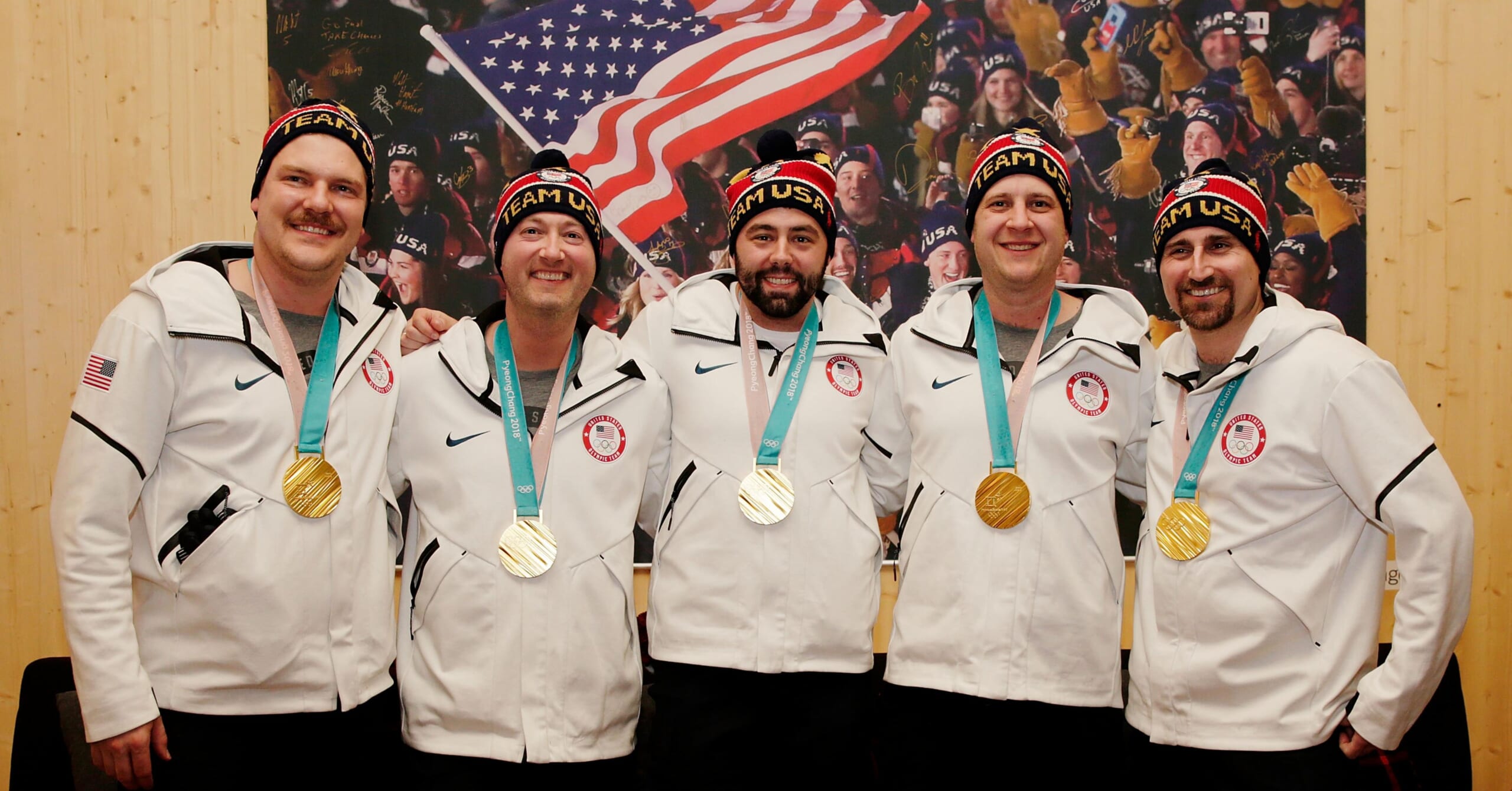 Photo: Getty Images
After last weekend's loss to Norway put the U.S. curling team on the bubble of elimination, no one expected to see them on the Olympic podium. 
The five athletes—John Shuster, Tyler George, Matt Hamilton, John Landsteiner and Joe Polo—surprised the world by winning their next five matches. The final victory, against the top-ranked Swedish team, earned America its first-ever gold medal in the sport. 
There was no better time to ask for a bump to first class on the plane ride home.  
"Delta our Olympic curling champions are flying home on Monday," tweeted the official USA Curling account. "Upgrades?!? GoldMedalists CoachPhill TeamShuster."
Delta congratulated the team… then publicly announced that they would not offer the Olympic champions any upgrades. 
Hi, there. Congratulations, gold medal champions! We are honored to be your ride back home! While we don't have any upgrades to offer, we look forward to seeing you on board. Thanks for flying with us! *AJL

— Delta (@Delta) February 24, 2018
"We are honored to be your ride back home!" Delta tweeted. "While we don't have any upgrades to offer, we look forward to seeing you on board. Thanks for flying with us!"
Both USA Curling and team member Tyler George responded with grace and understanding.
It's all good, @Delta! We know how it goes when everything is full. We've been flying main cabin our whole lives, right where we're comfortable! You've always been very good to us. Looking forward to flying with you again!

— Tyler George (@tgeorge1323) February 25, 2018
Other responses, however, weren't so friendly. Furious Twitter users berated the airline, with some even calling for boycott.  
https://twitter.com/ChowardPena/status/967520979848187910
Congrats @Delta. You just took a crap on one of the real feelgood stories from this Olympics. Way to go!

— Beijing Biden Election Infection 2020 (@GoVols37872) February 25, 2018
https://twitter.com/IrishOGorman/status/967572081058590720
I'm a medallion member with Delta and that's a weak response. Hopefully a proud American on the flight will switch seats. I know I would. Got up at 1:30 AM to watch and haven't been to sleep yet. Cheers on accomplishing history!

— Big Shooter (@BiggieShooter) February 25, 2018
wait a minute, Delta….want to rethink that? Want to look again and see if you can't find some upgrades for the FIRST EVER gold medalists in curling from the USA?? #DoBetter

— dwlex (@dwlex) February 25, 2018
Here's an idea. Save your tweet so that the whole world won't find out that you're the "Thanks, but no thanks" airline.

— Cancel Virtue Signalers (@Ramad8371) February 25, 2018
Hours earlier, Delta had announced that they would no longer offer group travel discounts for the National Rifle Association.
Delta is reaching out to the NRA to let them know we will be ending their contract for discounted rates through our group travel program. We will be requesting that the NRA remove our information from their website.

— Delta (@Delta) February 24, 2018
This move, in combination with their denial of the curling team's request for an upgrade, made some Twitter users question the American airline's patriotism. 
First you cut ties with NRA, then you don't offer upgrades to the Men's Curling Gold Medalists. I get it now. You hate America. Thanks for clarifying. #BoycottDelta 🇺🇸

— Sharon 🇺🇸😃🇺🇸 Trump2020 (@Red4Liberty) February 24, 2018
https://twitter.com/MetricButtload/status/967525997712097280https://twitter.com/sunbeltengines/status/967580669965684737https://twitter.com/dojoroda1/status/967573749292814337
For the sake of their PR people, let's hope Delta can stay out of the headlines for the foreseeable future.