Deontay Wilder and Tyson Fury Fight to Controversial Draw, Both Call For Rematch
"We poured our hearts out tonight."
Showtime
Anthony Joshua will have to wait to meet the winner of the Deontay Wilder-Tyson Fury heavyweight title fight. The hard-fought clash ended in a controversial split decision draw at L.A.'s Staples Center Saturday night. 
Wilder floored his 6-foot-9 opponent twice, including a dramatic 12th round knockdown that Fury miraculously recovered from, but many observers still thought Fury's awkward fighting style and slicker boxing skills had earned him a narrow victory.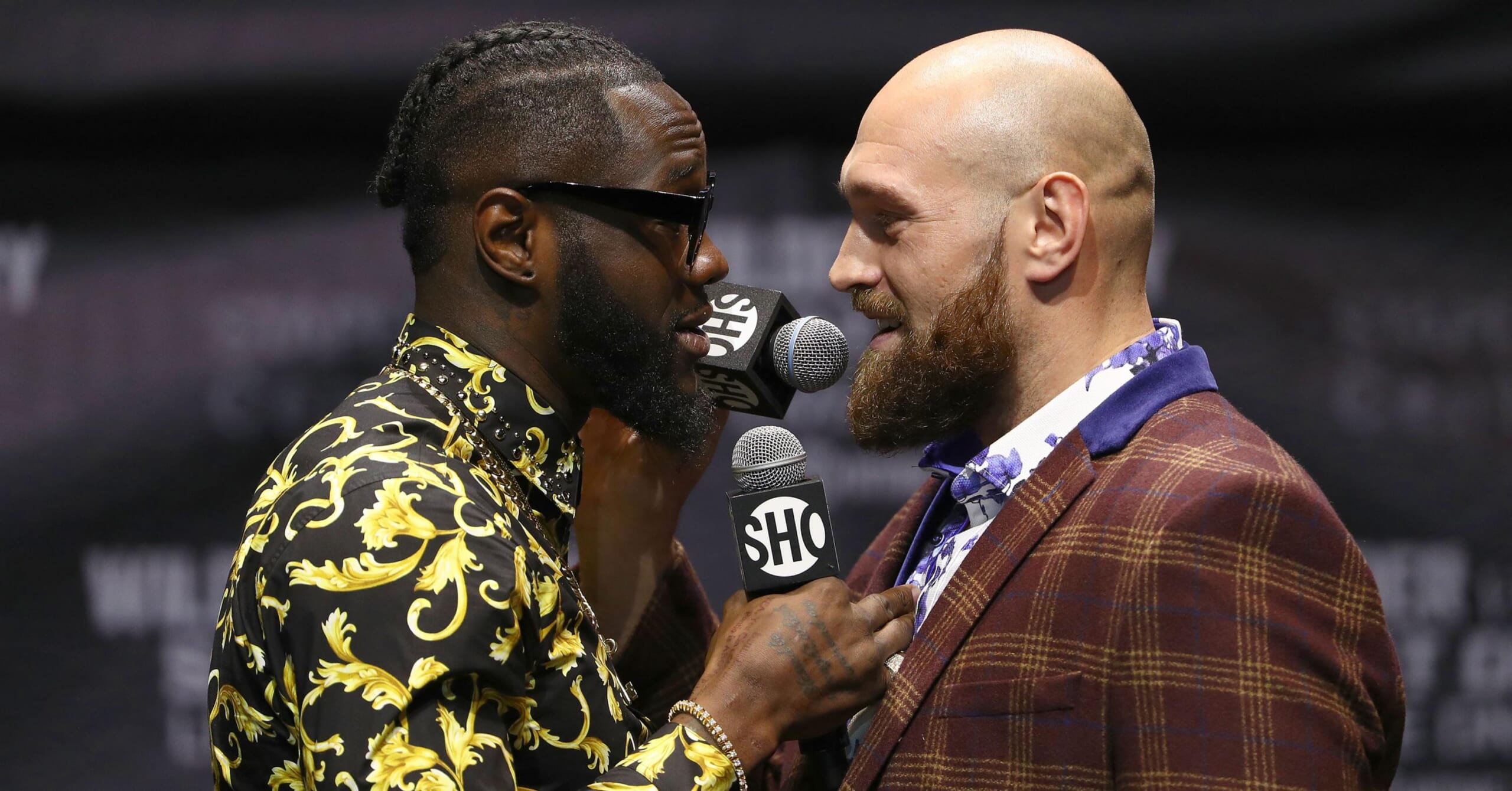 The judges saw it as a split decision draw. Judge Phil Edwards had them even at 113-113, Mexican judge Alejandro Rochin had Wilder the victory by a highly controversial 115 to Fury's 111, and Canadian judge Robert Tapper believed Fury came out on top, 114-110. 
Deontay Wilder showed respect for Fury but was unequivocal: "I think with the two knockdowns I definitely won the fight," he said. 
"We poured our hearts out tonight," Wilder continued, "We're both warriors. But with those two drops, I think I won the fight." 
https://twitter.com/TeamFA/status/1069244694327148545
It should come as no surprise the Fury had a different opinion. "I got knocked down twice," he said, "but I still believe I won that fight." In fairness to both men, their records testify to having good reason to question the judges' decision. Wilder has won 40 fights, 39 by knockouts. Fury is also undefeated, scoring 19 KOs in 27 wins. 
The outcome was the most disappointing part of the fight for viewers, because it was otherwise one of the more thrilling heavyweight bouts in recent memory.
" tml-render-layout="inline
Besides the knockdowns, Fury used his size and crafty boxing skills to control much of the fight. Wilder hung back, watching for the perfect moment to hammer Fury. Wilder first dropped Fury in the 9th, but the big Brit didn't seem hurt. But in the 12th round, Wilder unleashed a brutal left-right combo that put Fury flat on his back.
In a recovery straight out of a boxing movie, Fury managed to beat the count and rise to his feet, galvanizing the crowd and visibly surprising his opponent. 
Going into the fight it seemed inevitable that the winner would go on to face Anthony Joshua—who currently holds three titles—to become a true world champion. A draw, obviously, makes a rematch seem far more likely. Wilder thinks so. "Let's give the fans what they want to see," he said after the match, "It was a great fight, so let's do it again. It doesn't matter to me where we do it."
Fury seems equally eager to jump back in the ring. After facing down mental health and addiction problems, he wants to complete his comeback with the only title he's never held. "I want to win the WBC belt and finish my collection," he said before the match. He was sure he could do it, too, saying that if he stayed "focused for the full duration of the fight," Wilder wouldn't land "any punches at all."
Obviously things didn't work out that way,  but during the post-match press conference it was evident that it's hard to keep Tyson Fury down.
"I'm being a total professional here," Fury said post-match, "I went to Germany to fight Klitschko and I went to America to fight Deontay Wilder. God bless America. The 'Gypsy King' has returned."
"I'm what you call a pro athlete that loves to box," he said, "I don't know anyone on the planet that can move like that. That man is a fearsome puncher and I was able to avoid that. The world knows I won the fight."
Former boxing champions Andre Ward and Lennox Lewis and English writer and director Paddy Considine were among those who thought Fury won—and NBA superstar LeBron James just wanted to know what the hell was happening. 
This #WilderFury judging takes me back to my first fight with @holyfield Just goes to show how hard it is for a Brit to come to America and take someone's belt even tho that's what we clearly saw. Big up to @Tyson_Fury who never ceases to amaze me. Hold ur head high! 👊🏾💥

— Lennox Lewis, CBE, CM (@LennoxLewis) December 2, 2018
A draw, I understand (even tho I feel Fury won by a 2 or 3 rds). With 2 knockdowns & round here or there for Wilder and you have a draw in some people's eyes. But 115-111 for Wilder is terrible, just terrible !! That's what's wrong with boxing. Fury's stock went up !!!!!

— Andre S.O.G. Ward (@andreward) December 2, 2018
https://twitter.com/PaddyConsidine/status/1069262288497053697
Man that was the funniest/craziest fight I've ever seen in my life. What the H-E-🏒🏒 just happened?!?!?!

— LeBron James (@KingJames) December 2, 2018
It wasn't quite a Rocky-like comeback for Fury, who struggled mightily with substance abuse and mental illness in the three years after his victory over Wladimir Klitschko in 2015, but he said he "fought his heart out" afterward. There's no doubt about that.