Watch Eagles Fans Wild Out In Philly Streets While Celebrating Super Bowl Appearance
Fist fights broke out, greased poles were climbed, and someone drove up the "Rocky" steps in a freakin' dune buggy.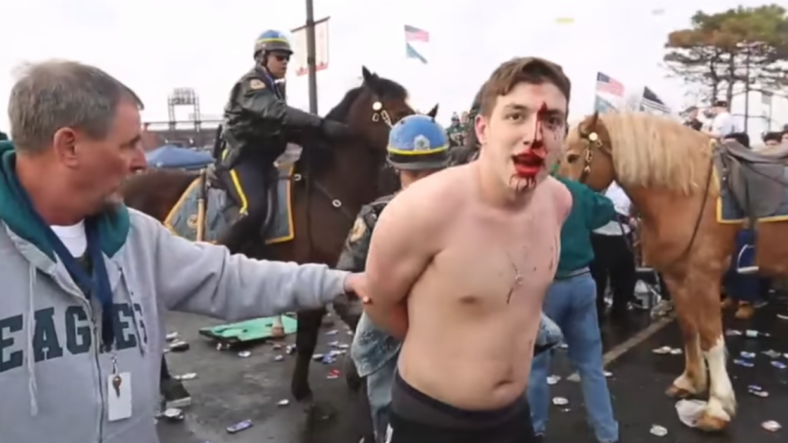 Still: YouTube/NJ.com
Philadelphia Eagles fans celebrated their Super Bowl LII appearance with all the wildly drunken enthusiasm of the Bills Mafia Sunday night.   
Hordes of intoxicated Birds boosters swarmed Philly streets after their team decimated the Minnesota Vikings 38-7 in the NFC Championship at Lincoln Financial Field. 
Among the most epic celebratory displays was the moment a fan scaled the Rocky Steps outside of the Philadelphia Museum of Art… in a damn dune buggy. 
Authorities even greased up street poles with Crisco in an attempt to keep people from climbing them. It didn't work. 
Unsurprisingly, a few booze-filled altercations broke out. This guy lost to support beam in a subway station. 
https://twitter.com/ParkerHageman/status/955279473947086848
Meanwhile, police struggled to maintain order between rowdy fans looking for a fight. Because, why not? 
We're guessing half of these dudes called in sick to work on Monday morning, and we thank them for their service. Fly, Eagles, fly!