Eagles Fans Wants to Punch Cris Collinsworth Like He's a Police Horse
Even players are angry at the NBC commentator's alleged bias.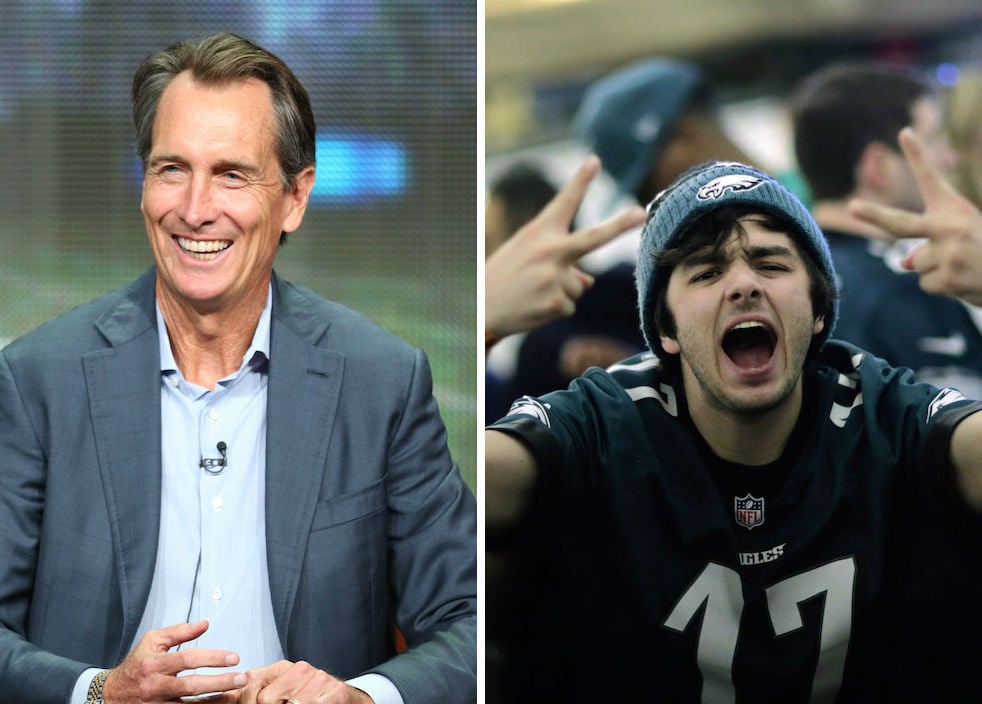 Eagles fans have spent the past day and half in a Super Bowl-induced delirium, filled with raucous celebrations and, in the few moments of quiet repose, dreams about more rings to come.
But they've also found time to be salty. And the target of their salt is NBC commentator Cris Collinsworth, who, if you ask Eagles fans, was wearing a cutoff hoodie under his shirt and tie Sunday night.
The anger at Collinsworth stems largely from his reactions to two Eagles touchdowns that were reviewed and ultimately confirmed by the officials. He didn't seem to think either should have counted.
First, it was Corey Clement's TD catch in the third quarter. The running back looked to bobble the ball as his feet came down in the end zone and Collinsworth thought the score would be overturned. "I give up," he said. "If that ball's not loose in his arms when that last foot came down, I give up."
Then came Zach Ertz's go-ahead touchdown. "I'm not even taking a guess," Collinsworth said as the review began.
It wasn't just his negativity about the Birds. Collinsworth also spoke of Tom Brady like he's a saint in shoulder pads, continually suggesting that the Patriots quarterback would pull off the comeback, which he didn't. 
Some fans tweeted about their anger. 
Collinsworth gave up calling a football game about midway through the 4th and is just broadcasting his own Tom Brady fan fic at this point. #SuperBowl

— Greg Wyshynski (@wyshynski) February 5, 2018
https://twitter.com/RoryAlbanese/status/960613684753174528
Others expressed it on TV.
https://twitter.com/SInow/status/960387068303237120
And thousands more put their anger into action by signing a petition that says Collinsworth should never call another Eagles game. 
Chris Collinsworth is the most biased and horrible commentator ever. Being a Philadelphia Eagles fan and having to listen to him constantly talk about the Patriots and hardly ever the Eagles during the game made it almost unbearable. As a professional he has a duty to if not be unbiased at least try to make the game enjoyable for all viewers. His constant fawning over Tom Brady and the Patriots the entire game was disgusting, making it sound like he was a local Boston radio personality and not a commentator for a nationally syndicated football game. 
And it wasn't just the fans. Eagles defensive lineman Chris Long called out Collinsworth after watching the replay of the game. 
https://twitter.com/JOEL9ONE/status/960718513097904128