Eagles Fans Flipped Cars, Smashed Windows and Generally Lost Their Minds After the Super Bowl
"Philly's on fire!"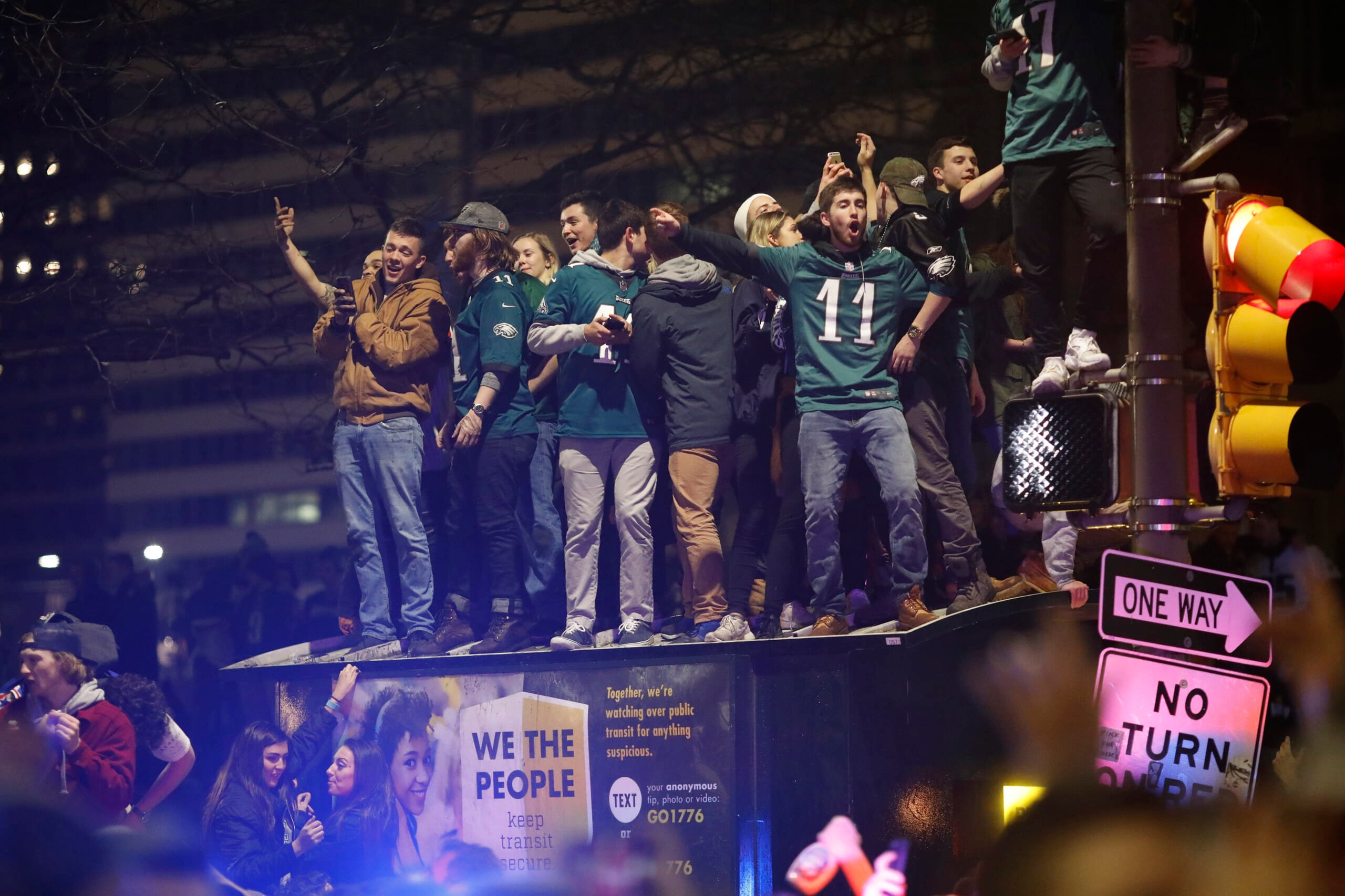 As soon as Tom Brady's hail Mary fell to the turf in U.S. Bank Stadium Sunday night, marking the end of Super Bowl LII, everyone knew Philadelphia was in for it. 
Eagles fans, long considered the rowdiest bunch of perpetual losers in the NFL, had just gotten their first taste of winning and they were out to celebrate. 
As Eagles had coach Doug Pederson called them the "best in the world" in his post-game comments, Eagles fans flooded into City Center, to say "woooo," climbs things and be dumb as shit. 
With police taking precautions to grease up light posts, fans were left to find other structures to climb, which is apparently what you do when your team wins the Super Bowl. So they climbed the gates at City Hall and began setting off fireworks on Broad Street, the kind of thing that would get you locked up on a normal Sunday night. But last night was far from normal.  
Others scaled the awning at the Ritz Carlton, which collapsed under the weight of all the bloated beer bellies piled on top.
The pyromaniacs were out in full force too. Some set off fireworks in dangerously dense settings, others carried around flares and others still lit shit on fire. 
And then the property destruction began. Cars were flipped, lights posts torn down, windows smashed and giant potted plants overturned. 
Despite the mayhem, there are a couple pieces of good news to take from the celebrations. For starters, no one died. Also, no one punched a horse, which happened after both of the Eagles two previous playoff wins. 
Coincidentally, a horse did play a role in the celebrations Sunday night though, at least for one fan. Here's a guy in a Randall Cunningham jersey and a dainty Eagles scarf taking a bite of horse shit off of the street for reasons the defy explanation. 
It was the second most embarrassing moment of the night, eclipses only by Kevin Hart's shameless attempt to get on the stage as Roger Goodell gave the Eagles the Lombardi trophy. He was immediately rejected and by a man four times his size. 
https://www.youtube.com/watch?v=w6Tao4H3QHY