ESPN's 'Mike & Mike' Are Breaking Up After 17 Years Together, And One Mike's Son Is Pissed
The Worldwide Leader continues the great shakeup of 2017.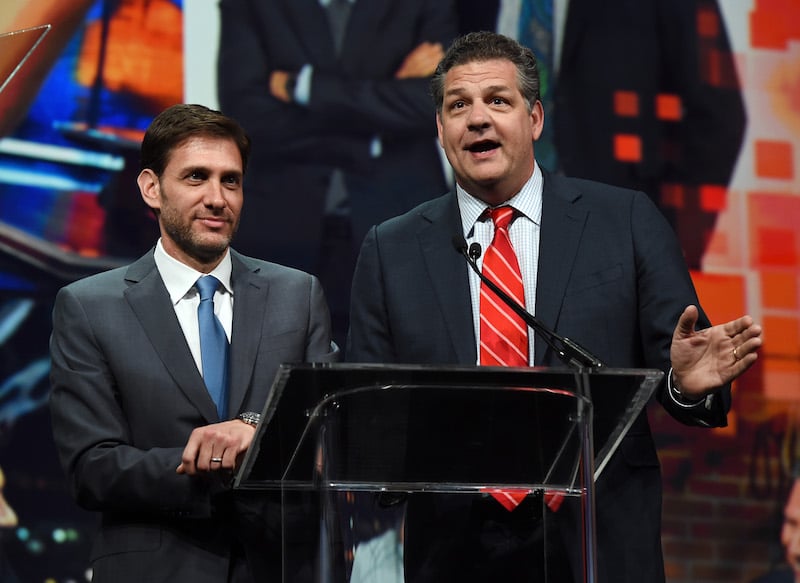 After 17 years by each other's side, Mike Greenberg and Mike Golic, the aptly named "Mike & Mike," are breaking up.
The rumored split was confirmed Tuesday at the ESPN Upfront presentation, where it was announced that Greenberg will launch his own ESPN morning show on January 1, 2018. Golic will remain in his current role with Greenberg's seat getting filled by longtime SportsCenter host Trey Wingo. 
"One of the many benefits of working at ESPN is that change and evolution are in our DNA," Greenberg said Tuesday. "My run with Golic has been an incredible experience that I'll always treasure, but having the chance to engage multiple voices every morning in a dialogue on each day's sports stories will be a great new challenge."
Greenberg's show is still being developed, but what details there are make it sound like a Today Show-style morning gabfest, which will feature "several full-time co-hosts" along with "a rotation of various guests and expert contributors."
Both Mike's spoke about the coming split on today's show in what was a bit of an emotional moment for longtime fans. 
The Mikes may have been feeling glum today, but Jake Golic, son of Mike, was pissed. The 26-year-old former University of Cincinnati football player ripped ESPN in a series of tweets that have somehow not yet been deleted.