Ezekiel Elliott Becomes NFL's Highest-Paid Running Back With New Dallas Cowboys Contract
He signed a 6-year, $90 million contract with the Cowboys.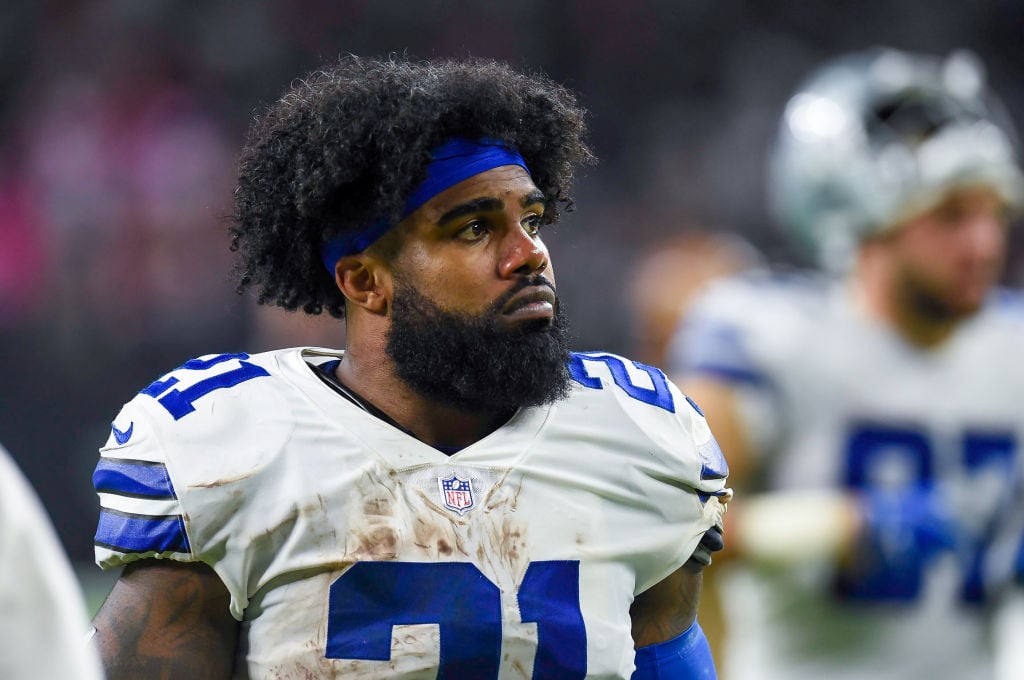 It's official: Ezekiel Elliott is the running back with the most greenbacks.
ESPN reported Wednesday that Elliott and the Dallas Cowboys have finally agreed to a six-year, $90 million contract extension. The Cowboys themselves later confirmed the deal.
Elliott, 24, will receive $50 million guaranteed and that boosts the running back past the Los Angeles Rams' Todd Gurley ($45 million guaranteed) as being the highest-paid pro player in that position. 
Here's more from ESPN:
…Elliott, 24, was under contract through 2020 and was set to make $3.853 million in 2019 and $9.09 million on the fifth-year option in 2020, making his total compensation through 2026 more than $100 million, which makes him the highest-paid running back in NFL history.
In confirming the agreement, DallasCowboys.com reported "it all appears to be settled," and that "Elliott returned to the Dallas area from his offseason base in Cabo on Tuesday morning, conversations went down late Tuesday night and a deal was agreed to by early Wednesday morning."
ESPN reports Elliott should be at the Cowboys' Wednesday practice, ending a holdout period just in time for the team's season opener—time he spent training away from the team at a camp in Cabo San Lucas, Mexico.
No one doubts Elliott's talents—his 4,048 rushing yards beat Gurley by a pretty big margin, the latter having 3,441 yards under his belt.
Still, he was also suspended for six games in 2017 after an alleged 2016 assault on a former girlfriend in Ohio. Elliott never actually faced charges but the NFL still punished him in accordance with league policy, starting a court battle that dragged on for a while until Elliott agreed to accept the penalty.
He's faced other off-field allegations of improper conduct but the Cowboys have always been on his side—though he will face possible hefty fines—$40,000 a day—for missing training camp as he waited for this megadeal. 
Elliott couldn't resist what seemed like a wordless acknowledgment of the deal, tweeting the following.
No one would blame him. That much money is worth one hell of a victory dance.