Floyd Mayweather Just Ramped Up His War of Words with Conor McGregor
"Never compare Conor McGregor to me. It's a total disrespect."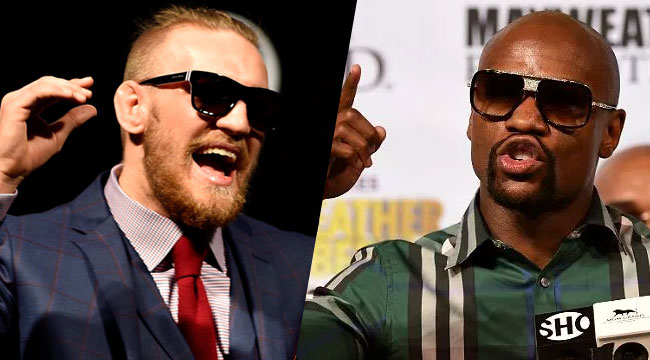 Retired boxing king Floyd Mayweather and reigning UFC king Conor McGregor have been jawing at each other for months about a make-believe superfight that will absolutely never happen, but it's still pretty entertaining to hear them talk smack about each other.
Their latest beef escalation erupted this week when a TMZ cameraman suggested that McGregor was "the Floyd Mayweather of MMA" in the wake of his beautifully savage destruction of Eddie Alvarez at UFC 205.
Never mind that Mayweather was much better known for his befuddling defensive wizardry than for thrilling fight fans with violent knockouts during his heyday. And forget that the Mayweather/McGregor comparison, flawed as it may be, is actually kind of a compliment to Floyd given all the excitement McGregor has brought to the UFC by becoming the first fighter to hold two belts at the same time.

But the mere suggestion that McGregor was even in Mayweather's league was enough to set "The Best Ever" off. Watch the video here:
"I didn't know that Conor McGregor was undefeated," Floyd told TMZ, with more than a whiff of sarcasm. "I didn't know he had a reign in MMA that lasted for 20 years undefeated and was world champion in five different weight classes. That's something I didn't know. So I guess you guys are telling me something new."
"Has he ever made 300 million in one night?" Mayweather continued. "Have you even made 100 million in one night? Have you ever made 70 million in one night? So as far as you trying to say he's the Floyd Mayweather of MMA… I mean, it's okay to say it, but it's not true."
"I think that it's time for Conor McGregor to go out there and do what he do. But never compare Conor McGregor to me. It's a total disrespect. Once again, I'm an elephant. Elephants don't beef with ants. An elephant is so large, he don't even see ants."
Damn. That "I'm an elephant" line is a real mic-dropper, but then McGregor responded by grabbing an actual mic at Manhattan nightclub on Tuesday night to challenge Mayweather to a $100 million pugilistic showdown.
After hearing about Mayweather's latest diss and firing back to yet another TMZ cameraman that the boxing legend should "say it to my face," McGregor made his latest outlandish offer at 1 OAK, where the fiery Irishman took over the DJ booth and called out Mayweather in typically brash fashion.
"Floyd's not ready for this," McGregor told the crowd.
"Much respect to Floyd. He's a solid businessman on what he's been able to do…he's a fucking animal at what he's been able to do. But as far as real fighting…as far as true pure unarmed combat…Floyd don't want none of this."
"He wants a boxing match, he doesn't want a fight. I want a $100 million cash to fight him under boxing rules…he's afraid of a real fight."
Sweet Jesus. Considering how many years it took for Mayweather to step into the boxing ring with Manny Pacquiao, this could go on for a long, long time.