'You Can't Even Read': Conor McGregor Unloads on Floyd Mayweather on Night Two of Totally Crazy Hype Tour
The notorious trash talker was at his best in Toronto.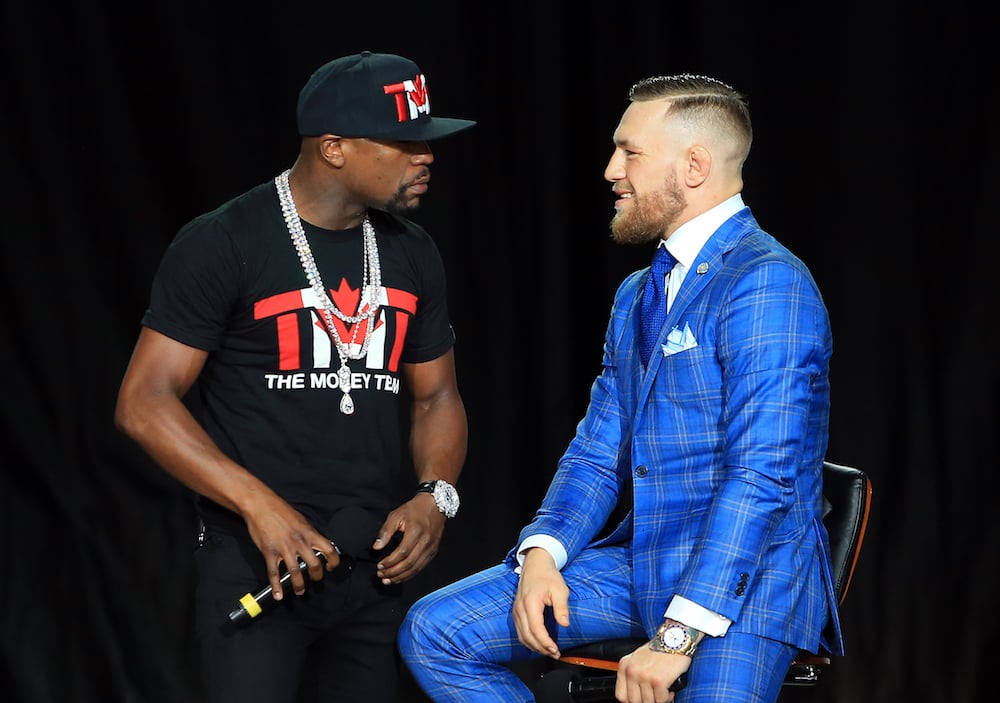 Before the hype of the big fight, we have the hype of the hype tour. And on night one, the Floyd Mayweather and Conor McGregor hype tour was anything but. It was brief, boring, and apart from the old dudes patting themselves on the back for making the fight happen, no one was prepared for the spotlight. 
That changed Wednesday night in Toronto, where 30,000 screaming fans, most of them pulling for McGregor, were greeted by the city's biggest star: Drake.
Once Mayweather and McGregor took the stage, it was clear that the UFC superstar, who said on Tuesday he didn't know he was going to have to give a speech, came prepared. 
He went at Showtime, which he accused of cutting his mic on Tuesday, preventing him from popping off at Mayweather as the boxing legend spoke from inside Staples Center. 
He went after all the writers, pundits and so-called experts who insist that a MMA fighter stands no chance against an undefeated boxing icon, even if he is 40.
"I just want to speak to all the pussies, all the pundit pussies. The supposed experts," McGregor said. "You're fucking crazy if you think this man has a chance. [Mayweather's] head is too small. One shot is all it takes me. I'll bounce his head off the canvas. I'll dribble that shit. He never even fought a day in his life. He's boxing's biggest runner and it's biggest bitch."
But as you might imagine, it was Mayweather who bore the brunt of McGregor's insults.

"What the fuck is he wearing?" McGregor said at one point. "He looks like a little breakdancer, a little 12-year-old bitch. He's 40. Learn to dress your age. You have a school bag on stage. What are you doing with a school bag on stage? You can't even read."
While McGregor's shit talking was the highlight of the night, Mayweather tried his hand at it too. He's not as good, but he did deliver at least one pretty good line in response to McGregor's criticism of his clothes. 
"Dana White, we got the money, you and me got the money," Mayweather said. "We don't have to wear suits. It's the ones who have the money that don't have to wear suits."