Floyd Mayweather Rumored to Have Gambled Away $50 Million in 2017
Mayweather vs. Pacquiao II suddenly makes A LOT of sense.
Getty Images
Floyd Mayweather shocked boxing fans last weekend when he said he wants to come out of retirement for a Manny Pacquiao rematch and reprise one of the most boring megafights ever. Now rumor has it that "Money" is motivated to recoup a staggering $50 million in gambling losses. 
The 50-0 boxer didn't hide his intentions when he shared footage of a staged confrontation with the Filipino legend to Instagram. 
https://www.instagram.com/p/BnvdWOphIoe
"I'm coming back to fight Manny Pacquiao this year," Mayweather wrote. "Another 9 figure pay day on the way." 
Why would Mayweather, 41, leave his ultra-luxurious lifestyle to return to the gym and get in fighting shape for a rematch that absolutely no one wants to see? 
Well, Las Vegas "gambling sources" reportedly told IB Fantasy Sports that the man is "down over $50 million in gambling losses since 2017." Who knows if this is even remotely true, but it could explain Mayweather's surprise return to the ring for another glorified sparring session vs. a faded Pac-Man.
https://twitter.com/IBNincarcerated/status/1041071017320493063
Even if that gossipy speculation is completely unfounded, the world's highest-paid athlete certainly isn't financially frugal. 
Following his TKO of Conor McGregor, Mayweather bought a $25 million mansion and dropped another $18 million on a blinged-out timepiece dubbed "The Billionaire Watch" after collecting an estimated $275 million he made from the incredibly lucrative boxing/MMA crossover.
As Bro Bible notes, Mayweather does have a history of gambling, particularly on sports. He reportedly bet $96,000 on Colorado State and Notre Dame to cover point spreads last year, and that's just the tip of the ice berg.
ESPN has further details: 
[Mayweather bet] $1.1 million on Oregon -7.5 over Arizona State in October 2012, $800,000 on the Denver Broncos -7.5 over the New York Jets in October 2014, [and] $200,000 on the Golden State Warriors over the Houston Rockets straight-up in May 2015.


In May, he posted a picture of himself sitting in a jet with bundles of money, claiming that he bet on his buddy, point guard Isaiah Thomas, and the Boston Celtics against the Washington Wizards. Thomas scored 53 points, the Celtics won 129-119 in overtime and Mayweather ended up with cash on his lap
The 12-time boxing champion also won big at the poker tables in May. 
Business Insider has further details: 
During a recent "Ten Play Draw Poker" gambling session, Mayweather played $25 hands from a $20,000 buy-in.

He somehow managed to turn this into a $101,250 win before calling an attendant to confirm the score.
https://www.instagram.com/p/BnuSyAghzKe
Even if Mayweather vs. Pacquiao II is all about money for the fighters, fans want to see it. And according a new LA Times interview with veteran boxing manager Sean Gibbons, it's extremely close to being made.
"I'd say it happening is an '8' on a level of 1 to 10," Gibbons said. "After all of the uncertainty of the first fight — all the B.S. — people are seeking closure."
"We get a chance for that here, " Gibbons added. "No matter what some say, there's a desire to see this again. People love sequels."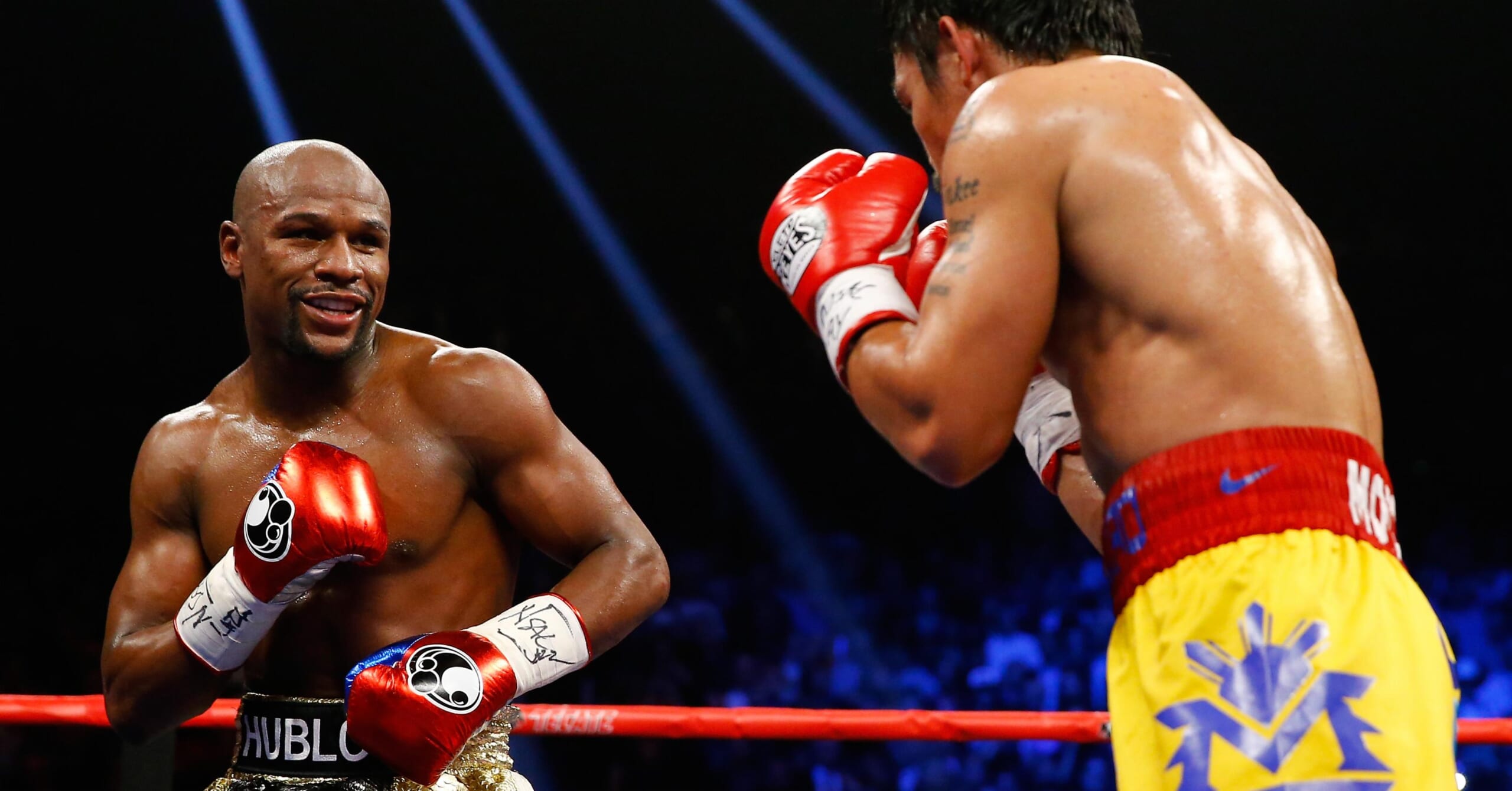 Would you pay to watch Mayweather-Pacquiao II?