Floyd Mayweather Claims to Have a Multi-Fight Offer from the UFC, And We'd LOVE to See That
He says he'd make a "billion dollars," but he might also die.
Floyd Mayweather has done it all in the boxing ring, and now the 40-year-old retired fighter is toying with the idea of taking his talents to the Octagon. 
Not because he wants to keep fighting, but because he wants to keep getting paid. And the way he tells it, Mayweather could get paid a LOT if he signs a deal with the UFC. 
"You already know I'm a money-getting motherfucker. I'm Money May. They just called me not too long ago and asked me to come back. I can come right back. If I want to, I can come right back to the UFC," he said on a Instagram livestream captured by Fight Hype. "I can go fight in the Octagon. I can do a three- or four-fight deal in the Octagon and make a billion dollars. Remember, I'm Floyd 'Money' Mayweather, and you motherfuckers love me, and I love you motheruckers."
The idea of Mayweather getting into the cage came up in the trash talk-filled preamble to the Money Fight in August and again after he wiped the floor with Conor McGregor. 
"He did say an MMA fight. So if he wants to, lets fucking do it," McGregor said last month. "There's not a hope in hell…I'd like to see him come over to our side and have a knock. I earned their respect and put myself out there. Style over to my side and earn our respect now."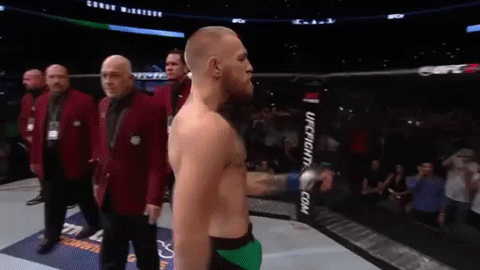 No one knows if there's any truth to Mayweather's claim that he could make $1 billon in three or four MMA fights. But we all know that if he does walk into the cage he might not ever walk out. Mayweather would love a 12-figure pay day, no doubt, but he can't spend it if he's got worms crawling through his rotted skull. 
But we won't completely write off the possibility of Mayweather getting into the cage. This time last year, we were among the many people rolling their eyes at the notion of McGregor getting into the boxing ring and looked what happened. The truth is, when money is the motivator, people will do some crazy things.