Goldberg Signed a New Contract and He's Not Going Anywhere in 2017
The wrestling legend will reportedly be a part of three PPVs in the coming year.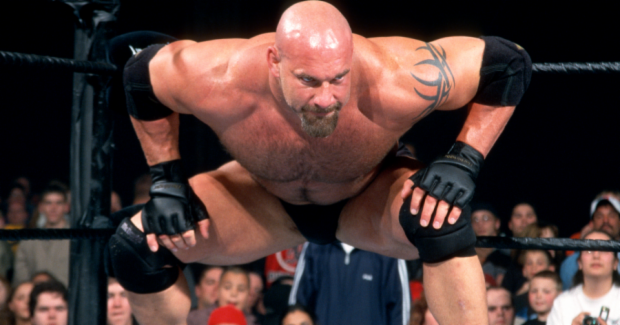 When Goldberg made his glorious return to the ring last year, he did so with a promise. His match with Brock Lesnar would be both his long-awaited return to wrestling and his final time in the ring.
That was a lie and we couldn't be happier about it. Today, we get news that the wrestling legend will play a big part in the WWE in the coming year. As Dave Meltzer writes in his Wrestling Observer Newsletter, Goldberg has signed a new deal that calls for him to appear on three pay-per-view events in 2017. One of those is an event wrestling fans already knew about—this month's Royal Rumble. Another is one that they could have guessed Goldberg would appear at—Wrestlemania 33 in April. And the third is a bit of surprise—February's Fastlane. 
Uproxx's Bill Hansatock has some ideas about what might happen there:
My best guess is that he'll have another short match against someone … oh, let's say Rusev … to establish his dominance heading into his (presumed) showdown with Brock Lesnar at WrestleMania 33. Pray for Rusev. 
If your'e skeptical that Goldberg will do much wrestling at those three events, it's warranted. He hasn't exactly spent a ton of time in the ring without a microphone since his return. But at this point in his career, any Goldberg is good Goldberg. We'll take what we can get.