The Internet Thinks the Philadelphia Flyers' New Mascot Named 'Gritty' Is a Nightmare
He's no Philly Phanatic.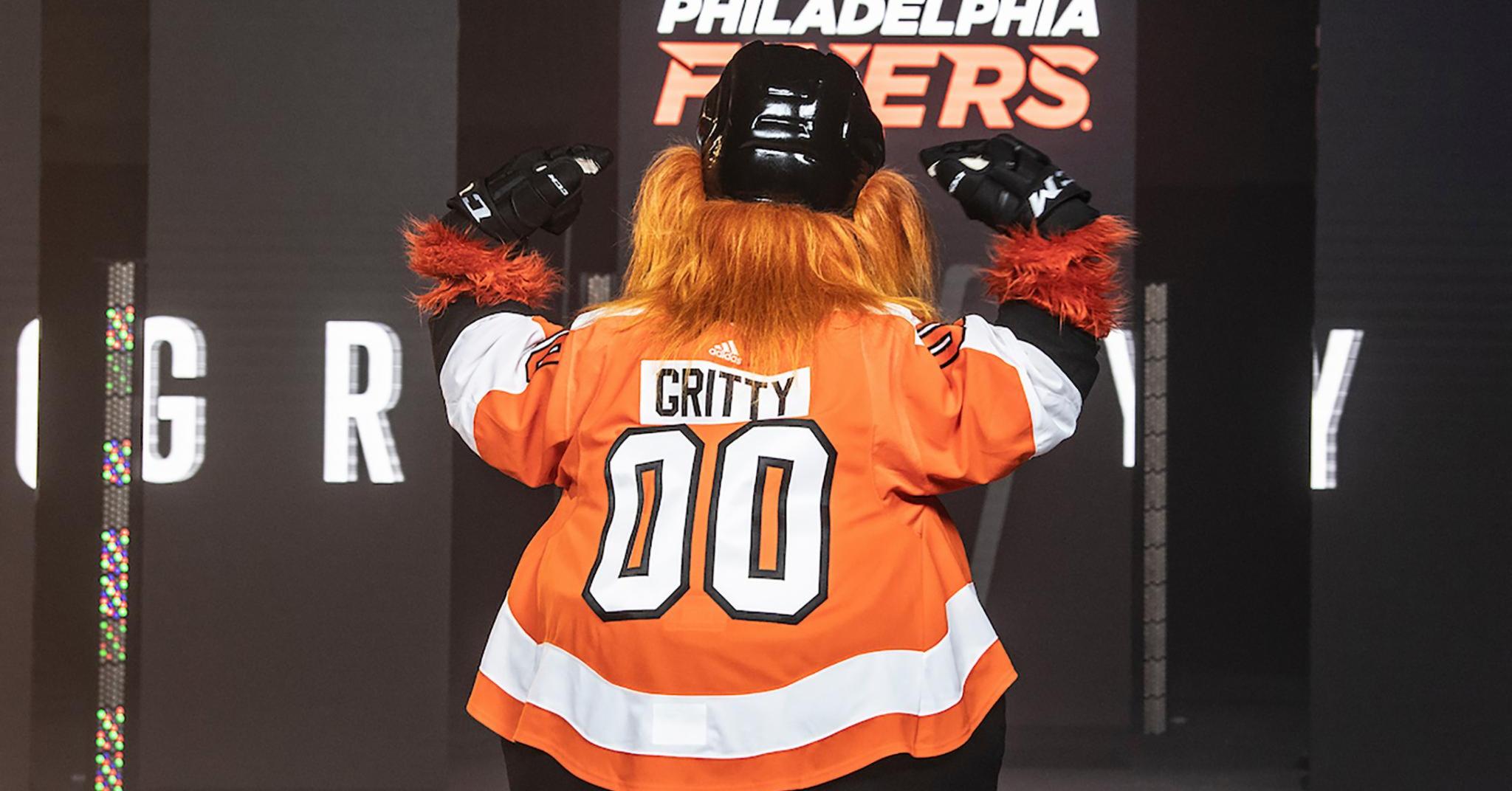 The NHL season has begun and with it came the sudden, terrifying appearance of Gritty, the Philadelphia Flyers' new mascot and viral sensation. Just three games into the season there are dozens of memes featuring the disturbing new face which now represents Philly's hockey team.
According to the Flyers organization—who continue dropping details about the Gritty mythos—the bug-eyed orange monster appeared during renovations to the mezzanine level of the teams' home Wells Fargo Stadium. 
Initially Gritty was planning the theft of the construction crew's safety equipment to replace it with hockey gear. Naturally, he's a bully. 
Also, like his father (his father?!) he likes to eat snow straight from the zamboni. Freaky weirdo.
It's easy to assume Gritty's look alone has catapulted him into the spotlight. Part Animal from The Muppets, part Trump's orange hairdo and part iodine poisoning victim, Gritty is the kind of mascot who would ensure kids at a birthday party needed therapy for years. 
He's really not child-friendly at all, if his on-ice antics are any indication.
Here he is turning the t-shirt cannon into a weapon.
Here he is threatening the Pittsburgh Penguins
Here he is shattering his coccyx, presumably.
And here he is luring unsuspecting fans to their doom, among other things.
https://twitter.com/jbillinson/status/1044408475894403073https://twitter.com/Drunk_Gritty/status/1045302353778405376
Ok, these aren't real and that last one is just gross, but the rest are.
Whether you love or hate Gritty, it's undeniable that he's the product of a brilliant campaign from the evil geniuses who are running the Flyers' marketing; one that's successfully drawing attention to the Flyers, the newly renovated Wells Fargo Center and the NHL overall.
In most videos you hear the crowd booing Gritty. But everyone knows that when it comes to Philadelphia's fans, booing just means they love you. 
After all, Philly is a place that celebrates its sports by destroying the city. Over and over and over again.