Rob Gronkowski Claims CTE is 'Fixable' and Says He 'Fixed' His After 20 Concussions
"You can just call me Mr. Recovery. You know you like that name. Mr. Recovery, baby."
(Photo: Getty)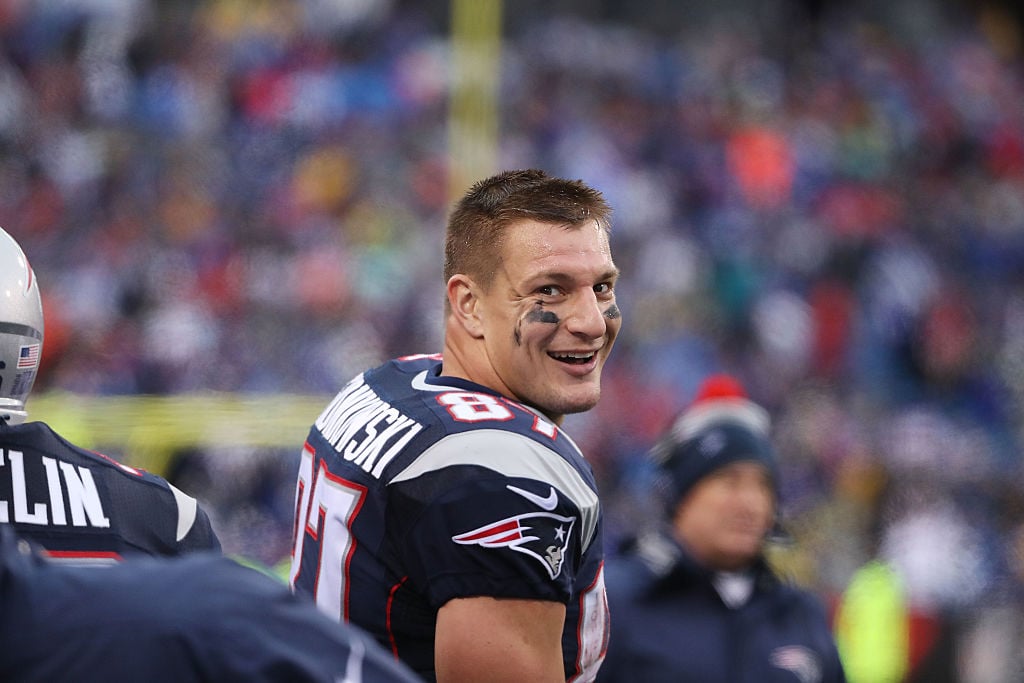 The New England Patriots have begun the 2019-2020 NFL season dominant as ever. On Sunday, for example, they destroyed the Miami Dolphins, 43-0. They're doing it without Rob Gronkowski, who retired before the season began—and with good reason. 
Gronk recently revealed in an interview with CBS News that he had a seriously unhealthy number of concussions during his time helping the Pats maintain that dominance over the rest of the NFL. 
"I probably had like 20 concussions in my life. I remember five blackout ones," he said.
In a study from Boston University's Center for the Study of Traumatic Encephalopathy, it was found that 99 percent of brains obtained from NFL players had chronic traumatic encephalopathy (CTE), a degenerative brain disease associated with brain trauma.
Now, in a Twitter exchange with Dr. Chris Nowinsk— who founded the Concussion Legacy Foundation and the CTE center—Gronkowski is claiming that the trauma is "fixable" and that he "fixed" his.
It is fixable. I fixed mine. There are plenty of methods in this world that allow the brain to recover from severe damage. That is also why I would allow my kid to play football. https://t.co/9aI1olAdqP

— Rob Gronkowski (@RobGronkowski) September 13, 2019
Nowinski begs to differ.
You are right about brain plasticity, and I am glad you are feeling great today, but neurodegenerative diseases (CTE, Alzheimer's, etc.) cannot be "fixed" or cured today. They eventually win. Please come on over to the BU brain bank next week and we can discuss the nuances. https://t.co/FxlzRi1BEU

— Chris Nowinski, Ph.D. (@ChrisNowinski1) September 13, 2019
Nowinski is correct. There is no evidence that CTE is not fixable. 
While concussions have immediate symptoms that go away, CTE caused by repetitive head trauma leads to a buildup of the tau protein in the brain. This causes symptoms that only get worse over time, including memory loss, confusion, impaired judgment, impulse control problems, aggression, depression, thoughts of suicide, and eventually dementia.
However, there's currently no way to know for sure if Gronkowski has CTE, because the only way to diagnose it is by analyzing the brain after death.
Regardless, it's unclear what Gronkowski means in stating that he thinks he fixed his head trauma. It is possible he used CBD products from his partnership with Toronto-based company Abacus Health to treat it.
"I'm advocating for CBD to be acceptable for all players for recovery," he said at a press conference to announce his partnership, according to the Chicago Tribune.
"You can just call me Mr. Recovery. You know you like that name. Mr. Recovery, baby."