Heavyweight Stipe Miocic Retains Belt in Brutal UFC 220 Title Fight With Francis Ngannou
"I beat the guy that I couldn't beat."
Turns out Francis Ngannou isn't the scariest man in MMA after all. Perhaps when The Ringer said he was "part Ivan Drago" they were forgetting that despite his superior size and power, Drago lost to Rocky Balboa.
Ngannou was on the losing end of the UFC 220 heavyweight title fight at Boston's TD Garden Saturday, and it wasn't really even close. Cleveland native Stipe Miocic consistently had Ngannou on his heels—and his knees—and won by judges' decision, 50-44. 
Ngannou's power was on display early in the match, but Miocic had by far the superior strategy—in addition to vocal crowd support.
After he'd weathered some of Ngannou's powerhouse punches, Miocic expertly zeroed in on Ngannou's weaknesses. One was wrestling, and in the eyes of many, the other was endurance.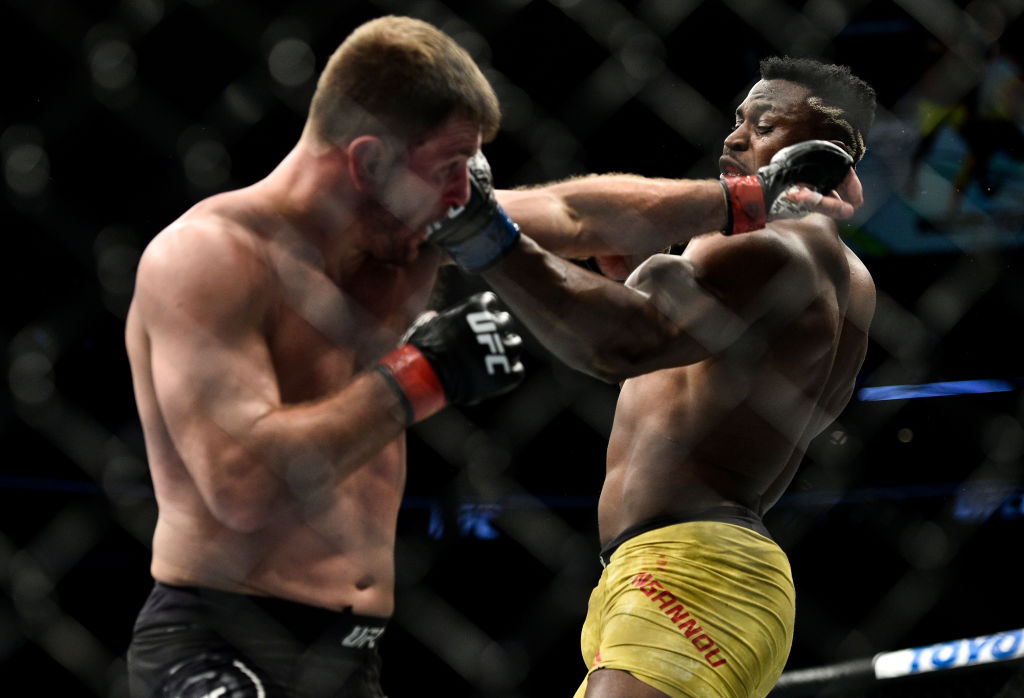 Simply put, he hadn't done enough cardio in preparation for a lean, clever opponent like Miocic.
Ngannou would've been happy to make it more like a boxing match—but Miocic saw his advantage in putting the big man on the mat as much as possible. With his opponent likely flustered and getting winded, Miocic landed plenty of punches as well, his contact count far higher than Ngannou's.  
By round 5, Ngannou was in a daze. He fended off attempted takedowns, then seemed happy to rest in a clench. Miocic was as amped as any fighter could be at this point, and Ngannou looked like his arms were turning into jello. Even when he landed a knee, Miocic took the blow then pinned him and held till the end of the round.
The win made UFC history. Miocic is the first heavyweight to hang onto his belt after three challenges. Even the massive Brock Lesnar couldn't manage such a feat.
Stipe Miocic defeated Francis Ngannou by unanimous decision, becoming the first fighter with 3 successful defenses of the UFC Heavyweight title. pic.twitter.com/Qtutv3qYy2

— SportsCenter (@SportsCenter) January 21, 2018
After the match, Miocic got to the point regarding the Ngannou pre-fight hype: "I beat the guy that I couldn't beat." 
"It made it that much sweeter," he continued, He acknowledged the overblown nature of Ngannou's publicity and said, "Well guess what, he lost. He lost to a midwest boy 40 pounds lighter than him."
 "I'm the greatest heavyweight."
https://www.youtube.com/watch?v=DFWNIXfLWOk
Ngannou had no illusions about why he lost, saying he "underestimated [Miocic] a little bit." 
"He had a great game plan," Ngannou continued, "and he did it well."
Miocic wasn't about to make his win sound easy, respectfully admitting that Ngannou "was dangerous" and "a tough dude." 
Asked about possible tensions between him and UFC head Dana White over White's promoting Ngannou as the next big thing, Miocic shook it off, saying White was his "dude," and that they shared a mutual respect, "end of story."
On social media, fan reactions said a lot about Ngannou's positioning as an upcoming MMA superstar.
Stipe Miocic out landed Francis Ngannou 200-33 in total strikes. Six takedowns. Four guard passes. Landed 73% of his strikes. That's domination #UFC220

— Damon Martin (@DamonMartin) January 21, 2018
Ngannou looks like he belongs in a late night drunk pizza line

— Big Cat (@BarstoolBigCat) January 21, 2018
Ngannou likely believed he was, as he told The Ringer, the "guy that's going to change the heavyweight division." 
He may do that, one day. The only thing Ngannou did Saturday night was ensure that in the future we take UFC hype for an upcoming fighter with the grain of salt it deserves.