How Gracie Hunt's Family Built A Multibillion-Dollar Sports Dynasty
Oil tycoon H.L. Hunt's family–which owns the Kansas City Chiefs–built wealth across multiple industries.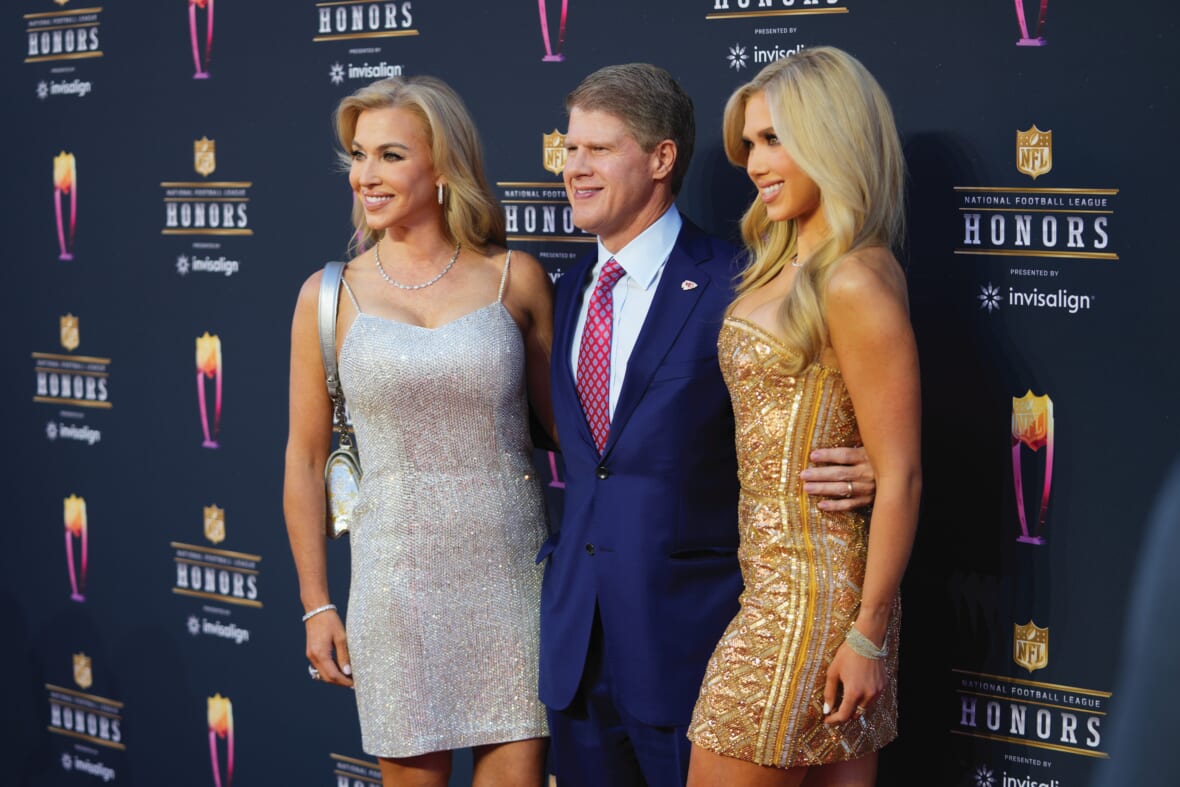 F. Scott Fitzgerald famously wrote, "There are no second acts in American lives." While some argue over his meaning and intent, the fact remains that the history of America is full of people, families and even companies that have been able to revive, rebuild, reinvent or reimagine themselves, leading to even further successes after overcoming whatever difficulties they faced.
Perhaps no person, or family, has ever embodied this sentiment as much as H.L. Hunt and the dynasty he founded, one that continues to impact our nation in enormous ways. After all, how could a story that involves poker winnings, Texas oil booms, an unquenchable entrepreneurial spirit, and a seemingly rotating series of successes and setbacks be any more apropos of the American identity and history?
In 1889 Haroldson Lafayette Hunt Jr. certainly didn't begin life with a silver spoon in his mouth. Lacking any formal education, despite his apparent precociousness in math, Hunt moved around before settling in Arkansas. It's rumored that when one of his early entrepreneurial ventures collapsed, the Hunt patriarch simply took his remaining money and used it to refill his coffers at the poker table.
According to the man himself, "I was a fine card player," Mr. Hunt said. "I can beat about anybody. But I quit playing poker in 1921. I went into the oil business then, and anything else is like penny ante. The reason I quit playing poker was that it wasn't any contest."
So it might not be the biggest stretch to imagine the young Hunt wagering again, this time on the oil fields where he would eventually make billions of dollars and become one of the richest men in the world. After his farming ventures in Arkansas hit rough times around 1920, Hunt learned through associates about a recent oil discovery in a town about 200 miles away and decided to check it out for himself.
The business-savvy Hunt was soon making good money by purchasing drilling leases from local farmers. This was profitable to the point that in 1924 Hunt sold a portion of his holdings to a major producer and became a millionaire at the age of 35. He had also continued to expand, not only his oil ventures in the South, but into areas such as real estate as far away as Florida.
But the historic deal Hunt made a few years later in 1930 would be the one that put him on the path to incomprehensible wealth. A shrewd, yet quirky, man named C.M. "Dad" Joiner had recently discovered a potential oil field in East Texas that offered enormous opportunity for the right man. Joiner, more of a salesman than oilman, had gotten himself into trouble with complicated land purchases and business deals, leading to extensive legal difficulties with lenders and others.
Whereas some large oil firms or speculators perhaps saw Dad Joiner as an unreliable business partner, or too big of a legal hassle for his land and leases to be worth much, Hunt instead saw the possibilities and enormous upside. At first, he nibbled around the edges of Joiner's operations, watching and gradually developing his own small oil operation before making his big move in 1930.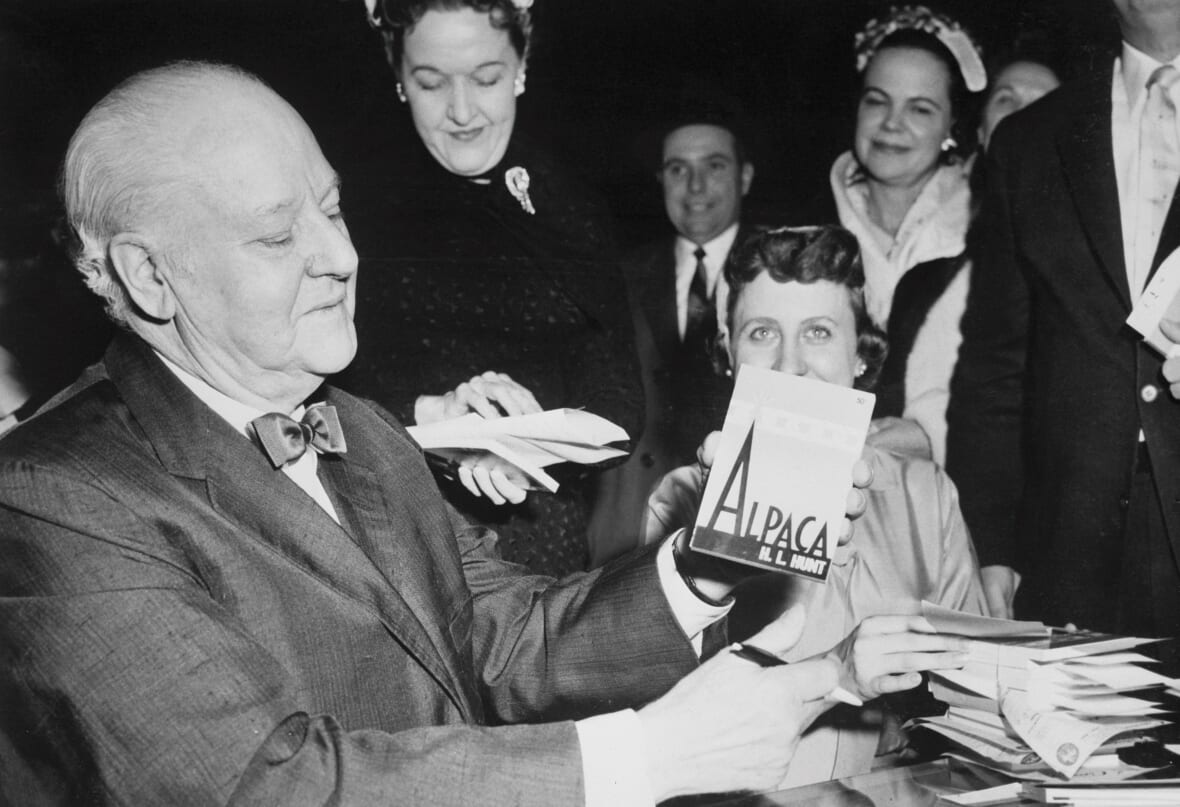 Significantly, Hunt realized that Joiner's legal issues weren't as serious as portrayed, and therefore saw Joiner's assets as having tremendous potential value. After a brief negotiation, and the promise of more than $1 million for Joiner upon the deal's completion and the wells' production, Hunt was able to acquire Joiner's vast oil holdings. Eventually producing tens or even hundreds of millions of dollars in profit for Hunt, this would be the foundation of his emerging business empire, bringing vast amounts of black gold to the surface and literal gold (and cash) into his bank accounts.
"Anybody could have had it," Mr. Hunt recalled. "(Joiner) was certainly approached, and was approaching, every one of the companies. But none of them would deal with him. These were hard times, and I guess there weren't any other independents who thought they could do anything with it. There was no competition at all."
One of America's most valuable deals had just taken place, right under the noses of all of the "smart money" at the existing oil and gas companies. The deal would put H.L., and eventually the entire Hunt family, on the path to a level of success and wealth beyond anyone's wildest imagination.
Founding Hunt Oil Company in 1934, Hunt rapidly expanded his empire, diversifying into different industries and exploring new areas of oil exploration. Today, several companies either exist under the Hunt name, or are the descendants of some of Hunt's early corporate entities.
But whereas so many family fortunes in history have been lost or squandered by profligate descendants, the Hunt family remains as impactful and significant today as it has throughout its history. When H.L. Hunt died in 1974 he was one of the richest men in the world.
In fact, Hunt's children, grandchildren and beyond have continued to play an outsized role in American society, and some would help create one of America's most cherished pastimes and institutions. Like their patriarch, they were anything but the clichéd staid, stoic American dynasty that we've come to recognize in our nation's history. Instead they'd never stop making headlines, on Wall Street as well as Main Street. And if impersonation is the greatest form of flattery, then the Hunt family has been flattered as much as any in our country's history, especially in popular culture.
Remember J.R. Ewing from the hit 1978-91 television show Dallas? The character was likely based partially on H.L. Hunt himself. When Hollywood finds your family's adventures interesting enough to use as the source for a television series, it's clear they're not the standard, buttoned-up financial dynasty we've come to expect. And the Hunt family is anything but boring.
While he did have some 15 children, a few of whom are still active in their fields of work, his son Lamar perhaps had the largest, longest-lasting impact on America and American society, and was an absolute maverick, with a lasting legacy everywhere in our country. This is in large part due to his lifelong love of sports and his decades-long obsession with owning his own sports franchises.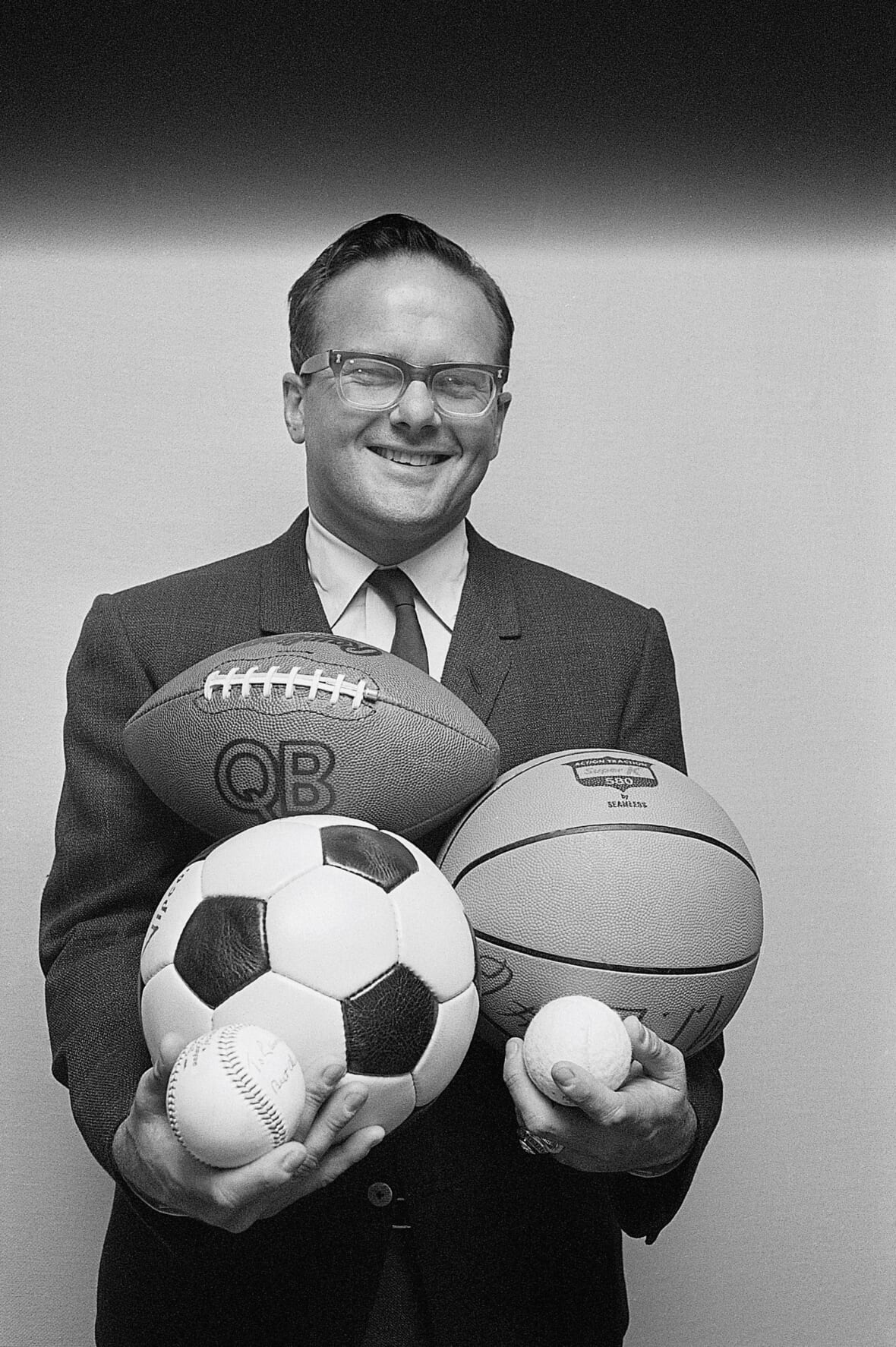 It was Lamar who helped create the American Football League (AFL) in 1959, after the NFL rejected his offer to bring an expansion team to Dallas. He then became the owner of the Dallas Texans. After moving his club to Kansas City to avoid a conflict with the NFL's Dallas Cowboys, and naming them the Chiefs, Lamar continued to grow the AFL until 1970 when the NFL had little choice but to merge with the younger league, which then became the American Football Conference as part of the new NFL structure.
As if that wasn't enough, perhaps the most significant sports event in our country, and one of the most recognizable globally, the name Super Bowl itself was Lamar Hunt's idea. Playing off the name of his children's synthetic rubber "Super Ball," he jokingly suggested Super Bowl as a better name for the AFL/NFL World Championship game.
He may have been joking, but what he helped create has become not only a giant of the glob al sporting world inthe NFL, but one of the most significant and financially impactful events in our country in the Super Bowl and the industry that has developed around this one game. Lamar was also a huge soccer fan and saw the immense potential for the sport to grow within America.
He was one of the faces of the now-defunct North American Soccer League, before eventually becoming one of the primary driving forces behind the creation of Major League Soccer (MLS) in the 1990s. In addition to his KC Chiefs, Hunt owned multiple MLS franchises in the league's nascent years, with the Kansas City Wizards, Columbus Crew and FC Dallas helping the league stay financially stable and viable.
With the creation of the World Championship Tennis circuit, he helped to usher in the open era of tennis, with the tour and grand slams that we all know today. Needless to say, Hunt is the only member to belong to all of the big three: the Pro Football Hall of Fame, the National Soccer Hall of Fame, and the International Tennis Half of Fame. Trophies and a tournament still carry the Lamar Hunt name, and it's hard to imagine any American more influential in the growth of multiple sports both within and outside the United States.
Following the death of Lamar in 2006, his children continued his projects and legacy. His son Clark is the Chairman and CEO ofboth the Chiefs and FC Dallas as part of Hunt Sports Group. His siblings, cousins and other family members have continued their own economic successes, whether in sports, oil, real estate or other industries, but it is Clark with his high profile who most honorably represents the family name and helps the legacy continue to thrive.
It's appropriate that when the Chiefs advanced to the Super Bowl in back-to-back seasons (2019-20, 2020-21), they did so by winning the AFC championship and the associated Lamar Hunt Trophy. Even in the rarified air of NFL ownership, winning a trophy named for your father is still above and beyond the comprehension or capability of even this exalted group of billionaires. And of course, the Chiefs most recently secured the prestigious Lombardi Trophy with a victory over the Philadelphia Eagles at Super Bowl LVII.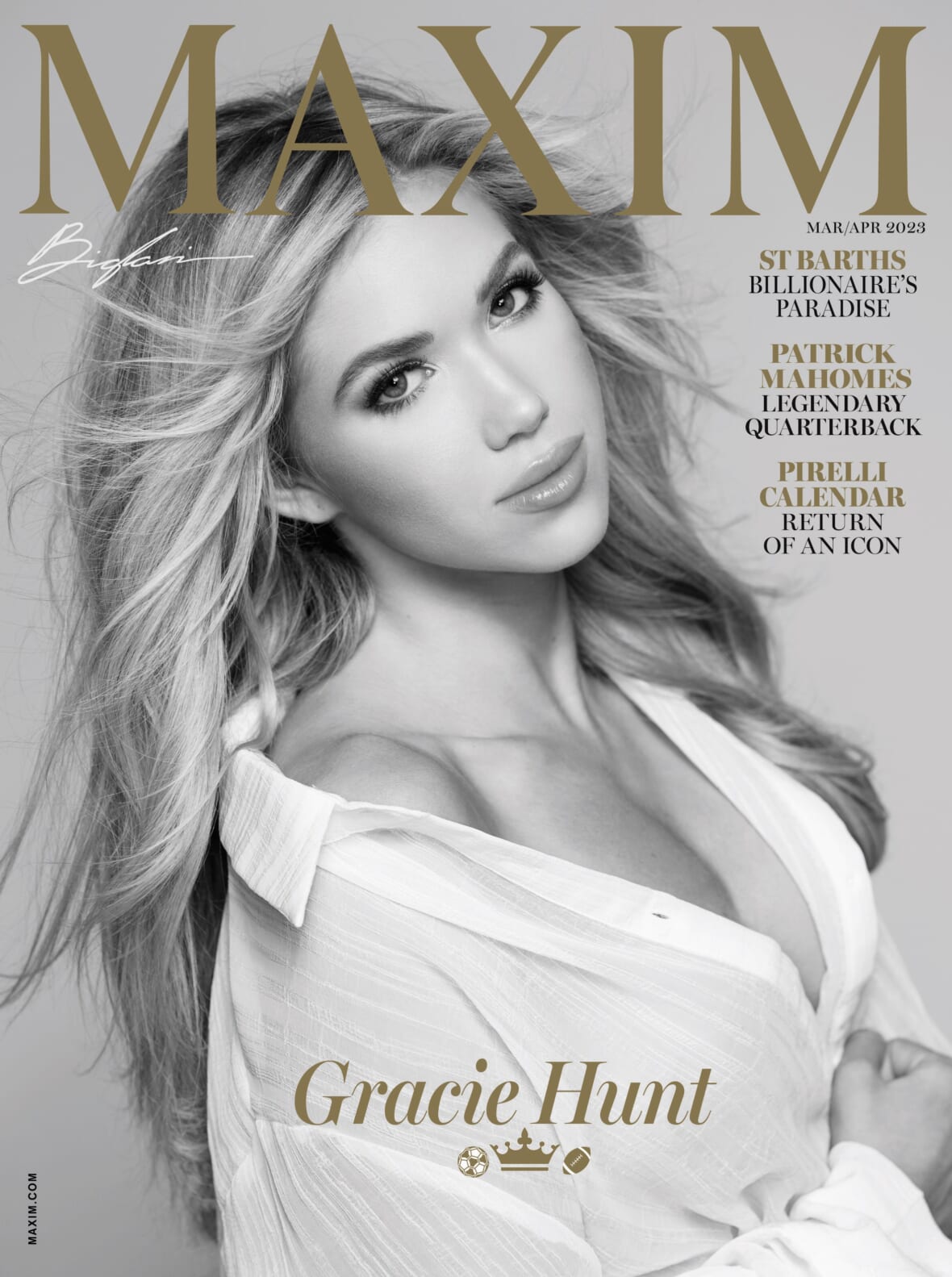 Perhaps you also noticed Clark's stunning daughter Gracie on the cover of this month's issue of Maxim. Clark married 1993's Miss Kansas USA, Tavia Shackles, and their daughter, Gracie was similarly victorious decades later when she became Miss Kansas USA 2021, perhaps starting a new Hunt family tradition.
But while the exciting tales of H.L. Hunt, his children, grandchildren and extended dynasty are some of the most fascinating to be found amongst our nation's business titans and financial moguls, it shouldn't take anything away from the man's creation of an oil empire.
Where others saw risk, he saw opportunity. Where others were dull and buttoned-up, he remained a good 'ol boy as he saw it. But perhaps the only thing H.L. Hunt founded that is more significant than his oil and industrial empire is the dynastic family that has continued to push forward in countless industries and arenas. It's simply impossible to ignore the success, impact and influence that the man, and his descendants have had on the United States and the world.
The Hunt Family Foundation offers support and resources to programs that enrich the health and wellness of youth in Kansas City, in addition to providing relief to children and families in crisis. Today, the Hunt family remains one of the wealthiest in the world, with a combined worth of more than $15 billion, which is quite the fortune to build off of a small poker windfall some nine decades ago. Their American Dream has truly turned into a reality.