Inside Formula One's French Grand Prix
From our perch in the VIP paddock club, we experienced what might be France's final F1 race.
In 2018, after a decade-long absence, Formula 1's historic French Grand Prix was brought back to life at the Circuit Paul Ricard in Castellet, to much fanfare—and national pride. It was after all in France, at Le Mans, that the world's first-ever motor race, as well as the first international event ever to be labeled a grand prix, was held, in 1906.
For there to be no French Grand Prix on the calendar would for many be an utter tragedy, and yet the prospect appears all too real. The initial five-year contract for the race at Paul Ricard has now expired; with November and the end of the 2022 F1 season looming, no new deal had been announced. Which spurred us to accept an invitation to this year's French Grand Prix, held in late July, with alacrity, knowing it may well be the last.
Paul Ricard, with its underwhelming setup and lurid striped runoff areas, is hardly the most popular circuit; and there are many who decree that the nearby, and much more high-profile, Monaco Grand Prix renders the French GP obsolete. Perhaps these naysayers should have been present at this year's race, where enthusiasm ran extremely high—despite a devastating crash by Ferrari's Charles Leclerc (Monaco-born, and therefore something of a local hero), on the 18th lap, while he was leading the race.
The crash left Leclerc, despite having much the faster car, almost hopelessly behind Red Bull's Max Verstappen, winner of the French GP and recently crowned 2022 World Champion, in his stead, in points for the season; Leclerc was heard to bellow with rage and frustration over his radio when he hit the barrier.
The unstoppable, machinelike Verstappen, who never seems to make a single mistake, was not the only one celebrating at Paul Ricard. Enabled by Leclerc's shocking crash or not, Mercedes' Lewis Hamilton (seven-time World Champion) captured the second-place slot, with his teammate George Russell right behind him in third, sharing the podium with Hamilton for the first time (a feat they'd repeat at the Hungarian Grand Prix in a couple weeks' time).
And there was also quite a festive atmosphere in the Aston Martin paddock, appropriately reserved in a British sort of way, but ebullient nonetheless. While Aston Martin, who returned to Formula 1 just last year after a 61-year absence, had no expectation of winning the race, they had another reason to celebrate, this being the 100th anniversary of the marque's very first grand prix entry, fittingly enough at the 1922 French Grand Prix, held at Strasbourg; making it one of the very oldest grand prix teams still on the grid today.
It would also turn out to be one of four-time World Champion and current Aston Martin F1 driver Sebastian Vettel's last F1 races; shortly after the French GP he announced his retirement from the series, with Aston naming Fernando Alonso, two-time World Champion currently driving for Alpine, as his replacement for 2023.
Prior to this epic pronouncement, however, Vettel piloted Aston Martin's first-ever grand prix car, the TT1—nicknamed "Green Pea" after its British racing green paint job—around the Circuit Paul Ricard for a celebratory lap, a full century after its racing debut. It was meticulously restored over many, many months after it was discovered in a state of decrepitude by an astute collector.
"It was an incredible honor to drive this car, exactly 100 years on from it last taking to the starting line at the French Grand Prix," Vettel said at Paul Ricard. "Green Pea holds a very special place in Aston Martin's heritage, and you can almost feel that century of history beneath your fingertips when at the wheel. It's fantastic to celebrate it this weekend as we bring Green Pea and our heritage in motorsport together with the cutting-edge technology and performance of today's AMR22 F1 car."
We were fortunate enough to be among a small group of VIPs Aston Martin flew in for the race, to celebrate the evolution of the marque and the historic occasion, which included the unveiling of a redesign of its iconic wings badge created in collaboration with famed British art director and graphic designer Peter Saville.
Our clique, presided over by Aston's acclaimed Chief Creative Officer Marek Reichman, included British actor Finn Cole, one of the stars of Peaky Blinders; and strikingly beautiful socialite and influencer Olivia Palermo, a major F1 buff.
As part of the event, we were handed the keys to a limited edition V12 Vantage, a 690-hp supercar of which only 333 examples were made, all of them quickly sold out; marking the last time Aston will ever place its largest engine into its smallest car, Reichman informed us.
With the introduction of the vehicle, Aston Martin also debuted its tagline, "Never leave quietly"—which perfectly suited our sizzling departure from Nice en route to the incredible Villa La Coste, a contemporary, 5-star luxury hotel in Provence, handily accessible to the Circuit Paul Ricard by helicopter, where famed three-Michelin-star chef Hélène Darroze runs the kitchen.
Once comfortably ensconced in the VIP-only Paddock Club, with a view of the Aston Martin garage and the pit lane below—Aston claims to have invented the pit stop in the Brooklands days—we refreshed ourselves with champagne, grilled lobster and filet mignon from the world-class chef stations.
With Formula One race tickets now sold out for the rest of the year, and Paddock Club tickets an even more precious commodity, this was a privileged perch indeed. Matthew McConaughey strolled by at one point, accompanied by his girlfriend and entourage, followed by star singer Niall Horan, beautiful companion in tow.
By the 50th lap, with speeds of up to 225 mph regularly reached on the straightaways, with sparks flying and engines screaming, the race's result seemed in little doubt. Fans waving French tricolore flags stormed the track once the cars had been moved aside, and ran over to the podium to see the traditional champagne-spraying ceremony.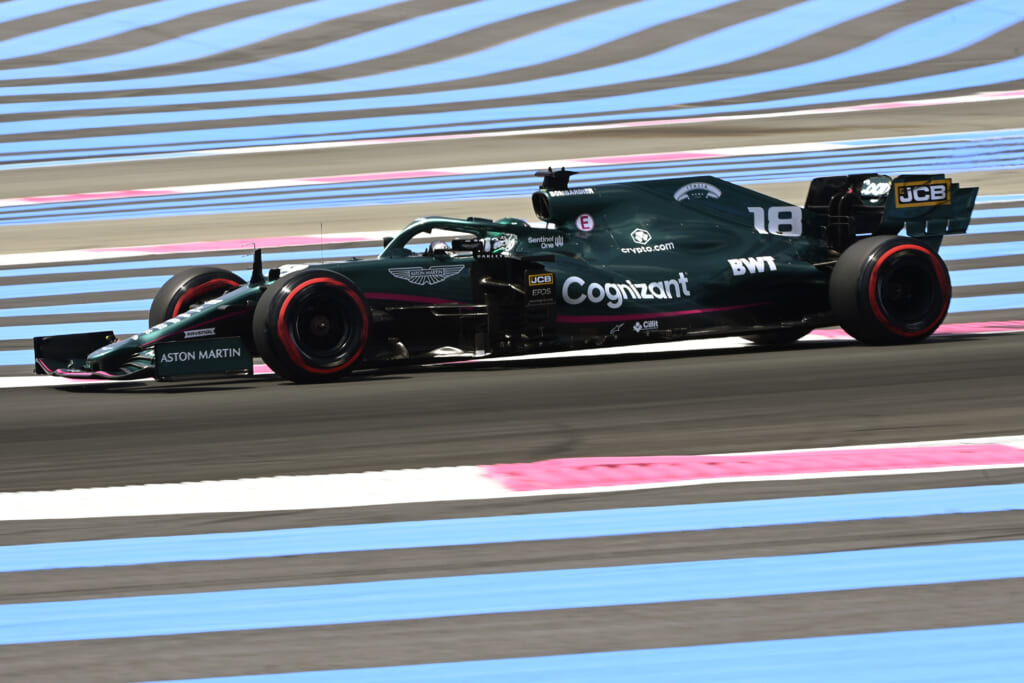 Aston had hoped for a double points finish for Vettel and teammate Lance Stroll, talented son of Lawrence Stroll, the billionaire Executive Chairman of Aston Martin Lagonda [more below]; but contented itself with 10th and 11th place finishes, still well ahead of more practiced teams like Williams, Haas and Alfa Romeo. As Aston Martin Cognizant Formula One Team Principal Mike Krack put it, "The challenge is to always have our target of getting in front all the time, and try to make improvements race by race."
"We are on a journey—a climb—and 2022 is year two of our five-year plan to win in Formula One," Krack told us following the weekend. "Progress in Formula One is always hard and is not always linear; but we are going in the right direction. We are committed to developing the AMR22 for the remainder of the season with the goal of improving the car and our qualifying position race-by-race. We need to continue collecting points, and ultimately getting to a position where we can battle for podiums…. The recruitment of a special talent like Fernando Alonso is a clear statement of intent from our organization in that regard."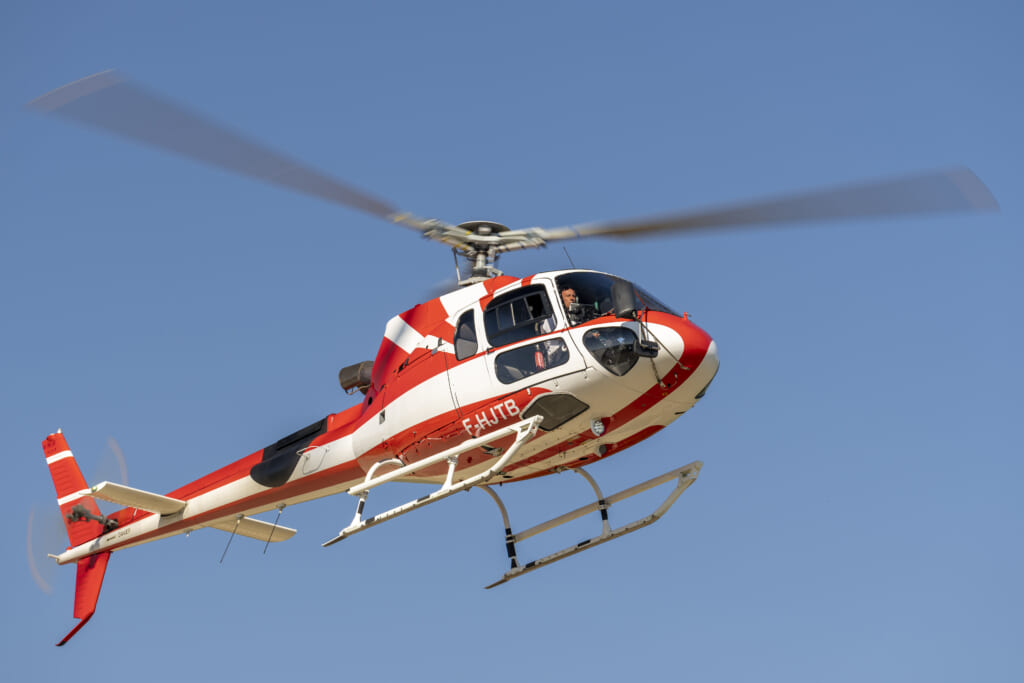 Alonso, driving for Alpine, finished in 6th place at the French Grand Prix. His teammate Esteban Ocon, France's most experienced driver on the grid, lamented the inevitable loss of Paul Ricard, but held out hope that France can still play host to future grand prix races.
"I mean of course Formula 1 has a high demand at the moment," as Ocon told Autoweek. "We all know, many different countries are asking for the grand prix to take place in their country, and we can't be at every place unfortunately. However, "France [always] has a place in Formula 1—we say 'Grand Prix' everywhere we go, that's French. And we have a huge motorsport community and car community in general."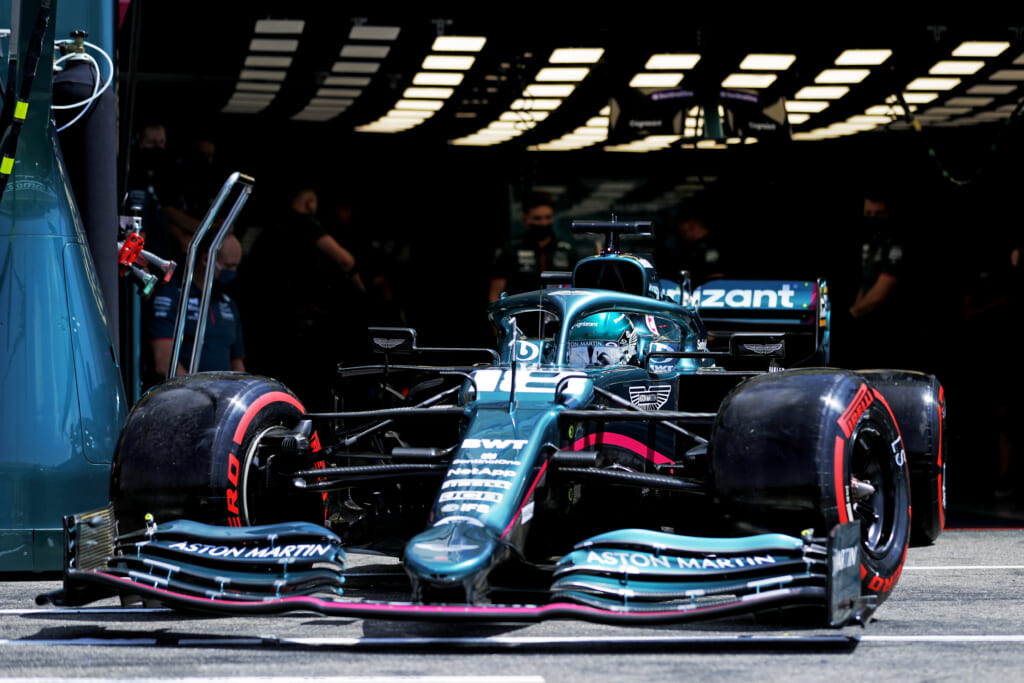 There has been talk of moving the French Grand Prix to Le Mans, or perhaps to a street circuit in Nice; and/or possibly alternating years with the Belgian Grand Prix, held at Spa-Francorchamps—another historic F1 race venue in danger of losing its place on the calendar in the wake of the likes of China and South Africa vying for position. "Alternating, maybe France one year, Belgium the next—that would be probably the best solution if we need to keep going to these new venues," Ocon posits.
Paul Ricard and Spa-Francorchamps are "both great circuits and this is a beautiful part of the world as well," Lewis Hamilton— who was just behind us in the helicopter queue as we left the track after the historic race—added. "So I don't necessarily see a reason to lose either." We hope the mothballing of Paul Ricard never comes to pass. But if it does, we will always treasure the memory of having been present for history in the making.
This article originally appeared in the Nov/Dec 2022 issue of Maxim magazine.