Inside The Wild World Of Super-Maxi Yacht Racing
The world's fastest and most advanced sailing seafarers head to the Caribbean to compete in the yachting world equivalent of F1.
I hit the tarmac in Sint Maarten in the Netherlands Antilles revved up to partake in the yachting world equivalent of Formula One for the weekend. Hopping onto a screaming machine taming the forces of nature to barrel along billionaire style. For it was the St. Maarten Heineken Regatta and I was going racing aboard a super-maxi yacht.
Held annually this is one of the highlights of the yacht racing world's calendar, drawing the best boats and crews from all over the world to pit their machinery and knowhow against each other during a long weekend of hard racing, hard partying and camaraderie—all on one of the most welcoming islands in the Caribbean.
The super-maxis are the ultimate racers of the yacht world and are governed by a set of rules which describe them as monohulls of more than 100 feet in length, with a keel and no limit on the number or type of "appendages." Pure bucket-list stuff, where if you have to ask what it costs you clearly have no idea what you are getting into. At the end of ancient maps, uncharted waters were simply marked with mystical creatures and the notation, "here be dragons." Well that is where I was headed. And fast.
Installed at the newly-opened Morgan Resort & Spa in this Dutch West Indies idyll, I inhaled deeply of the view; and pondered what a view it was, out over turquoise waters and clear blue skies gusting 25-plus knots of wind. For things were about to go super-maxi off the beaches of Sint Maarten, in the form of a ride aboard one of the most legendary racing yachts on the water today—Leopard 3.
At a touch over 100 feet, this carbon fiber/Nomex-hulled missile can shoot through the water at over 40 knots when at full tilt downwind. Fully rigged with over 15,000 square feet of thermo-formed carbon composite sails on her 154-foot carbon fiber mast and rigging, she is an extreme machine that has won everything from the Rolex Maxi Cup to Les Voiles de Saint-Tropez, set trans-Atlantic speed records, and carried her racing crew of 20-plus souls to victory across the globe.
Designed by the legendary Farr Yacht Designs based out of Annapolis in Maryland, she is wide—22 feet at the widest point of her beam—and perfectly suited for fast offshore racing with more than a few tricks up her sleeve. Her "appendages" include a keel that cants up to 40 degrees, stabilizing her as if 200 extra crew members were sitting on the rail, and twin asymmetric lifting dagger-boards located either side of the mast to perfectly balance the sail forces when racing at full tilt.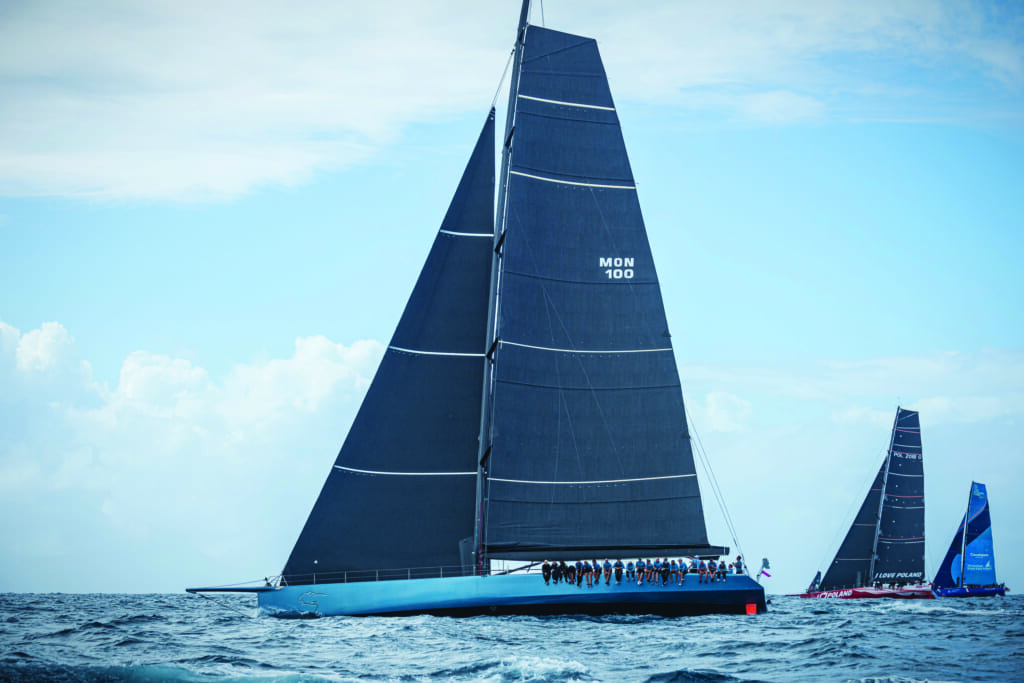 The days of ex-NFL linebackers with 22-inch biceps grinding the winches of racing yachts are mostly behind the likes of Leopard 3, which features hydraulic winches, but the combination of almost military discipline and ballet-like choreography among its professional racing team are a delight to behold. The Captain and tactician calling the moves with precision timing, and an otherworldly sense of the wind down to the second, divining increases and decreases in invisible forces as if Merlin himself were aboard as the team trims sail to maximize speed at all moments.
The real key to the deployment of this technological wizardry is the team which employs it. As with Formula One, two things are necessary in spades—enormous amounts of money, and enormous amounts of skill and experience on the team. One begets the other, but it also pays for the eye-watering expenses of maintaining the boat and crew in peak condition with every carbon sail, titanium nut and bolt, and carbon fiber piece in optimal race-ready condition. Like life, things wear out, break, and go amiss.
I've been on boats that have snapped masts, lost sails, hell, almost sank. And for mere mortals if this happens you go bankrupt. But in the world of billionaire yacht-racing, you just Fedex a new carbon fiber mast half way around the world overnight, and have it fitted to keep you racing the next day. I saw Larry Ellison do this at Antigua Race Week one year when his yacht Sayonara snapped its mast—and it says everything you need to know about sailing super-Maxi style.