James Harden's 'Peasuit' Gets Dragged By Dwayne Wade & NBA Twitter After 76ers Debut
"That's a peacoat and a suit connected. That's a peasuit," Wade cracked.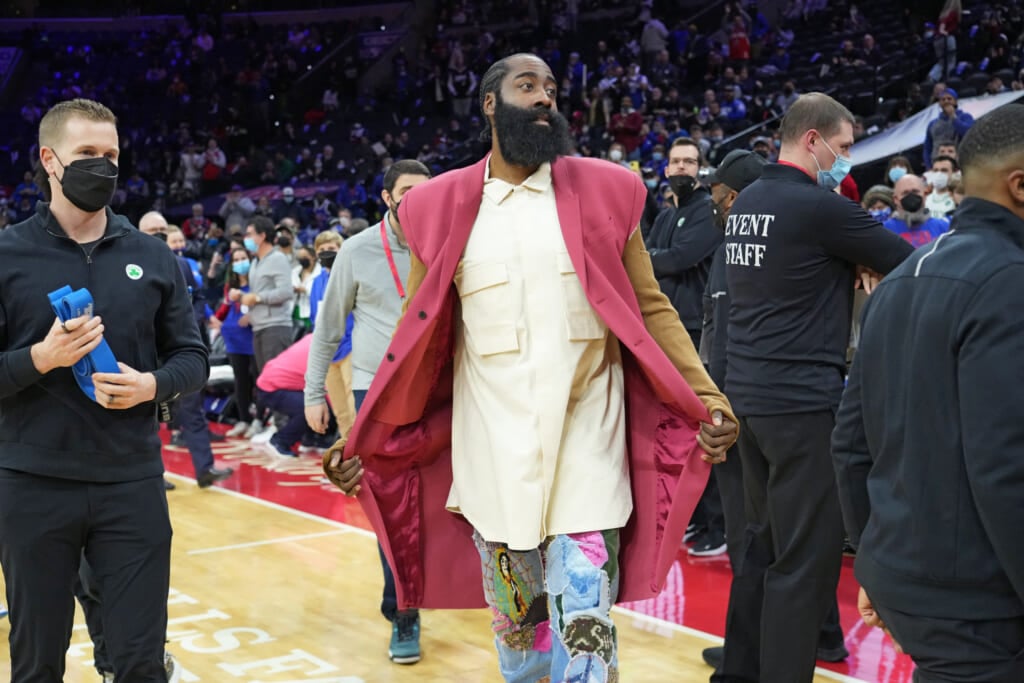 James Harden fulfilled MaximBet's most likely next team odds when he was traded from the Brooklyn Nets to the Philadelphia 76ers. But while the 10-time NBA All-Star didn't play during Tuesday's game against the Celtics, that didn't stop fans from ribbing Harden for his bizarre game day outfit.
In his first appearance as a Sixer, Harden rang the ceremonial miniature Liberty Bell at Wells Fargo Center. The crowd gave a standing ovation for their new star, but fans watching at home honed in on Harden's goofy garb—a baggy pink suit jacket with olive green sleeves that look as they were haphazardly sewn to the shoulders.
It was surely an expensive designer 'fit. But the NBA on TNT crew were the first of many to poke fun at the look, with three-time NBA champ-turned-broadcaster Dwayne Wade remarking, "That's a peacoat and a suit connected. That's a peasuit."
Uproxx gathered several other choice reactions from viewers and denizens of NBA Twitter.
As Twitter users continued to roast Harden's jacket, he watched from the bench as the Celtics (34-25) crushed the Sixers (34-23) 135-87, even as star Philly center Joel Embiid extended his streak of 25-plus-point performances to 23. That's the fourth-longest in NBA history, per Philly Sports Network.
ESPN reports that as Harden will miss his two more games—including an All-Star Game on Sunday—before suiting up for the Sixers against the Minnesota Timberwolves on February 25.
He's reportedly recovering from a hamstring injury that kept him out of his last three games with the Nets, sparking doubt in Tracy McGrady's mind.
"We all know Philly was his first choice [last season] before he went to Brooklyn, so when things hit the fan he wanted out of there. He shut it down," the former baller said on the NBA on TNT pregame show Tuesday, according Uproxx.
"He wasn't hurt. He wasn't hurt. He shut it down. Y'all think he's hurt right now?"
Wade chimed in, "No, you saw those stepbacks?"
"My point exactly," McGrady added. "You don't rehab a hammy by doing stepbacks."
For Harden's part, he's hoping to help the Sixers earn their first championship in almost 40 years.
"[Winning a title is] the goal, man. That's the goal. Like Daryl [Morey] said: The opportunity to win is now. Joel is playing the best he's ever played," Harden said, per ESPN.
"So my job is to come out there and help him and help the entire team win a championship this year and in years going forward."