It Is 'Guaranteed' That Conor McGregor Will Wrestle in the WWE, Says Legendary Announcer Jim Ross
"The attraction's there, the marketing's there, the money's there… why not make it happen?"
WWE announcer Jim Ross has no doubt that Conor McGregor will end up wrestling one day. McGregor has hinted in the past that he might not be too interested, but who the hell knows?
Here's what McGregor tweeted in 2016 about the WWE:
I didn't mean no disrespect to the @wwe fans. What I meant to say was that I'd slap the head off your entire roster. And twice on Sunday's.

— Conor McGregor (@TheNotoriousMMA) August 7, 2016
Basically true to form, the UFC champ and recent Floyd Mayweather opponent said he'd go into the WWE and destroy all comers. Classic McGregor trash talk, but it also sounded pretty dismissive.
In an interview with Colin Cowherd, Ross went into some detail about his assertion.
Ross said he couldn't be convinced that McGregor "will not earn a massive check from Vince McMahon some day in the future."
"It will not be a career deal," continued Ross, "it will be a one-off special occasion, massive promotion. I would suggest maybe at a WrestleMania somewhere down the road."
Makes a lot of sense if you think about it. Conor McGregor is an undeniably great mixed martial artist, but he's also a showman. As Ross said to Cowherd, "The attraction's there, the marketing's there, the money's there—why not make it happen?"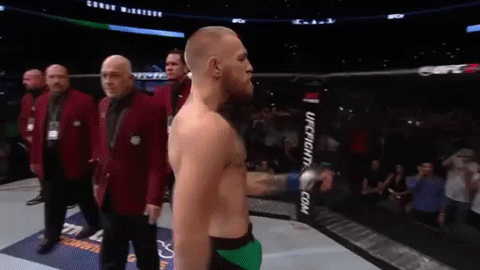 Ross had a few further predictions about McGregor. "…I also think that Conor's not done in the octagon, either," he said. "I think that he's a competitor. He likes to prove he's the alpha male."
It's impossible to argue with that line of reasoning. Here's video of Ross speaking with Cowherd.
As BroBible pointed out, McGregor has talked trash about WWE stars as well, particularly John Cena, whom he called "a big fat, 40-year-old failed Mr. Olympia motherfucker."
Yet the WWE is built on trash talk, it's all part of the drama. 
McGregor's immediate future is likely to include a return to the Octagon before the year is out and perhaps even more boxing after that. But let's face it, he seems ideally suited to the WWE way of doing things. 
Maybe Jim Ross wasn't playing psychic, but just predicting the inevitable.
h/t CBS Sports