John Daly Wins First Tourney in 13 Years, Celebrates Like a Damn College Kid
Champagne shower on the 18th green? What else would you expect.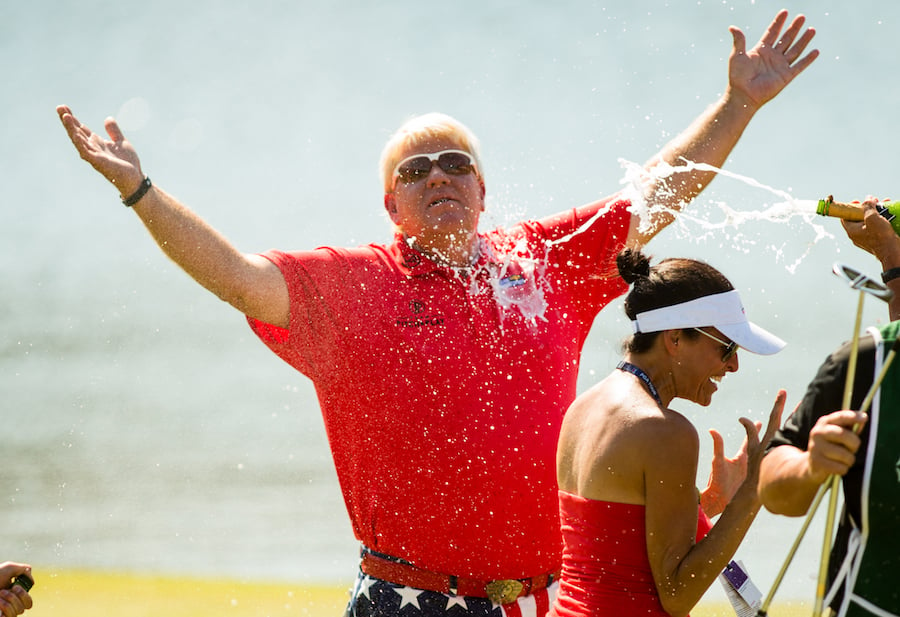 John Daly may be 51 years old, and he may be playing on the PGA's senior circut, but the original bad boy of the links still knows how to cut loose. 
That was on full display Sunday when he won the Insperity Invitational, his first tournament in 13 years. The last time Daly hoisted a trophy at a PGA event was at the 2004 Buick Invitational.
https://www.instagram.com/p/BT1XPurl4C2
The tournament didn't end precisely how Daly would have wanted, with bogies on each of the lat three holes. But his lead was big enough that the bottle-blonde with the biggest belly on the tour held on to the win.
https://www.instagram.com/p/BTzsRFllxN0
"It wasn't pretty at the end. But I got it done and that's all that matters," he said. "A win is a win, man, and I didn't think it would come this soon."
Moments after tapping in the winning putt, Daly's friends doused him in champagne, a somewhat ironic choice for a man who has struggled with alcoholism. 
https://www.instagram.com/p/BTzn5e8jFBq
Daly had a lot of reason to celebrate Sunday. The golfing legend has lived a tumultuous life off the fairways, troubled by booze, gambling and food. But last year he made his return to regular competition when he qualified for the PGA's Champions Tour, where golfers over 50 battle it out for supremacy among the seniors. 
But Daly wasn't just out there celebrating his first win in 13 years, he was also celebrating a sizable paycheck. His victory Sunday netted him $322,500, which is more than he's made playing golf in all but one of the past 11 years.