Watch Jon Jones Beat Down Daniel Cormier To Reclaim the UFC Light Heavyweight Belt
"Bones" came back with a vengeance, then called out Brock Lesnar.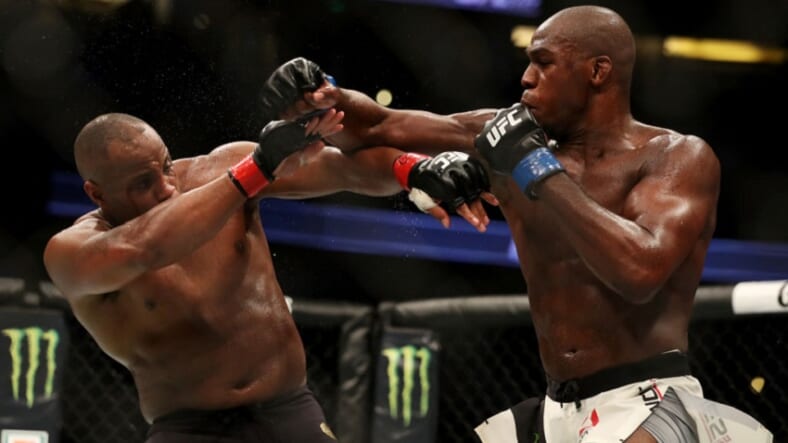 Getty Images
Jon "Bones" Jones took the UFC light-heavyweight belt bfrom Daniel Cormier at UFC 214 on Saturday, and he did it with a stunning kick to the head. Jones wasn't done then—after his victory he made it clear he had another target in sight. 
Jones' comeback from his suspension for failing a drug test in 2016 made it seem like he'd never left, as it was clear from the outset that he was taking the fight to Cormier, not sitting back on his heels. 
As round three began Cormier seemed sluggish, and Jones was sharp and focused. It showed at the three-minute mark, when he delivered his staggering kick. Cormier was down and Jones followed up lightning fast, pounding till the referee called the match.
Afterward, however, Jones showed a level of sportsmanship toward his defeated opponent that's rare in the UFC. He thanked Cormier "for being my biggest rival and motivator."
https://www.youtube.com/watch?v=lPxFKNwI2X8
"[Cormier has] got absolutely no reason to hang his head," Jones said. "He has been a model champion, a model husband, model father, teammate and leader."
Jones continued on to say he aspires "to be a lot more like that man because he's an amazing human being." 
https://twitter.com/AhmarSKhan/status/891527290512973825
Gracious as he was in victory, it was clear Jones was feeling his win, and ready to take on a (literally) bigger challenge. So naturally he once again had words for Brock Lesnar.
"Brock Lesnar, if you want to know what it feels like to get your ass kicked by a guy who weighs 40lbs less than you, meet me in the Octagon," said Jones.
Lesnar was pretty quick to respond to Jones through a statement given to the Associated Press: "Be careful what you wish for young man."
After his challenge Jones literally dropped the mic. There couldn't have been a better way to end the night for the newly-crowned champ.