Jon 'Bones' Jones Just Got a One Year UFC Suspension For Taking Generic Cialis
That's a HARD lesson to learn.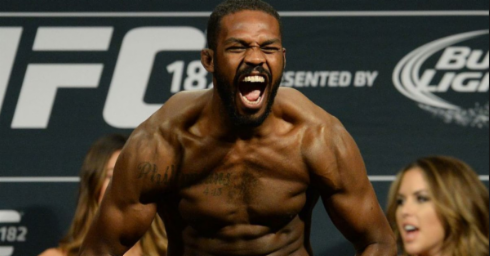 The United States Anti-Doping Agency handed down a one year suspension to Jon Jones on Monday for a drug test he failed in June. The punishment for the interim UFC light heavyweight champion will be retroactive to July 9, the date on which his positive test became public. That means the soonest he'll be back in the Octagon is next summer.
The one-year suspension was the maximum punishment for Jones, who was popped for taking two anti-estrogen drugs that are a common part after steroid cycles. Their purpose? To reduce the unsightly growth of man boobs.
Jones disputed this and claims to have taken a generic boner pill instead—a version of what he believed to be the popular ED pill Cialis, to be precise. The bootleg boner enhancer, which contains the same estrogen blockers that steroid users take, caused the positive test, Jones says. The arbitration panel deciding Jones' case didn't want to hear it, and dinged Jones for his taking a pill that contained drugs he was unaware of.
"His degree of fault in fact verged on the reckless," they wrote in their decision. And all for a stronger boner. What a shame. 
Jones' year-long suspension comes after a tumultuous couple years for the 29-year-old. It began in January 2015 when he was popped for cocaine before his UFC 182 fight with Daniel Cormier. That cost him $25,000.

A few months later he was arrested after a hit-and-run and subsequently suspended from the UFC for six months. Earlier this year, he was ticketed for drag racing. Then in July he was scratched from the headlining fight at UFC 200 against Cormier, losing $10 million in the process.
Jones will be on the verge of his 30th birthday when he's eligible to fight against next summer. That is by no means too old to keep competing at a high level. But this suspension is costing the greatest pound-for-pound MMA fighter in the world a year of his prime. 
And that will cost him a lot of money.