Here's Absolutely Everything You Need to Know Before Betting on the 2019 Kentucky Derby
A Churchill Downs racing analyst reveals how to win big on Saturday.
Getty Images
Kevin Kerstein is a racing analyst at Churchill Downs Racetrack, home of this Saturday's Kentucky Derby. Before getting that gig seven years ago, Kevin clocked and scouted countless horses during their morning workouts for a private company. 
So who better to ask how to win big at the 2019 Derby? Read on for this horse racing honcho's top tips:
12 Important Betting Tips

https://www.instagram.com/p/BwzydkOnlQq
1. Don't be afraid to bet on the favorite. 
Since the Road to the Kentucky Derby point series started in 2013, the post-time favorite has won every Derby.
2. Pay attention to the horses that won the Derby prep races.
The last seven Derby winners won their final prep race leading up to Derby. 
3. Unlike casinos where odds are set by the house, horses' odds reflect how people are actually betting.
It's the majority's opinion, not the racetrack's.
4. It's fun to bet your own opinion but compare your picks with the track handicapper's selection to see if they match up.
It's always a good idea.
5. Just like regular sports teams, horses have a home field advantage. 
Bet the horse that has a history of doing well at Churchill Downs. This information is located in the top right of each horse's past performance in the program. 
6. Watch the horses in the paddock.
It they're misbehaving, exuding too much energy or fighting their jockey, it's probably best to not bet that horse.
7. Always go with your gut. 
Nothing's as painful as watching your original choice win the race after you changed your bet.
8. Never believe a backsider's tip.
No trainer enters their horse in a race if they don't think their horse can win it.
9. If you can't decide between 2 horses, try an exacta box.
If those two horses finish first or second in any order you win the bet. The minimum for an exacta is $2.
10. Next to each horse's information in the program is a speed figure.
The higher the speed figure, the higher the potential of winning. Download your program here.
11. There are 175,000 people at the Derby. If you don't want to wait in line to wager, download the twinspires.com app and bet from your seat or at home.
Always a solid plan if you want to avoid the crowds.
12. You can bet on 14 races on Derby day, but set your wagering budget before your second mint julep.
Just to be on the safe side…
3 Horses to Watch at the 2019 Kentucky Derby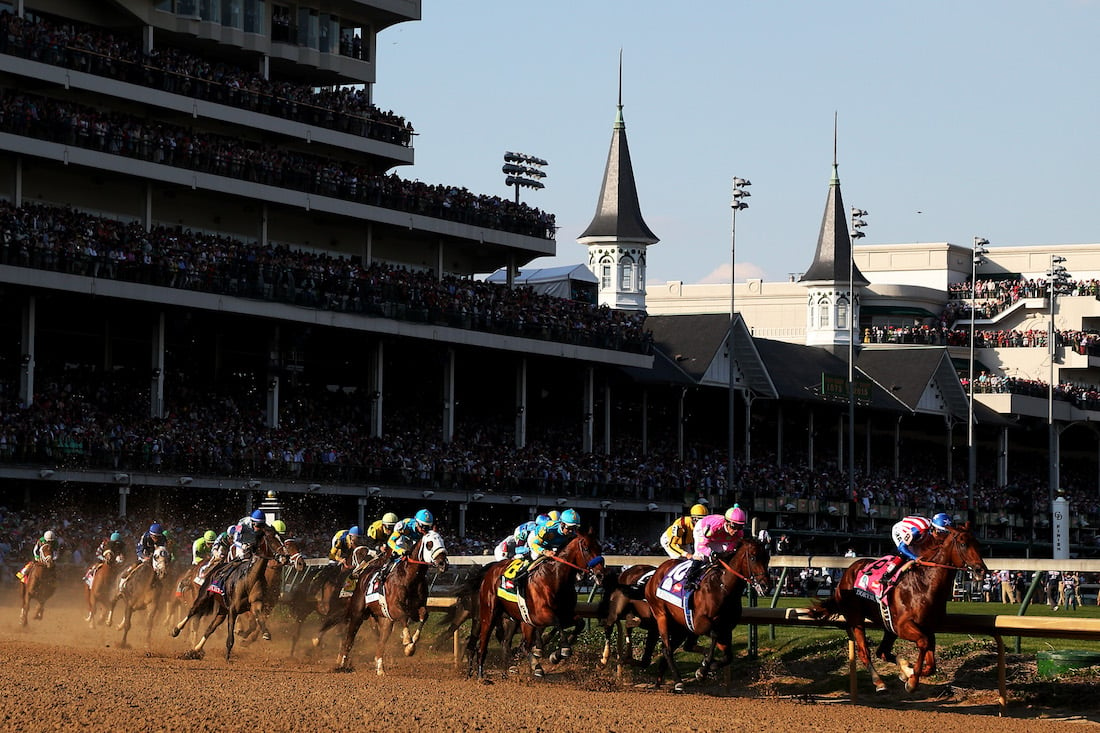 1. Omaha Beach – Will attempt to give Hall of Fame trainer Richard Mandella his first Derby victory
Hall of Fame trainer Richard Mandella has won nearly every race in North America with the exception of the Kentucky Derby. Mandella, 67, will saddle the Derby favorite who stamped himself as the horse to beat.
2. By My Standards – Trainer Bret Calhoun has won more than 3,000 races around the U.S. but By My Standards is his first Derby starter
Texas-native Bret Calhoun is part of an elite club in horse racing. Earlier this year, Calhoun became only the 30th trainer to reach 3,000 victories but longshot By My Standards is his first starter in the Kentucky Derby. By My Standards arguably is training better than any horse on the grounds for the Derby and gives bettors a possible longshot to use in their wagers.
3. Master Fencer – The first Japanese-bred horse to run in the Derby.
Master Fencer brings international intrigue to this year's Kentucky Derby as the first ever Japanese-bred horse to run in the Kentucky Derby. Master Fencer won an invitation to compete in the Derby through the Japan Road to the Kentucky Derby point series.
How to calculate how much you'll win based on the odds using a $2 bet

If the odds are "to 1" (like 3 – 1 or 4 – 1):
Double the odds and add your $2 bet
So if the odds are 3 – 1, double the 3 and add your $2 bet for a payout of $8. If they are 4 – 1, double the 4 and add your $2 bet for a payout of $10
If the odd are "to 2" (like 7 – 2):
Just add your $2 bet
So if the odd are 7-2, your payout is $9. If the odds are 5-2, your payout is $7
If the odds are "to 5" (like 8-5): 
This one is a little more complicated, but easy once you get it
For 8 – 5 odds:
1. Double the odds = 16 – 10
2. Divide by 10 = 1.6 – 1
3. Double = 3.2
4. Add your $2 bet and you get a payout of $5.20