Floyd Mayweather Responds To Khabib's Superfight Challenge
Conor McGregor's conqueror wants to get in the ring with Mayweather. Would you watch the pay-per-view?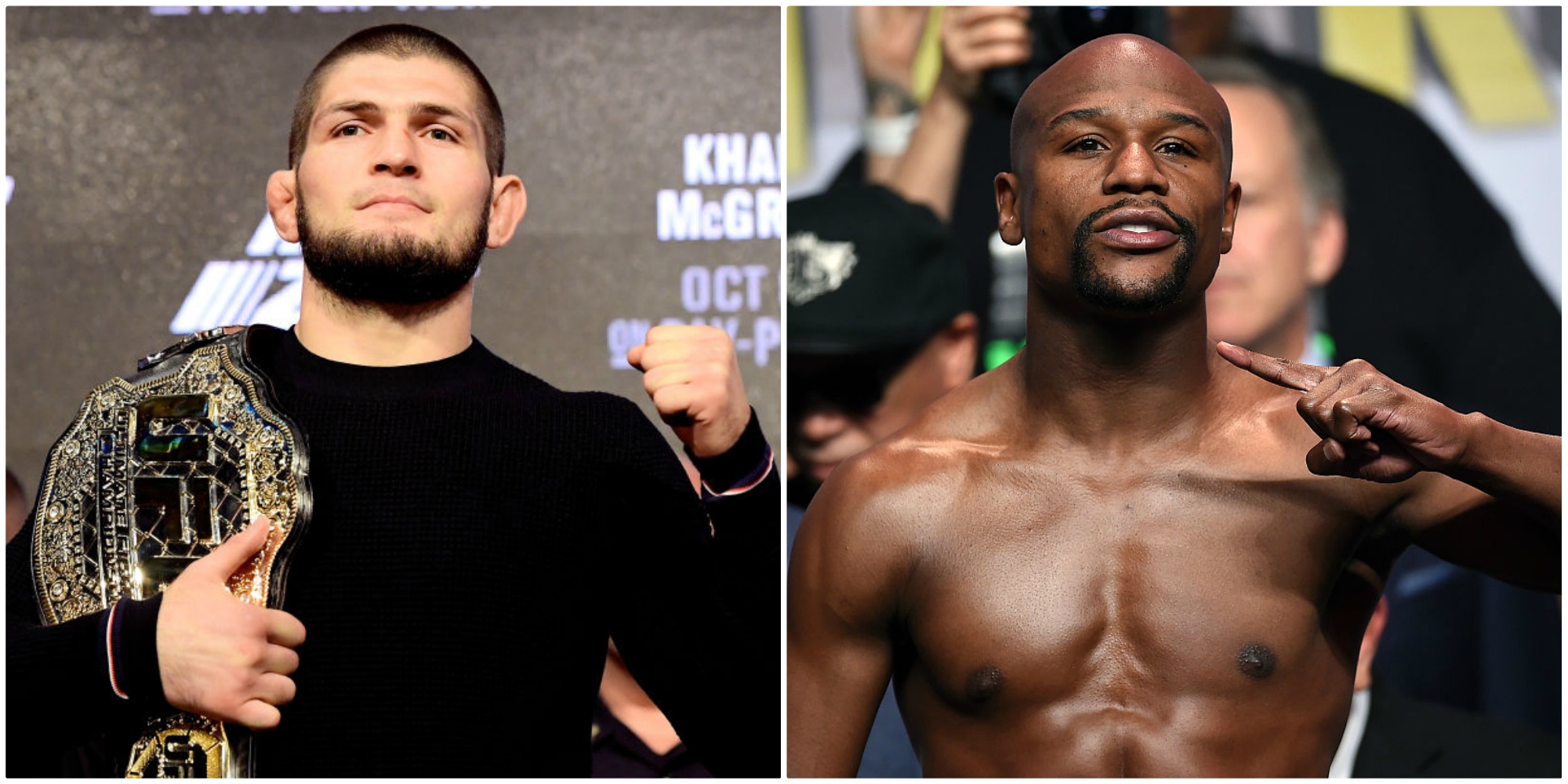 (Photo: Getty)
Here we go again. You may recall that retired boxing legend Floyd Mayweather stopped UFC star Conor McGregor in their mega-hyped 2017 pay-per-view bout, which made both fighters the kind of massive payday that other combat sports professional can only dream about.
And now undefeated UFC lightweight champion Khabib Nurmagomedov, who choked out McGregor at UFC 229, has issued a challenge to lure Mayweather out of retirement for another boxing/MMA crossover fight that "Money" would again be a heavy favorite to win in the boxing ring.
CBS Sports has the details:
Just one week after Khabib Nurmagomedov defeated former Mayweather foe Conor McGregor to defend his lightweight title at UFC 229 in Las Vegas, the Russian star attended a World Boxing Super Series card in Ekaterinburg on Saturday where he ran into Mayweather Promotions CEO Leonard Ellerbe.
In a viral video that was posted on Instagram by boxing manager DeJuan Blake, a cousin of Mayweather, the 30-year-old Nurmagomedov (27-0 in MMA) laughed with Ellerbe as he challenged the 41-year-old Mayweather (50-0, 27 KOs in boxing) to a fight. 
"Let's go Floyd, we have to fight now. 50-0 versus 27-0, two guys that never like lose. Let's go, why not? Because in the jungle there is only one king, only one king. Of course I am the king. He can drop to McGregor but I drop him easily. That's right, let's go."
It didn't take long for Mayweather to respond to Khabib's challenge Monday via a Twitter post, saying "CBS, Showtime and MGM Grand get the checkbook out!"
Mayweather returned from a nearly two-year retirement in August 2017 when he stopped McGregor on his feet in a fight that sold 4.4 million pay-per-views and netted him a reported $300 million.

Although Mayweather said repeatedly ahead of the fight that he would retire for good, he has consistently kept his name in the headlines, including a public flirtation earlier this year that he was considering a fight in the UFC.
Mayweather made headlines on Sept. 15 in the early hours before the Canelo Alvarez-Gennady Golovkin rematch in Las Vegas when he tweeted a video of him meeting up with Manny Pacquiao at a Tokyo music festival.

Mayweather, who defeated Pacquiao in their 2015 megafight that shattered PPV records, hyped up the possibility of a rematch, which remains likely following Pacquiao's decision to sign with Mayweather adviser Al Haymon. 
Meanwhile, Khabib's fight with McGregor is believed to have done more than 2 million pay-per-view buys, a new MMA record. 
And Khabib's profile has only risen after leaping out of the ring and sparking a wild post-fight melee after defeating McGregor. Khabib has been temporarily suspended by the Nevada State Athletic Commission and has a hearing on Oct. 24 that will decide what long-term sanctions he may face in the UFC.
Would you pay to watch Khabib fight Mayweather?