Khabib Nurmagomedov Threatens To Leave UFC If Teammate's Fight Is Cancelled
"If you decide to fire him, you should know that you'll lose me too."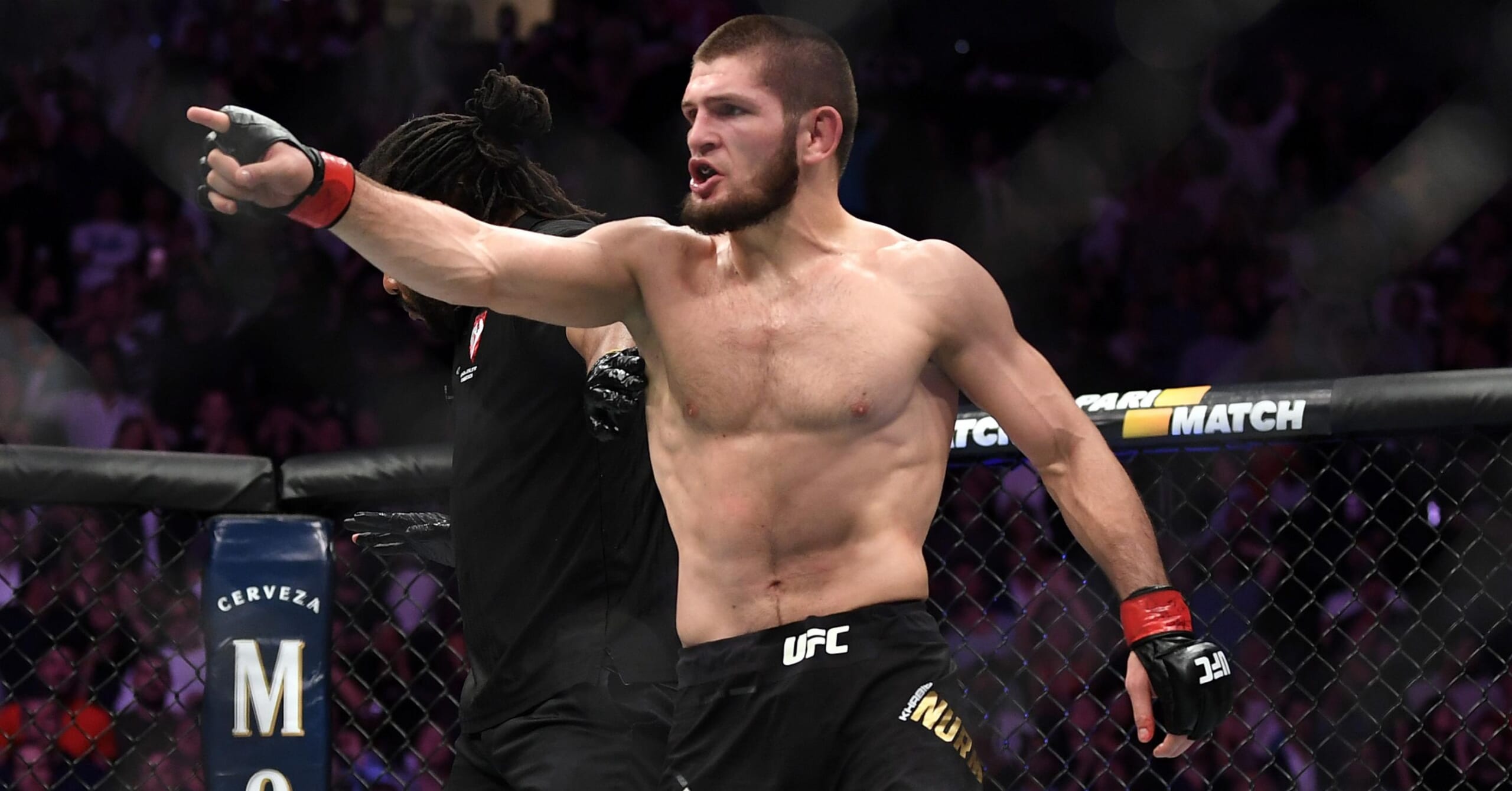 Getty Images
UFC lightweight champion Khabib "The Eagle" Nurmagomedov says he'll leave the UFC if the organization cuts his teammate, Zubaira Tukhugov, who punched McGregor in the wild melee after UFC 229.
https://www.instagram.com/p/Boy2zCpn_m_
"I would like to address UFC," Nurmagomedov wrote in an Instagram post Thursday. "Why didn't you fire anyone when their team attacked the bus and injured a couple people?" 
"They could have killed someone there, why no one says anything about insulting my homeland, religion, nation, family? Why do you have to punish my team, when both teams fought?" Nurmagomedov continued. 
"If you say that I started it, then I do not agree, I finished what he had started. In any case, punish me, [Tukhugov] has nothing to do with that."
https://www.instagram.com/p/BotXcNEn9r9
Tukhugov is a rostered featherweight who admitted to being among the mob who jumped in the Octagon during the post-fight brawl that broke out after Nurmagomedov choked out McGregor.
UFC president Dana White said, "The guys who jumped in will never fight here," according to ESPN. 
https://www.instagram.com/p/Bopxg3BnhqS
"You canceled Zubaira's fight and you want to dismiss him just because he hit Conor," Nurmagomedov wrote. "But don't forget that it was Conor who had hit my another Brother FIRST, just check the video." 
Footage appears to corroborate Nuramgomedov's claim that the Irishman struck first. Watch closely below: 
https://www.instagram.com/p/BooCrqAgh_c
"If you decide to fire him, you should know that you'll lose me too," Nurmagomedov wrote. 
"We never give up on our brothers in Russia and I will go to the end for my Brother. If you still decide to fire him, don't forget to send me my broken contract, otherwise I'll break it myself."
While McGregor received his purse on the night of the fight, White recently told TMZ that the Nevada State Athletic Commission may withhold all $2 million of Nurmagomedov's payment. The Dagestan-bred brawler addressed that, too.  
"And one more thing, you can keep my money that you are withholding," he wrote. "You are pretty busy with that, I hope it won't get stuck in your throat." 
"We have defended our honor and this is the most important thing. We intend to go to the end," he concluded.  
Just one day prior, Nurmagomedov joked about smashing White's car had he not been given his belt.
"You lucky that you give my belt, or I would smash your car," he wrote on Instagram. "I know your parking location."
https://www.instagram.com/p/BouZw2_n-L6
If White does cancel Tukhugov's fight and Nurmagomedov leaves the UFC, then the lucrative rematch that McGregor wants will be out of the question.