King Kong Bundy, A Wrestling Icon and Legendary Heel, Has Died
RIP to a true titan of the ring.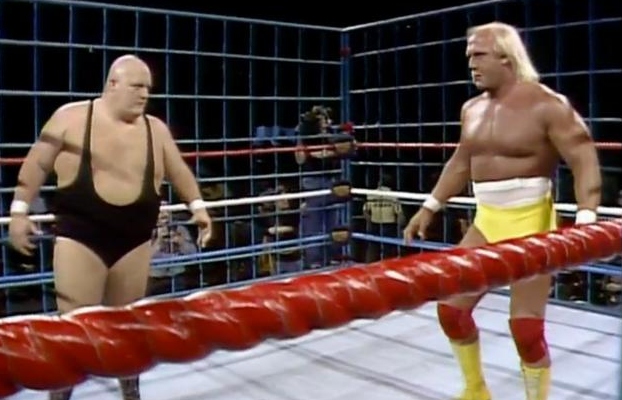 WWE Screengrab
With his 6-foot-4, 458-pound bulk wrapped in a black singlet and a menacing glare, King Kong Bundy established himself in the 1980s as one of the supreme heels in pro wrestling. Over time the bald bruiser faced many of the other giants of the ring, including Hulk Hogan and Andre the Giant. 
Of course it was all part of putting on a big show (so to speak) and this showman's real name was Christopher Alan Pallies. He died Monday, age 61.
Bundy debuted with the WWF (now WWE) in 1985, and you didn't have to know he was supposed to be the heel, you could spot that the moment he stomped into an arena. With his bullet head and scowl it was always obvious this was the guy who bore everyone some ill will.
While Bundy—Pallies—went up against all the big names of the pro wrestling's early boom, his most notable opponents were indeed Hogan and the Giant. 
In truth, Bundy and Hogan had a friendly relationship, the former once saying "Hulk got me my job and always took care of me. He was always good to me." 
Hogan affirmed their friendship with his tweet following Bundy's death.
Overwhelmed by King Kong Bundy's passing, only great memories,R.I.P. big man until we meet again. HH

— Hulk Hogan (@HulkHogan) March 5, 2019
On the other hand, any enmity between Andre the Giant and Bundy outside the ring was apparently real, with Bundy once calling the huge Frenchman a "prick" on a wrestling podcast and saying plainly, "Andre The Giant was not a nice man."
Still, the pair fought some historic battles, including the 1985 Colossal Jostle at Madison Square Garden. 
Hulk Hogan wasn't the only pro wrestling icon to express grief at Bundy's passing.
R.I.P. King Kong Bundy…another great wrestling talent gone too soon. He will be missed, but he's in good company now, like in this match… https://t.co/rhqsDS5qAD

— Jerry Lawler (@JerryLawler) March 5, 2019
Hate to hear about the passing of King Kong Bundy. He was so cool to me when I walked in that @WWE dressing room as an absolute nobody in 1986.

— Mick Foley (@RealMickFoley) March 5, 2019
Saddened to hear of King Kong Bundy's passing. A WrestleMania attraction, a true big man and a fan-favorite of the @WWE Universe. My thoughts are with his family at this difficult time. pic.twitter.com/w8NGxRL9lk

— Triple H (@TripleH) March 5, 2019
King Kong Bundy's—Christopher Pallies'—cause of death wasn't made public. 
RIP.