Kyrie Irving Keeps It Weird With an Illuminati Symbol on His New Signature Kicks
The NBA star also believes the Earth is flat.
Maxim/Nike
NBA star Kyrie Irving is nearly as famous for his strange ideas as he is for his talent on the court. With his colorful new Kyrie 4 "Confetti" Nikes, his eccentric thinking has been stamped onto sneaker history with an Illuminati symbol on the tongue.
No, seriously. 
That symbol, an eye within a triangle, is often called either the All-Seeing eye and the Eye of Providence. While it even appears on US currency (a nod to the Masonic beliefs of the founding fathers) and has a benign religious meaning to some, it has been used to refer to the Illuminati—a powerful, shadowy group which conspiracy theorists believe controls and manipulates world events.
Nike's description only addresses the name "Confetti":
As the confetti rained down on Kyrie's shoulders at the conclusion of last year's Finals, he didn't feel a sense of elation and joy like he did in 2016. To this day, he carries around a piece of the confetti from the postgame celebration as a constant reminder of what it took to get to the Finals, and how it felt to fall short of the goal.

Kyrie 4 "Confetti" honors Kyrie's win-or-learn mentality and the memento that reminds him of the incredible experience he can learn from.
Others have had to dig into the "Eye" symbol, like one pissed-off columnist for Sports Illustrated, who called Irving "the NBA's premier dorm room philosopher" and his beliefs "pseudo-intellectual crap."
An ESPN correspondent tweeted the intention behind this use of the Eye of Providence is benign, and totally in keeping with Irving's defense of his Flat-Earth theories.
The new Kyrie 4 also features an "All Seeing Eye" icon behind the tongue, meant to "challenge everyone to seek their own answers beyond the ones that are given to us by books, media, internet, etc." pic.twitter.com/l4zrOmKJQJ

— Nick DePaula (@NickDePaula) December 15, 2017
There you go. Kyrie Irving just wants everyone to think for themselves, even if he's unwilling to ask why boats don't just float into space when the ocean ends, which might happen if the planet were really just a giant pancake. 
The odd symbol is interesting and certainly unique among NBA-star branded shoes, but it's surprising no one else has noticed this resemblance: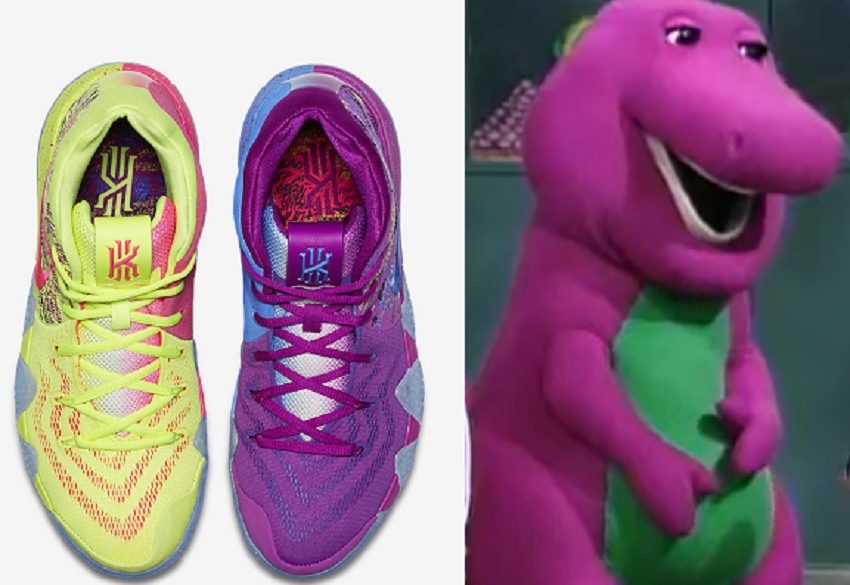 Perhaps if Nike issues kids' sizes they'll seize on a co-branding opportunity with beloved children's show icon Barney the Dinosaur. 
Kyrie Irving is free to promote his beliefs in whatever way he chooses. Seems like he'll be able to find plenty of people—perhaps in the hip-hop community—who agree with him.