Laila Ali Will Knock You Out If You Dare Compare Ronda Rousey to her Father
Muhammad Ali's daughter has some harsh words for the former UFC queen.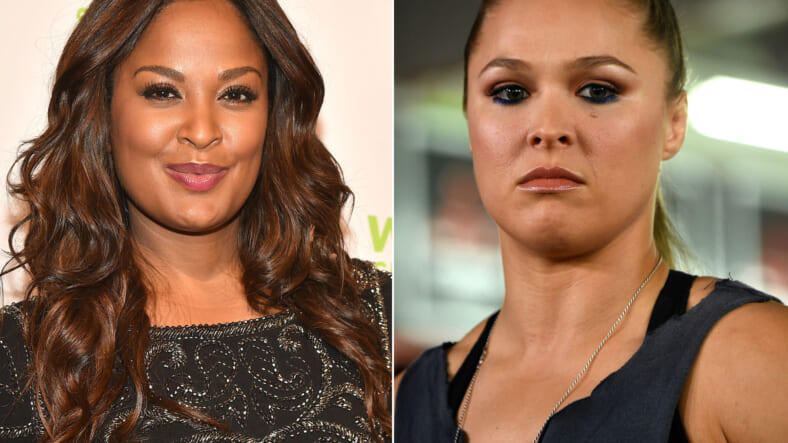 Laila Ali knows greatness. And when the daughter of Muhammad Ali, a 24-0 boxer in her own right, looks at Ronda Rousey, she doesn't see it.
So when people invoked her father's name to encourage Rousey after her latest loss in the Octagon, Ali got pissed. Here's what she recently told the International Business Times:
"I've heard people say, 'Well, Muhammad Ali lost, he's still great.' First of all, Muhammad Ali never lost like that. He never got in there and was made to look like a rag doll," Laila said. "And when he did lose it was pretty much after he had been off for three years. He was in his prime, had to take time off, came back, fought the best, then he came back and had rematches against the best, so please don't ever compare her to my father."
Turns out, Ali is not much of a Rousey fan. Back in November of 2015, after Rousey's ass kicking at the hands of Holly Holm, Ali said she wasn't shocked by Holm's win and that the manner in which Rousey lost called her whole legacy into question. 
"In order to be the best in the world, you definitely don't ever get beat up like that in your prime, period," she told TMZ. Ali also said she could personally beat Rousey in the video below:
For Rousey, Ali is just another hater—and there are many. But one unexpected voice spoke out this week to offer her some encouragement. Amanda Nunes, current UFC bantamweight champ and owner of the fists that turned Rousey's face into a tenderized steak last month, told an L.A. TV station that Rousey could return if she works hard enough. 
"It's harder to lose but if you be strong, you'll be able to come back like I did. Make some changes, adjust. The passion in her life, the family has to be with her. The base is very important. Make some changes in her camp, move to another gym and come back strong," she said. 
Rousey's latest Instagram seems to indicate she plans to do just that.
" tml-render-layout="inline