Watch the Sickest Knockout of The Year Courtesy of This Spinning Head Kick at UFC 206
That's GOTTA hurt.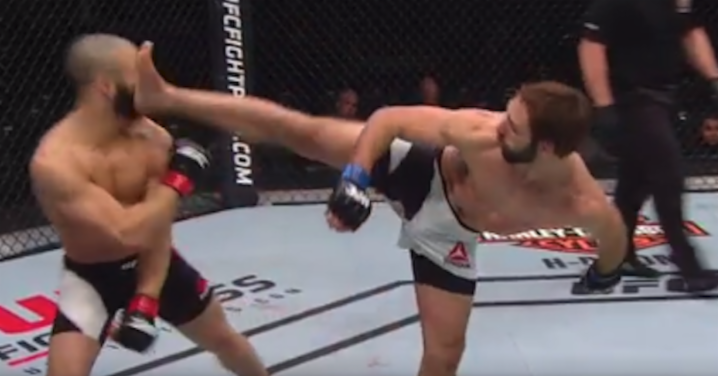 Twitter/@MMA_Jim
UFC 206 presented yet another stacked card with exciting up-and-comers Anthony Pettis and Max Holloway engaged in a brawl that ended with Pettis getting TKO'ed early in the third round on Saturday night. But that's not what fans are still talking about on Monday. 
https://twitter.com/MMA_Jim/status/807783793243418625
Instead, UFC 206 is being remembered for this brutal display of power on the undercard, courtesy of a savage spinning wheel kick from Lando Vannata that knocked opponent John Makdessi out cold. We can't stop watching it in the video above. 
You probably weren't familiar with "Groovy" Lando Vannata before his epic performance on Saturday night. He had a very short semester-long stint as a D1 wrestler before dropping out to pursue fighting full-time, but his only previous time in the spotlight was at UFC Fight Night 91 in August where he was submitted by Tony Ferguson. 
But now the whole MMA world knows his name. And as Vannata explained in a post-fight interview, that brutally gnarly move was no fluke. Via MMA Junkie,  "I practiced that kick about 2,000 times in camp and I knew it was going to work. I was planning on using it and I knew he couldn't stop it. I expected it to be successful."
With the mad amount of press he's getting from his highlight reel finish and the $50,000 he collected from his Performance of the Night bonus, it's safe to say Vannata's fighting future looks pretty damn bright.