World's Most Obnoxious Dad LaVar Ball Blames Son's NCAA Tourney Loss on Slow-Footed White Guys
"You can't win no championship with three white guys because the foot speed is too slow."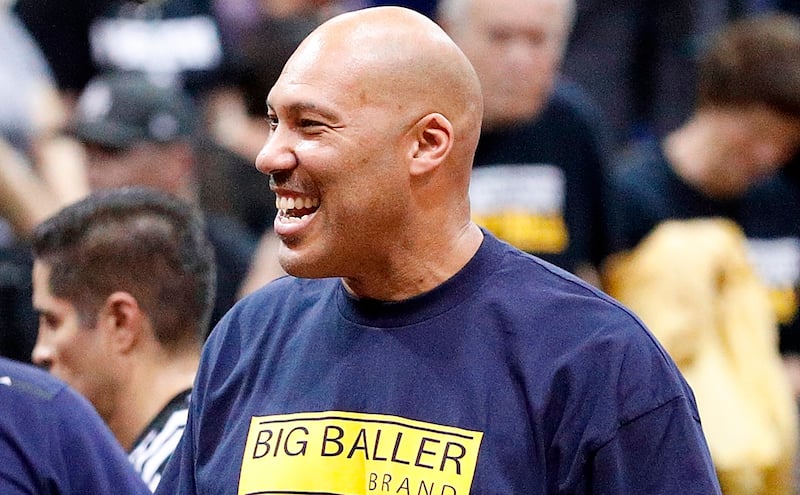 The sports world's newest super villain, LaVar Ball, has risen from obscurity to ubiquity because of the never-ending word vomit constantly spilling out of his mouth. And now, it's that same mouth that might end his moment in the spotlight.
In an interview with The Orange County Register this week, the father of UCLA star Lonzo Ball explained the Bruin's Sweet 16 loss to Kentucky like this: "Realistically you can't win no championship with three white guys because the foot speed is too slow."
That's that kind of statement that will prevent ESPN from calling. It's also unfair to the white guys on this year's UCLA team. 
As plenty have pointed out, in UCLA's loss to Kentucky it was Ball's son Lonzo who was guarding the Wildcat's best player, point guard De'Aaron Fox, who went off for 39 points in the game. The three white guys playing for UCLA in that game—T.J. Leaf, Bryce Alford and Thomas Welsh— combined for 45 points and 21 rebounds. It's hard to argue they weren't carrying their weight.
The dumbest part of Ball's statement is the suggestion that race somehow affects foot speed. But the second dumbest is that his claim has no grounding in the truth, which plenty of people pointed out on Twitter. Next time Ball says something dumb, he might want to make sure he fact checks it first.