LeBron James And Kevin Durant Fail To Reach NBA Playoffs' Second Round For First Time In 17 Years
Does James' playoffs miss and Durant's elimination signal the end of an NBA era?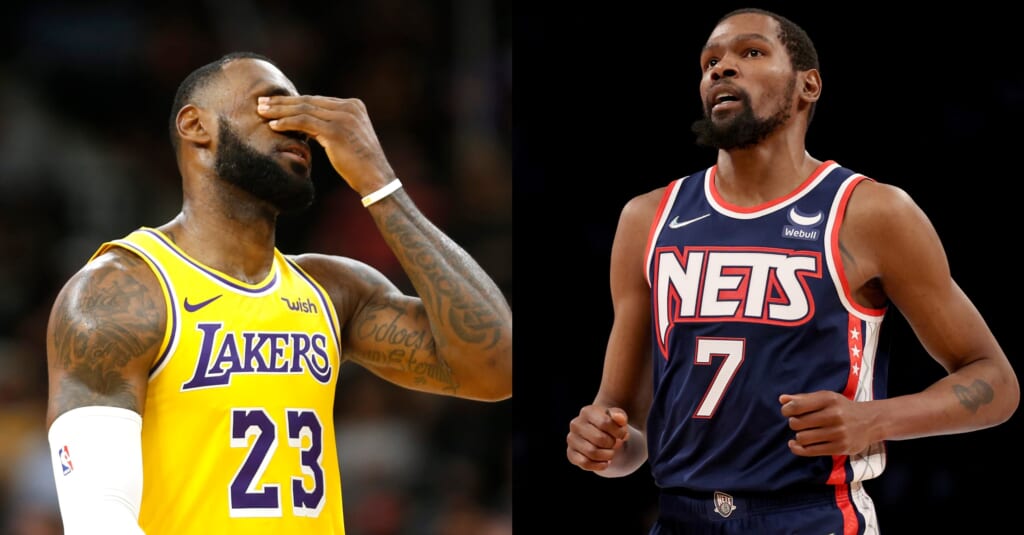 For the first time in 17 years, both LeBron James and Kevin Durant have failed to progress to the second round of the NBA Playoffs.
The shocking statistic was circulated by ESPN's official SportsCenter Twitter account after the Boston Celtics swept Durant's Brooklyn Nets 4-0 for a first-round elimination. James and the Lakers failed to make the playoffs altogether.
SportsCenter opined that the aging superstars' simultaneous playoffs absence could signal the beginning of "a new era," but that may be premature. Hypebeast reports that James, 37, made eight straight NBA Finals and won three from 2011-2018 before securing yet another title in 2020.
Durant, 33, won back-to-back titles with the Golden State Warriors in 2017 and 2018, with additional Finals appearance in 2012 with the Oklahoma City Thunder and 2019 Warriors.
Durant has also never been swept in a 7-game series in his 14-year NBA career. Some were quick to criticize Durant after his elimination, including Inside the NBA host Charles Barkley who employed a peculiar "bus rider/bus driver" analogy that seemingly referred to Durant's failure to rise to the occasion as the lone leader of the Nets.
"I don't want to badmouth the dude," Barkley said, per Yahoo Sports. "You guys always talk about that championship stuff. I try to tell y'all. All these bus riders. They don't mean nothing to me. If you ain't driving the bus, don't walk around talking about you a champion.
"If you riding the bus, I don't want to hear it. All these guys walking around with championship rings, y'all bus riders. When you the bus driver and you've got all that pressure where you have to play well or you're gonna get the blame. That's a different animal."
Durant struck back by accusing Barkley himself of being a "bus rider," posting images the former NBA champ alongside teammates Hakeem Olajuwon, Scottie Pippen and Clyde Drexler.
And when Barkley went relatively easy on Durant in a follow-up segment, calling him a "great player" in a challenging position, Durant called for the firing of Inside the NBA producers.
When another commenter accused Durant of giving the Inside the NBA production crew too much time to prepare a retort, he seemed more or less through with the beef.
"An army of producers against the god," he tweeted. "Just Another Tuesday"