LeBron James Was Ejected for the First Time in His Career for Throwing an 'Air Punch' at a Ref
He apparently said some bad words too.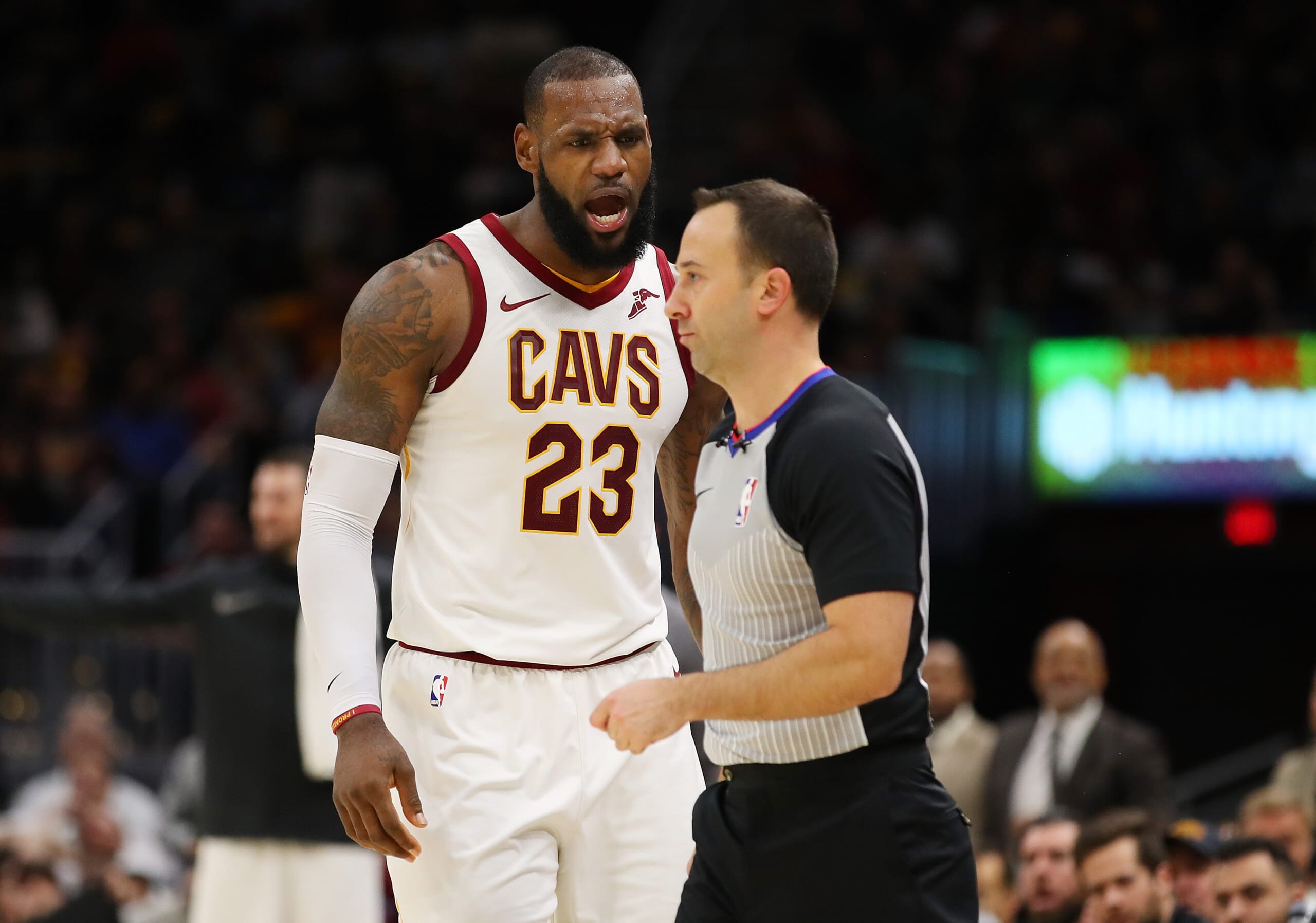 With the Cavs up 93-70 on the Heat in the third quarter on Tuesday night, LeBron James stripped the ball from James Johnson and drove the length of the court. As James bullied his way toward the basket, Johnson appeared to foul him.
The refs didn't see it that way though, and LeBron lost his shit. Referee Kane Fitzgerald then did something that no other NBA ref has ever done. He tossed LeBron from the game. For the first time in 15 seasons and 1,289 games, a healthy LeBron was sent to the locker room before the final whistle.
"I got fouled all the way up the court, from the time that I stripped him, all the way until I got to the rim," James said after the game. "I said what I had to say and then I moved on, but he decided I should get [ejected]. It is what it is. We got the win, and that's what's most important."
Fitzgerald explained that he tossed LeBron because of his reaction to the no-call. First, Fitzgerald said, LeBron turned toward him and "threw an air punch." Then LeBron "aggressively charged" at him, the ref said. Finally, he said bad words. That was enough for the 36-year-old Fitzgerald to give LeBron the heave ho. 
LeBron was clearly unhappy with the decision, but his coach, Tyronn Lue didn't put up much of a fight about it. "Should have got thrown out. Yup," Lue said. "I really don't know what he said. He got kicked out. Want me to go against the ref? No, he got thrown out. He's out."
But not everyone understood. This Cavs fan, for instance, was perplexed. 
The worst reaction to LeBron's ejection came from unrepentant dumbass Skip Bayless. The longtime LeBron hater jumped on Twitter after the ejection and promptly began ripping him for playing too hard, of all things.
Just got distracted for a second by a phone call. LEBRON GOT THROWN OUT FOR THE 1ST TIME IN HIS CAREER FOR USING FOUL LANGUAGE COMPLAINING ABOUT A CALL??? IN THE 4TH Q OF A BLOWOUT WIN??? WHY WOULD HE EVEN CARE AT THAT POINT??? STAT-PADDING???

— Skip Bayless (@RealSkipBayless) November 29, 2017
LeBron leads the NBA in 4th quarter points, as he has twice before in his career. Of course, he now plays high 4th q minutes whether the Cavs are way ahead or way behind. Many of those points have little or no impact and just serve to stuff the stat sheet.

— Skip Bayless (@RealSkipBayless) November 29, 2017
Is it too soon to use this GIF again?