Did LeBron James Just Push Out Another Coach? Mia Khalifa Sure Thinks So
Everybody's got a take on Tyronn Lue's mysterious leave of absence.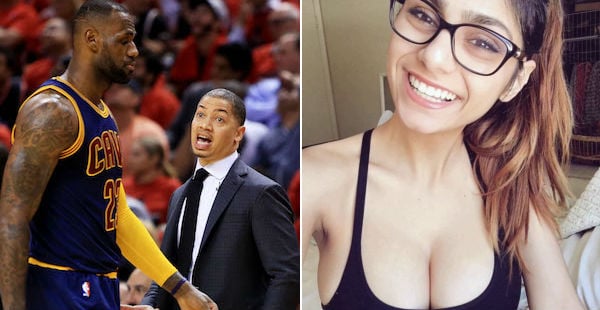 Cleveland Cavaliers head coach Tyronn Lue is taking a break from coaching to deal with health problems, the team announced last week.
After leaving mid-game during Saturday's win against the Bulls, Lue said he's decided "to step back from coaching for the time being and focus on trying to establish a stronger and healthier foundation from which to coach for the rest of the season."
Lue explained his symptoms in a statement: 
"I have had chest pains and other troubling symptoms, compounded by a loss of sleep, throughout the year. Despite a battery of tests, there have been no conclusions as to what the exact issue is."
Here's one guess at what the issue is: LeBron James. 
The Cavs superstar is no stranger to pushing out coaches and he and Lue have had several public spats this season, the most recent coming last Thursday. 
Even though LeBron himself has expressed concern over his head coach's well being, at least one sports pundit thinks that this "step back" is more of a firing than a sabbatical. And LeBron is the one who pulled the trigger, at least according to porn star-turned-perpetual pro athlete troll Mia Khalifa. 
Or maybe those health concerns are legit, and LeBron is the one causing them?
LeBron is giving Ty Lue cancer.

— Twatter News Association (@J_TheCynic) March 19, 2018
Y'all know LeBron is the source of Ty Lue's health issues

— The Good Homie Phil (@PhildrickJones) March 19, 2018
LeBron literally giving his coach a heart attack

— colonel mustard (@FranklinBTurtle) March 19, 2018
LeBron done scared Ty Lue so bad he got chest pains and is stepping down lmfao

— Alec (@AlecH112) March 19, 2018
That might sound a little harsh, but LeBron's been on Lue's case for ages. And his comments Monday reveal someone who isn't exactly destroyed over the prospect of losing his coach.

Though he said Lue's absences is like losing one of the team's best players, he also said this:
"It's probably well overdue, understanding what he's been going through throughout this season. Obviously health is the most important with everything in life. I'm not surprised by it at all."
Sounds like someone who's eager to move on to coach LeBron.