Dick Vitale and NBA Coaches Blast Lavar Ball For Dissing Luke Walton
NBA coaches want to silence Ball, who's become a big, bald pain in the ass.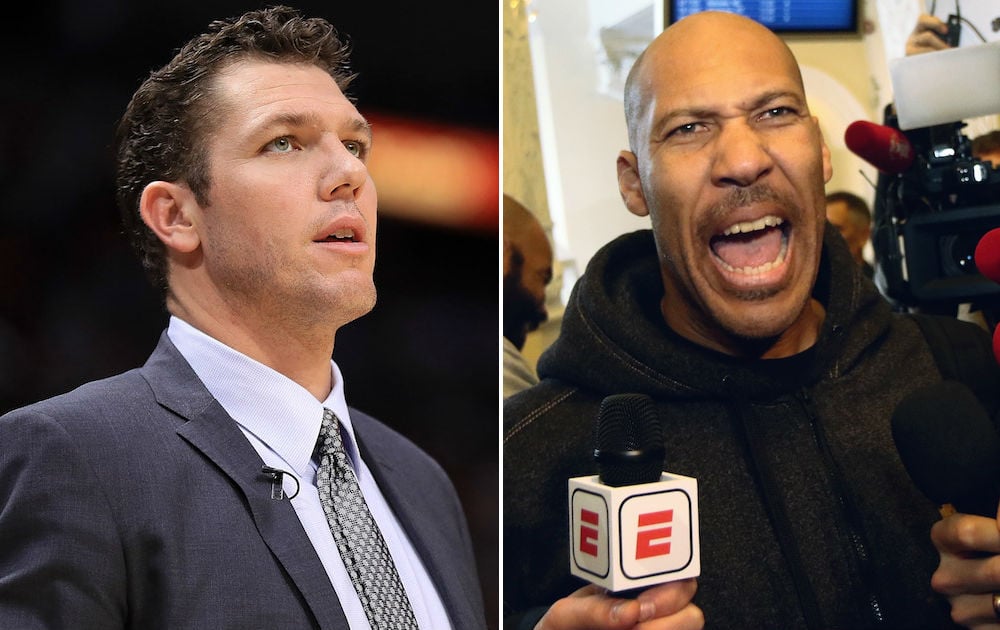 NBA fans love debates. Who's the best player the league? Who's going to win the title? Is Kevin Durant soft? But there's one question that causes no debate because everyone's answer is the same: Which team is the biggest shit show? It's the Lakers.
And for that, the team has Lavar Ball to thank. The father of rookie point guard Lonzo Ball has been creating headaches in Westwood for months and now he's done it again by telling ESPN that head coach Luke Walton had lost the team. 
"You can see they're not playing for Luke no more," Ball told ESPN's Jeff Goodman. "Luke doesn't have control of the team no more. They don't want to play for him."
He continued: "Nobody wants to play for him. I can see it. No high-fives when they come out of the game. People don't know why they're in the game. He's too young. He's too young. … He ain't connecting with them anymore. You can look at every player, he's not connecting with not one player."
None of this should surprise anyone who's paid attention to Ball in the past year. After months of hyping up his kids, and himself, he's spent the past few months criticizing how his son has been  handled in L.A. In December, he said he could do a better job coaching the Lakers than Walton. But that was in an interview with small time YouTuber. His most recent comments were reported by the Worldwide Leader in Sports.
No one was as pissed as Dallas Mavericks head coach Rick Carlisle, who's also the head of the NBA's coaches association. Rather than focus his ire on Ball though, Carlisle called out ESPN.
"As the president of the coaches association, I view the recent ESPN article as a disgrace, quite honestly," Carlisle said. He went on to suggest that the network should never have printed Ball's quotes.
That's a laughable suggestion. ESPN is in the media business and its job is to run stories that people are interested in. For better or worse, people are interested in Lavar Ball's opinions on the Lakers, stupid as they might be.
At least one ESPN employee went after the network too. Legendary college basketball announcer Dick Vitale lamented his employer's obsession with Ball on Twitter. 
Y do we chase LaVar Ball ? R we that desperate for 1 of his absurd statements ?Gr8 teacher & role model / if u don't like a situation just QUIT take ball & blame everyone / @ LukeWalton has more CLASS & HOOPS knowledge on his pinkie than LaVar ! @ESPN App https://t.co/XkPllF3aGr

— Dick Vitale (@DickieV) January 7, 2018
While Carlisle spoke out against ESPN most forcefully, many of his colleagues apparently agree with him. Veteran hoops reporter Sam Amico said on Twitter that other coaches will try to revoke the press credentials of reporters who interview Lavar Ball. 
Several NBA coaches plan to ask media relations staffs to revoke credentials of basketball writers who interview LaVar Ball, league sources tell AmicoHoops. Ball was critical of Lakers coach Luke Walton in comments made to ESPN.

— Sam Amico (@AmicoHoops) January 8, 2018
What a useless, petty move. And it looks even worse when you consider Walton's comments about the whole ordeal. He's unfazed.
"It doesn't bother me," Walton said Sunday. "My only concern with any of it is for Zo. As long as Zo is fine with it and Zo can come in and play and it doesn't affect mine and his relationship, then it doesn't bother me at all."
The irony here is that by trying to save Walton from Ball, his fellow coaches are only making matters worse. Now Ball can play the victim, and is there any doubt that he will?