Remember The Epic Larry Bird vs. Magic Johnson Rivalry With This Rare Throwback Video
The greatest NBA rivalry ever kicked off this week in 1979.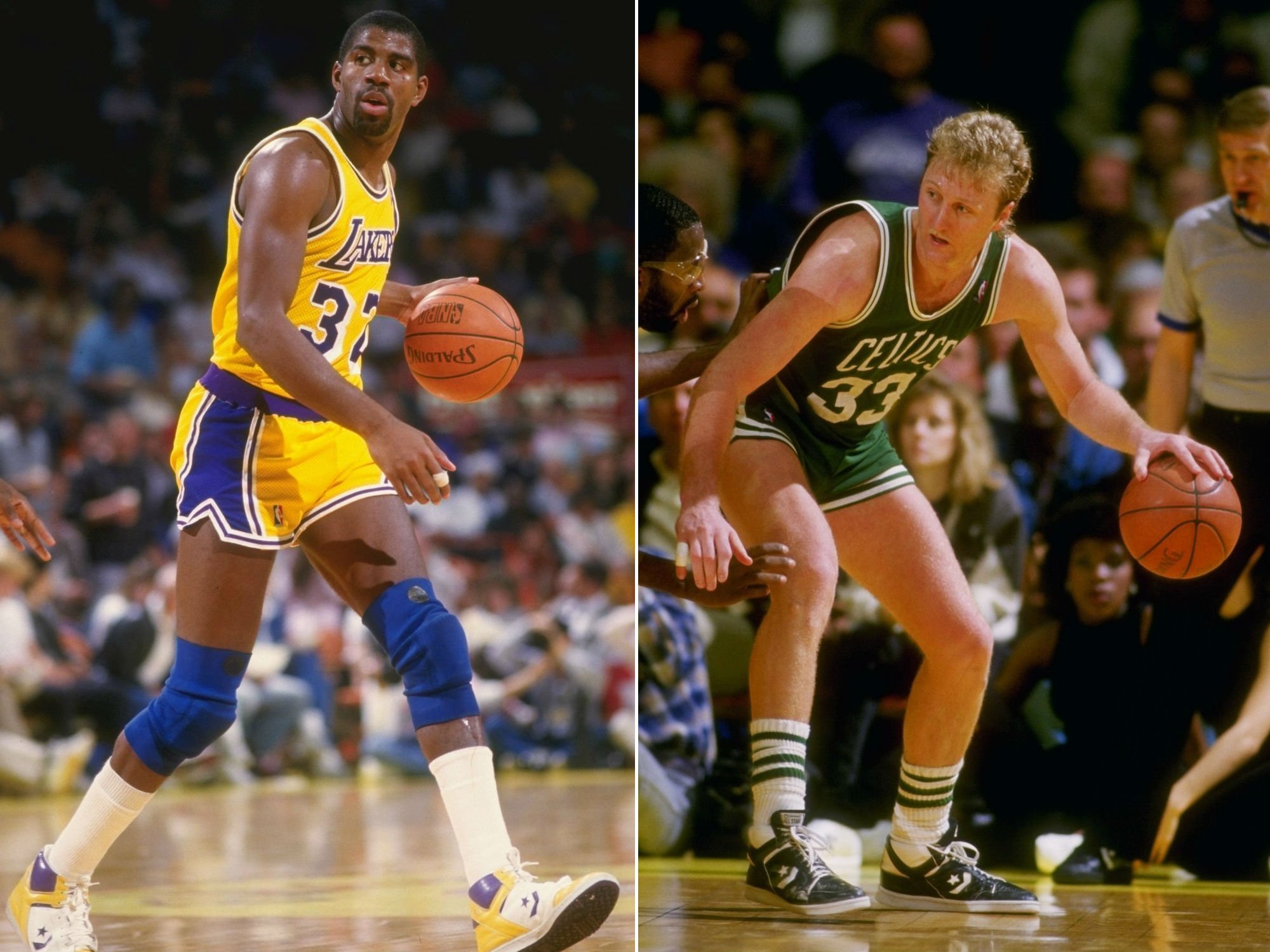 This week in 1979, Magic Johnson and Larry Bird, both rookies in the NBA, lined up across from each other for the first time as pros. It was the beginning of something special.
It wasn't their first time playing each other—that happened earlier in the year when Magic's Michigan State Spartans played Bird's Indiana State Sycamores in the NCAA Championship Game—but it was their inaugural battle wearing the jerseys that would become synonymous with their names. 
Bird in Celtic green, Magic in Laker gold and a familiar result. Just as Magic's Spartans beat Bird's Sycamores in their last college game, his Lakers defeated the Celtics in their first pro game. Over time, the rivalry would become a back-and-forth battle that helped the NBA grow into the global powerhouse it is today.
The score was not particularly close in that first game, 123-105, with Magic dropping a game high 23 and Bird chipping in 16. On Wednesday, the anniversary of the game, the NBA posted a YouTube clip with some highlights and postgame interviews.

Watch it and marvel at Magic's ability to lead the break and dribble through traffic, along with Bird's ridiculously high arcing jump shot and unstoppable drives to the bucket. But make sure you stick around until the end, when, for just a moment, the two Hall of Famers come nose to nose in a moment of animosity.
That little glimpse at the tension between these two legends gets at a part of rivalry that is so often overlooked—they hated each other for years. The animosity between Magic and Bird was often overshadowed by the excitement of their games and the importance of their match ups, but one thing we've learned in the years since they first squared off is that while the fans may have overlooked the animus, but the players didn't.
"We both wanted to win so bad that we hated each other. I respected him, but I didn't like him," Magic said of Bird in 1987. At that point, eight years into their careers, the bitterness was waning. Each man had multiple NBA title, and MVP honors on their mantle. They both wanted to win above all else, but they recognized similarities in one another as Midwestern boys with newfound superstardom. 
At the end of the careers, it was those similarities that stood out most. Both Magic and Bird played 13 NBA seasons, were named to 12 All-Star Games and won three NBA MVPs. Magic played in the playoffs 13 times, one better than Bird, and owns five championship rings, two more than Larry Legend.

Over the course of their careers, Magic's Lakers beat Bird's Celtics 11 out of 18 times in the regular season and 11 out of 19 games in the Playoffs. Sure seems like the first game was a prophetic sign of things to come.