Manny Pacquiao Challenges Conor McGregor to 'Real Boxing Match' in 2018
Pac-Man is looking for a payday.
Getty Images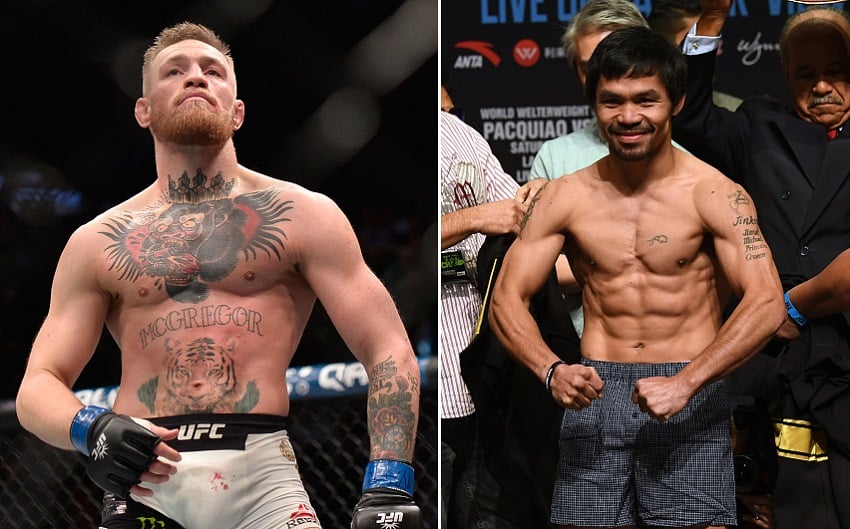 Manny Pacquiao's last fight didn't go how he wanted. The 38-year-old boxing legend lost a 12-round unanimous decision to Jeff Horn, an Australian underdog who landed half the punches Pacquiao did and still walked away with a controversial decision. 
To make matters worse, the fight was broadcast on ESPN in the U.S. It was the first time Pac-Man was forced to fight on terrestrial TV since 2005, depriving him of the boffo payday what comes with a pay-per-view payout.
Now, Pacquiao has a plan to improve the result and the payday in his next fight: Take on Conor McGregor. 
In an Instagram post on Thanksgiving, Pacquiao challenged McGregor to a "real boxing match" next year. "Stay fit my friend," Pacquiao wrote. 
https://www.instagram.com/p/Bb1sMeOHa1Z
It's obvious why Pacquiao would want this fight. Not only would he be pretty much guaranteed to win against an 0-1 professional boxer, but it would make for a huge payday. As McGregor's fight against Floyd Mayweather proved, people love novelties and fans of the UFC champ have a remarkable ability to convince themselves that he could stand toe-to-toe with any opponent. 
Can't you hear them already? "Conor will be better than he was against Floyd," they'd say. "And Manny isn't as good as Mayweather anyway. Hell, Floyd beat Manny and Conor nearly beat Floyd. Ergo, Conor wold crush Manny. He'd probably end it in the first and then go the Philippines and take Manny's seat in the senate."
They would be wrong, of course. This fantasy fight is so far from actually happening that it's probably not worth explaining why, but suffice it to say that McGregor was the first fighter Mayweather, who's known for his defense, stopped in a decade. Pacquiao may be older, slower and less powerful than he once was, but he's also known for his offensive tenacity. McGregor's never seen hands move like this. 
None of this is to say that McGregor shouldn't take a fight against Pacquiao. He has a menu of opponents to choose from for his next bout, from Tony Ferguson in the Octagon to Paulie Malignaggi in the ring, but there's a good chance fighting Pacquiao would make for the biggest payday. And as he's made clear time and time again, McGregor loves money.
https://www.instagram.com/p/BbibnnJgQWN
Meantime, there's new footage of McGregor's infamous sparring session with Paulie Malinaggi, in which Conor knocked the Brooklyn-born former champ down. But naturally that hasn't stopped Malinaggi from calling out McGregor for big money boxing match as well.
https://www.youtube.com/watch?v=wohL0jQ4ue8